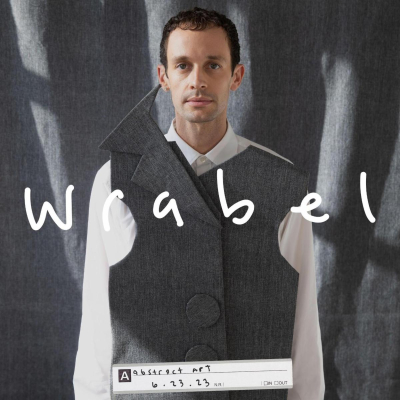 Wrabel Releases Summer Anthem To Individuality "abstract art"
First Single Off Of Forthcoming 'chapter of you' EP Out Now
Today Wrabel continues an already exciting 2023 with his latest single "abstract art". A summery ode to embracing all that makes you your own unique work of art, the song serves as the first taste of what's to come from the celebrated singer/songwriter's new EP 'chapter of you' which will drop August 25 via Big Gay Records/Nettwerk.
"I wrote "abstract art" with Eric Leva and Sam de Jong. This is a song for everyone that's ever felt like an outsider... like a weirdo," said Wrabel about the song. "It's for us. Not everyone is gonna understand us but I'm here to tell you that you're beautiful in the most special and unique way. You bring the world joy and love and you change this world simply by existing in it as your true and authentic self."
'chapter of you' will be Wrabel's second EP release this year, following April's 'chapter of me'. Later this year, both EPs will be brought together to help create his second full-length album 'based on a true story', which will arrive on November 17.
Wrabel describes the forthcoming EP as "a collection of songs for, well, you. I offer you these songs in hopes that they instill hope, love, joy... a safe little place you can go in your car or living room or headphones to feel hopefully a little bit better.".
Wrabel's springtime 'chapter of me' EP earned praise from Billboard who called it "a further testament to the singer-songwriter's skill with his pen" and People who added that "Wrabel's mass appeal is his ability to unite people in their experiences, especially those that maybe aren't so often talked about."
Earlier this summer, Wrabel released "Turn Up the Love", as the PRIDE anthem he wrote for AT&T Turn Up the Love 2023 campaign (which he recently spoke to Variety about), and also saw his earlier catalog song "The Village" go viral when the inspiring dance troupe Unity auditioned for Britain's Got Talent with a routine set to the song (which scored them the very rare Golden Buzzer from judge Simon Cowell). Initially inspired by a powerful meeting with two transgender fans of his, the song has been praised by People Magazine, Out Magazine, Billboard, and more, and Wrabel also spoke with Good Morning America last year about how he hopes his music connects with people to offer solace and community when they need it the most.
As of today, Wrabel's own personal discography has racked up over 700m streams across all DSP platforms, while he has also become known for high-profile collaborations/writing credits with Kesha, P!nk, Backstreet Boys, Ellie Goulding, Cam, and more. Over the past few years, his "knife-to-the-heart" (Idolator) songwriting has led to him becoming "one of Hollywood's finest songwriters for a decade" (American Songwriter), earned him a performance spot on the national NBC TODAY stage and had Billboard saying that Wrabel is "ready for his breakthrough."
FACEBOOK | INSTAGRAM | TIK TOK
For more information on Wrabel,
please contact Josh Page at Shore Fire Media