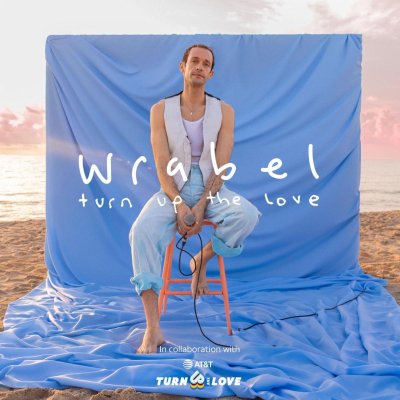 Wrabel Releases "Turn Up the Love" as Pride Anthem for AT&T Turn Up the Love 2023 Tour
All Proceeds To Benefit The Trevor Project
Stream "Turn Up the Love" HERE
Watch Video HERE
Today, acclaimed singer/songwriter Wrabel released his new single, "Turn Up the Love" via Nettwerk/Big Gay Records, which will serve as the anthem for this year'sAT&T Turn Up the Love campaign, an events and editorial initiative to celebrate the LGBTQ+ community and to promote acceptance and allyship. Widely known for his breathtakingly eloquent and personal songwriting, Wrabel wrote the track for AT&T's Turn Up the Love to further celebrate individuality and love. He recently debuted the song at Miami Beach Pride on the AT&T Entertainment Stage at Lummus Park. Additional live appearances are planned throughout AT&T's Turn Up the Love Tour with stops taking place at AT&T Flagship stores in Chicago, IL on June 10th, San Francisco, CA on June 17th and Dallas, TX on June 23rd. As part of Wrabel's collaboration with AT&T Turn Up the Love, all streaming proceeds from the song this year will benefit The Trevor Project, the leading suicide prevention and crisis intervention organization for LGBTQ young people.
Celebrated for his high-profile collaborations/writing credits with Kesha, P!nk, Backstreet Boys, Ellie Goulding, Cam, and more, "Turn Up the Love" adds another chapter to Wrabel's already stellar songwriting resume. On top of a buoyant production by Jesse Shatkin (Kelly Clarkson, Sia), Wrabel enthusiastically assures the listener that they are not alone, regardless of the hardships they may face. It's trademark Wrabel, with gorgeous melodies and emotive vocals anchored by lyrics that inspire and uplift.
Wrabel noted: "I am so honored to collaborate with AT&T for its Turn Up the Love Tour and to create the official single, "Turn Up the Love," with streaming proceeds this year benefiting The Trevor Project. It's truly such an honor to get to work with just loving people through this campaign and my hopes are that this song can be an anthem for the LGBTQ+ community and connect us all together as one."
Since 1975, AT&T has served as a proud advocate for the LGBTQ+ community and has made significant efforts to create positive impacts for both its employee makeup as well as its audiences. Carrying out the company's longstanding dedication to supporting marginalized communities, AT&T's Turn Up the Love Tour is an immersive experience that aims to promote allyship and turn up the conversation around acceptance, equality, and action for LGBTQ+ youth. Officially kicking off on Saturday, June 10th in Chicago, IL, the tour will include live performances from Wrabel and other influential artists within the LGBTQ+ community. The tour is hosted at the fully transformed AT&T Flagship stores for the month of June designed to inspire connection, celebration and love with immersive interactive experiences, games, and vibrant illustrations across digital screens celebrating the Turn Up the Love Tour.
The release of "Turn Up the Love" continues a productive 2023 for Wrabel, who recently released his deeply personal 'chapter of me' EP. Written as a raw and emotional reflection of his personal growth, 'chapter of me' explores themes of heartbreak, personal empowerment, and in the case of standout single "one drink away", the power of the human spirit to cope with addiction. PAPER Magazinecalled lead single "happier" a "soaring, guitar-driven anthem" while People noted that "Part of Wrabel's mass appeal… is his ability to unite people in their experiences." Additionally, Billboard praised Wrabel's writing on "one drink away", noting that the song was "only a further testament to the singer-songwriter's skill with his pen that in just 3 short minutes, he can translate the struggles of staying clean with such eloquence."
PC: Maxwell Poth
This next wave of music follows the 2021 release of his debut full-length 'these words are all for you', which Billboard said boasts "boisterous vocals met by beautiful piano melodies" and SPIN proclaimed, "showcases his trademark, beautifully intimate performances and powerhouse songwriting". Wrabel's recent single "on the way down" was also recently featured in an episode of 'Grey's Anatomy.'
As of today, Wrabel's personal discography has racked up over 700m streams across all DSP platforms, and his song "The Village" has become an LGBTQ+ anthem. Over the past few years, his "knife-to-the-heart" (Idolator) songwriting has led to him becoming "one of Hollywood's finest songwriters for a decade" (American Songwriter), earned him a performance spot on the national NBC TODAY stage and had Billboard saying that Wrabel is "ready for his breakthrough."
For more information on Wrabel,
please contact Josh Page & Alena Joyiens at Shore Fire Media
Instagram | Facebook | Twitter
For more information on AT&T's Turn Up the Love tour, please contact 5WPR at attturnupthelove@5wpr.com.
ABOUT AT&T:
We help more than 100 million U.S. families, friends and neighbors, plus nearly 2.5 million businesses, connect to greater possibility. From the first phone call 140+ years ago to our 5G wireless and multi-gig internet offerings today, we @ATT innovate to improve lives. For more information about AT&T Inc. (NYSE:T), please visit us at about.att.com. Investors can learn more at investors.att.com.
AT&T Flagship stores are brand beacons showcasing the best AT&T has to offer. Located in Chicago, San Francisco and Dallas the stores are evolving the retail experience to create meaningful experiences for customers by exploring what's possible.
For more information, follow @ATTMichiganAve, @ATT1Powell, @ATTexpDallas, and #ATTexp on Facebook, Instagram and Twitter.