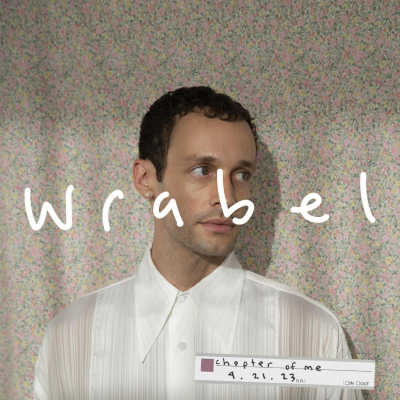 Wrabel Turns The Page To A New Era On 'chapter of me' EP 
Out today via Big Gay Records/Nettwerk
Listen HERE
Today, Wrabel releases his EP 'chapter of me' via Big Gay Records/Nettwerk. Widely considered one of pop music's most eloquent and accomplished modern day songwriters, this latest release contains some of Wrabel's most personal writing to date - including the singles "one drink away", "happier", and "on the way down". The release of 'chapter of me' serves as the first part of a larger, yet-to-be-announced project set to roll out throughout the rest of 2023 that sees the acclaimed songwriter probing emotional depths he's yet to publicly explore.
Listen HERE
Adding to his already stellar resume as a songwriter, 'chapter of me' explores the themes of heartbreak, personal empowerment, and in the case of standout single "one drink away", the power of the human spirit to cope with addiction. Other tracks, like the inspiring and technicolored guitar-driven anthem "happier" celebrate personal liberation while "on the way down" reflects on the support systems that anchor Wrabel in times of struggle.
Wrabel noted: "I'm so thrilled to announce the release of 'chapter of me', the first part of what is to come. These songs are songs I wrote to and for myself, almost as a place marker for who I am and where I am now. These came from conversations with myself, realizations, and pages torn from my notebook. My hope for this first chapter is that what I created for myself, when shared with you, becomes yours. I hope that it can feel like a shoulder to lean on, cry on, a friend to celebrate you feeling happier."
The three singles that precede 'chapter of me' have received critical praise for their introspective lyrics and catchy instrumentation. PAPER Magazine called "happier" a "soaring, guitar-driven anthem" while People noted that "Part of Wrabel's mass appeal… is his ability to unite people in their experiences." Additionally, Billboardpraised Wrabel's writing on "one drink away", noting that the song was "only a further testament to the singer-songwriter's skill with his pen that in just 3 short minutes, he can translate the struggles of staying clean with such eloquence"
Wrabel also debuted his new stand-alone song "Turn Up the Love" at AT&T's Miami Pride event at Lummus Park last weekend. This year, all streaming proceeds from the song will be donated to The Trevor Project, a charity that combats suicide among LGBTQ youth. The new song, which Wrabel wrote especially for AT&T, is set to be the official anthem of their 2023 PRIDE campaign and will be officially released on May 12th.
This next wave of music follows the 2021 release of his debut full-length 'these words are all for you', which Billboard said boasts "boisterous vocals met by beautiful piano melodies" and SPIN proclaimed "showcases his trademark, beautifully intimate performances and powerhouse songwriting". It also will be the latest addition to a songwriting & performance resume that includes partnerships/collaborations with a "who's who" of modern music legends including P!nk, Kesha, Cam, Tenille Townes, Louis the Child, Marshmello, Ellie Goulding, Louis Tomlinson, Backstreet Boys, Wafia, and many more. Wrabel's recent single "on the way down" was also recently featured in an episode of 'Grey's Anatomy'.
As of today, Wrabel's personal discography has racked up over 700m streams across all DSP platforms, and his song "The Village" has become an LGBTQ+ anthem. Over the past few years, his "knife-to-the-heart" (Idolator) songwriting has led to him becoming "one of Hollywood's finest songwriters for a decade" (American Songwriter), earned him a performance spot on the national NBC TODAY stage and had Billboard saying that Wrabel is "ready for his breakthrough".
'chapter of me' EP Track Listing
happier

one drink away

on the way down

you got yours

feel it now (alive)
---------------------------
For more information on Wrabel,
please contact Josh Page & Alena Joyiens at Shore Fire Media