Henry Rollins & Joe Rogan Feature Out Now
Issue #002 Coming December 15
ft. Smashing Pumpkins / Hole Photo Diary, A Look Into David Berman's Final Days, A Creedence Clearwater Revival CIA Scandal, The Winklevoss Twins & More
Early Black Friday Sale Starts Today With 25% Off Annual Subscriptions
Today, the iconic and newly reborn CREEM revealed the cover art and the table of contents for its second issue since the magazine's audacious relaunch earlier this year. Inspired by the punk zines of yesteryear, CREEM's new cover and limited edition apparel capsule are designed by visionary artist Jeremy Dean, best known for his "Wonders of Black Flag'' tees mashing up Grateful Dead & Black Flag iconography, alongside working with The Rolling Stones, Circle Jerks, Ceremony & more.
"I think that my love for zines and that sort of photocopied and degraded look was really interesting to me, and I try to pay tribute in my work," Dean explains. "We live in a world where everyone has a professional camera in their pocket, not to mention software like Photoshop. I like when photos are a little blurry, when someone's art is imperfect, messy, and even a little fucked up."
The Winter 2022 issue will hit subscribers' mailboxes and online December 15, just in time for the holidays. Customers can now enjoy an unprecedented 25% off an annual print subscription to CREEM, as part of an early Black Friday sale running through November 27 - Subscribe here.
Readers can also pre-order items from the related limited edition capsule, featuring four shirts and two art prints with original designs by Dean, exclusive to CREEM.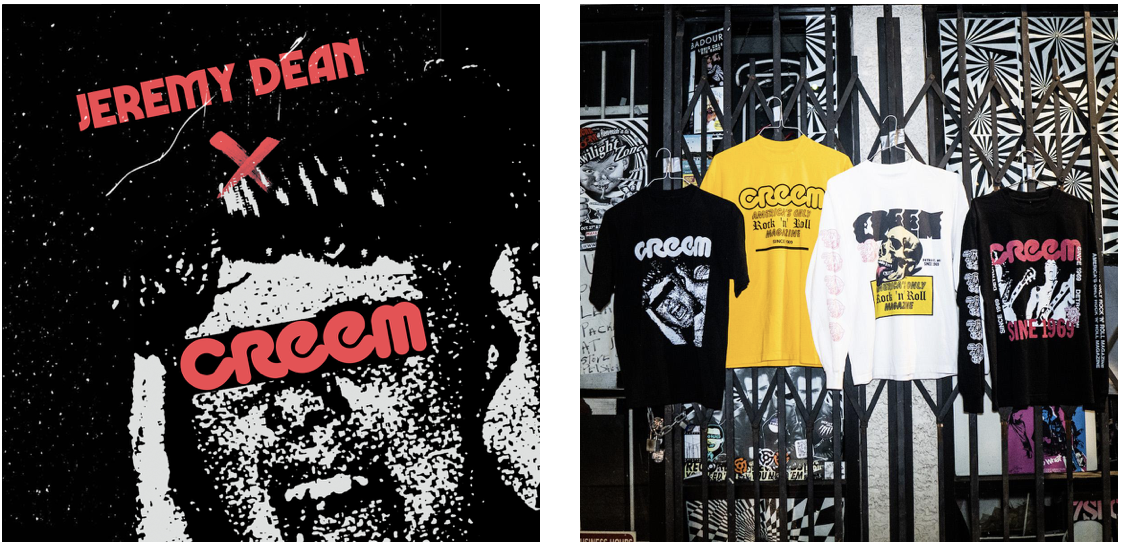 Get an early taste for the issue with a feature by Michael Friedrich that pointedly connects the cultural dots from Henry Rollins to Joe Rogan, released today at CREEM.com, available to those who subscribe or sign up for a 30-day free trial, along with the entire CREEM archive.
Included in the Winter 2022 issue will also be Melissa Auf der Maur's never-before-seen Smashing Pumpkins & Hole photo diary, a Creedence Clearwater Revival CIA scandal, an insider account of the last days with David Berman, a feature by Sam McPheeters on billionaire CEOs like the Winklevoss twins "purchasing" rock-star status and more.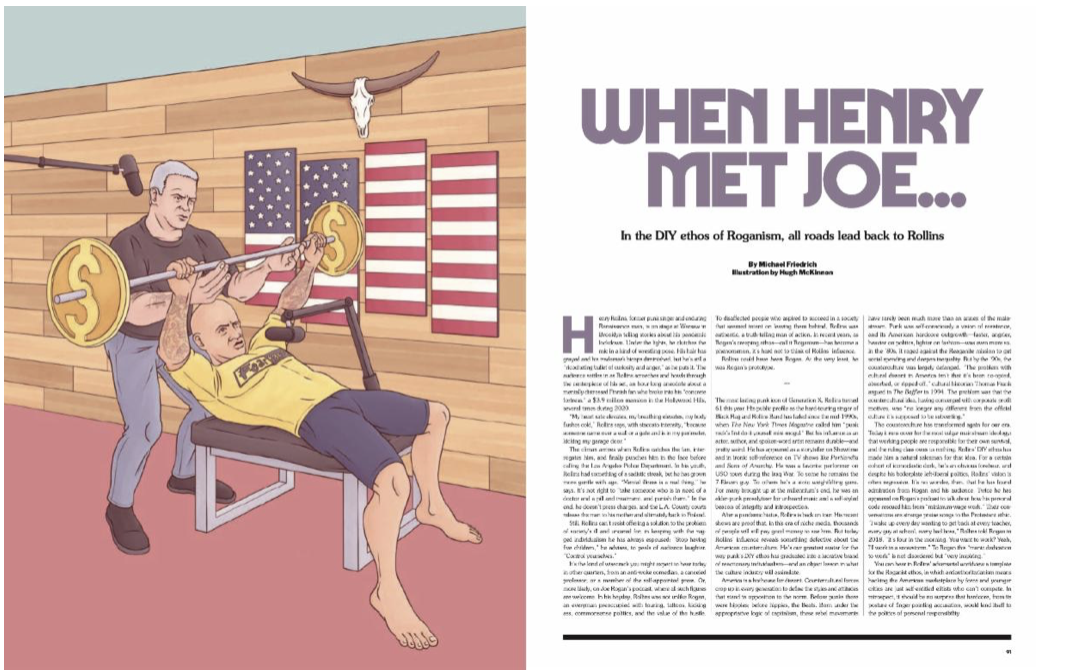 One of the most unlikely and successful media launches of the year, CREEM debuted its first magazine issue since 1989 in September, along with the CREEM Archive featuring every issue from the magazine's original 20 year run. Vanity Fair revealed the first print cover for the new oversized subscription-only premium quarterly, featuring original art by the legendary Raymond Pettibon (responsible for Sonic Youth's Goo album cover & others), along with stories on The Who, Terry Allen, Special Interest & KeiyaA, a reassessment of The Osmonds' metal album and revival of their Stars Cars column with Slash.
Founded in 1969 Detroit, CREEM grew from underground paper to national powerhouse - an essential source of music journalism for twenty years. It reflected and shaped the culture, cultivating some of the most legendary writing talent of the era: Lester Bangs, Cameron Crowe, Patti Smith, Robert Christgau and Jaan Uhelszki, who now returns as editor. The magazine's original rise and fall is chronicled in the critically-acclaimed 2020 documentary CREEM: America's Only Rock 'n' Roll Magazine, which earned praise everywhere from The New York Times to CBS This Morning.
Today, CREEM Entertainment is led by former VICE publisher John Martin as CEO, alongside Chairman JJ Kramer (son of original CREEM co-founder & publisher Barry Kramer). In addition to Uhelszki, the new CREEM editorial staff includes VP of Content Fred Pessaro formerly of VICE's Noisey, Executive Editor Dan Morrissey from Entertainment Weekly, and Senior Editor Maria Sherman, following her work at NPR, Rolling Stone, BuzzFeed, Jezebel, Netflix, ELLE and her critically acclaimed book, LARGER THAN LIFE: A History of Boy Bands. Editorial Director Dave Carnie has worked with Jackass, ESPN, Big Brother, and Penthouse. Grace Scott joins as Associate Editor after her work with VICE & The Toronto Star, and Zachary Lipez as Editor at Large, following his work with Pitchfork, The Washington Post and others. This fall, CREEM welcomed Stephanie Augello as Photo Editor. Augello is an entertainment photographer and editor who has worked with Live Nation, Shutterstock Editorial, and ABC.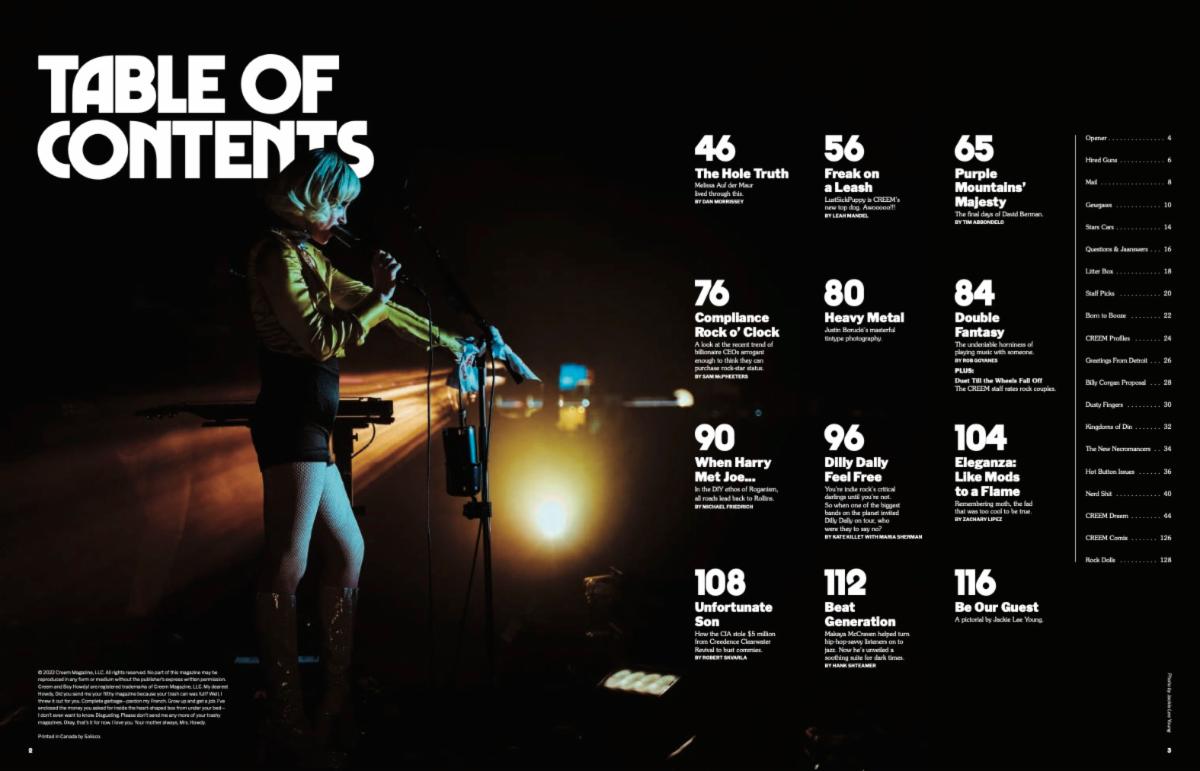 CREEM Issue #002:
The Hole Truth
Melissa Auf der Maur lived through this.
BY DAN MORRISSEY
Freak on a Leash
LustSickPuppy is CREEM's new top dog. Awooooo!!!
BY LEAH MANDEL
Purple Mountains' Majesty
The final days of David Berman.
BY TIM ABBONDELO
Compliance Rock o' Clock
A look at the recent trend of billionaire CEOs arrogant enough to think they can purchase rock-star status.
BY SAM McPHEETERS
Double Fantasy
The undeniable horniness of playing music with someone.
BY ROB GOYANES
PLUS: Duet Till the Wheels Fall Off The CREEM staff rates rock couples.
Heavy Metal
Justin Borucki's masterful tintype photography.
When Henry Met Joe...
In the DIY ethos of Roganism, all roads lead back to Rollins.
BY MICHAEL FRIEDRICH
Dilly Dally Feel Free
You're indie rock's critical darlings until you're not. So when one of the biggest bands on the planet invited Dilly Dally on tour, who were they to say no?
BY KATE KILLET WITH MARIA SHERMAN
Eleganza: Like Mods to a Flame
Remembering moth, the fad that was too cool to be true.
BY ZACHARY LIPEZ
Unfortunate Son
How the CIA stole $5 million from Creedence Clearwater Revival to bust commies.
BY ROBERT SKVARLA
Beat Generation
Makaya McCraven helped turn hip-hop-savvy listeners on to jazz. Now he's unveiled a soothing suite for dark times.
BY HANK SHTEAMER
Be Our Guest
A pictorial by Jackie Lee Young.
About CREEM Entertainment:
CREEM Entertainment is the modern-day reincarnation of Detroit's legendaryCREEM Magazine. During its initial twenty-year run, CREEM launched the careers of countless iconic music journalists and bands, while never hesitating to lampoon those who took themselves too seriously. Today's CREEM, powered by the next generation of cage-rattling truth tellers and provocateurs, delivers the best content, merchandise, and experiences to rock 'n' roll fans of all ages. Boy Howdy!
For more information on CREEM, please contact:
Matt Hanks (mhanks@shorefire.com)
Shannon Cosgrove (scosgrove@shorefire.com)