Today, the iconic, unfiltered and wickedly funny CREEM magazine revealed the cover for its first print issue in 33 years, featuring original art by the legendary Raymond Pettibon (responsible for Sonic Youth's Goo album cover & others), along with the first issue's Table of Contents below. The new CREEM spans generations and genres, with untold stories from icons like The Who and Terry Allen, a reassessment of The Osmonds' metal album and revival of their Stars Cars column with Slash, as well as featuring new faces of rock like Special Interest, Viagra Boys and Amyl and the Sniffers, alongside rising stars in rap and R&B like Lil Aaron and KeiyaA.
Vanity Fair unveiled Pettibon's latest work, and he says of the audacious cover image: "My thought was of the many garage bands that drew inspiration from CREEM. The band depicted could be from anywhere. They could be breaking big as this issue goes to print. That could be your band, on the cover of CREEM…I hope everyone shares my excitement for the rebirth of a great magazine." CREEM CEO John Martin added: "We're very serious about not taking ourselves too seriously - and wanted to do something that defies conventions of what a 'rock mag' should have on a cover."
After making its entire original 1969 - '89 run of back issues available online for the first time in June, CREEM returns as an oversized subscription-only premium quarterly on September 15. The feature previews here illustrate the magazine's breadth of coverage from eminent writers and photographers, as well as bold new voices. The last day to subscribe to the first issue or sign up for a 30-day free trial of the CREEM Archive is August 17.
Founded in 1969 Detroit, CREEM grew from underground paper to national powerhouse - an essential source of music journalism for twenty years. It reflected and shaped the culture, cultivating some of the most legendary writing talent of the era: Lester Bangs, Cameron Crowe, Patti Smith, Robert Christgau and Jaan Uhelszki, who now returns as editor. The magazine's original rise and fall is chronicled in the critically-acclaimed 2020 documentary CREEM: America's Only Rock 'n' Roll Magazine, which earned praise everywhere from The New York Times to CBS This Morning.
Today, CREEM Entertainment is led by former VICE publisher John Martin as CEO, alongside Chairman JJ Kramer (son of original CREEM co-founder & publisher Barry Kramer). In addition to Uhelszki, the new CREEM editorial staff includes VP of Content Fred Pessaro formerly of VICE's Noisey, Executive Editor Dan Morrissey from Entertainment Weekly, and Senior Editor Maria Sherman, following her work at NPR, Rolling Stone, BuzzFeed, Jezebel, Netflix, ELLE and her critically acclaimed book, LARGER THAN LIFE: A History of Boy Bands. Editorial Director Dave Carnie has worked with Jackass, ESPN, Big Brother, andPenthouse. Photo Editor Matt Salacuse has photographed everyone from Jay Z to Dimebag Darrell for Esquire, XXL and beyond. Grace Scott joins as Associate Editor after her work with VICE & The Toronto Star, and Zachary Lipez as Editor at Large, following his work with Pitchfork, The Washington Post and others.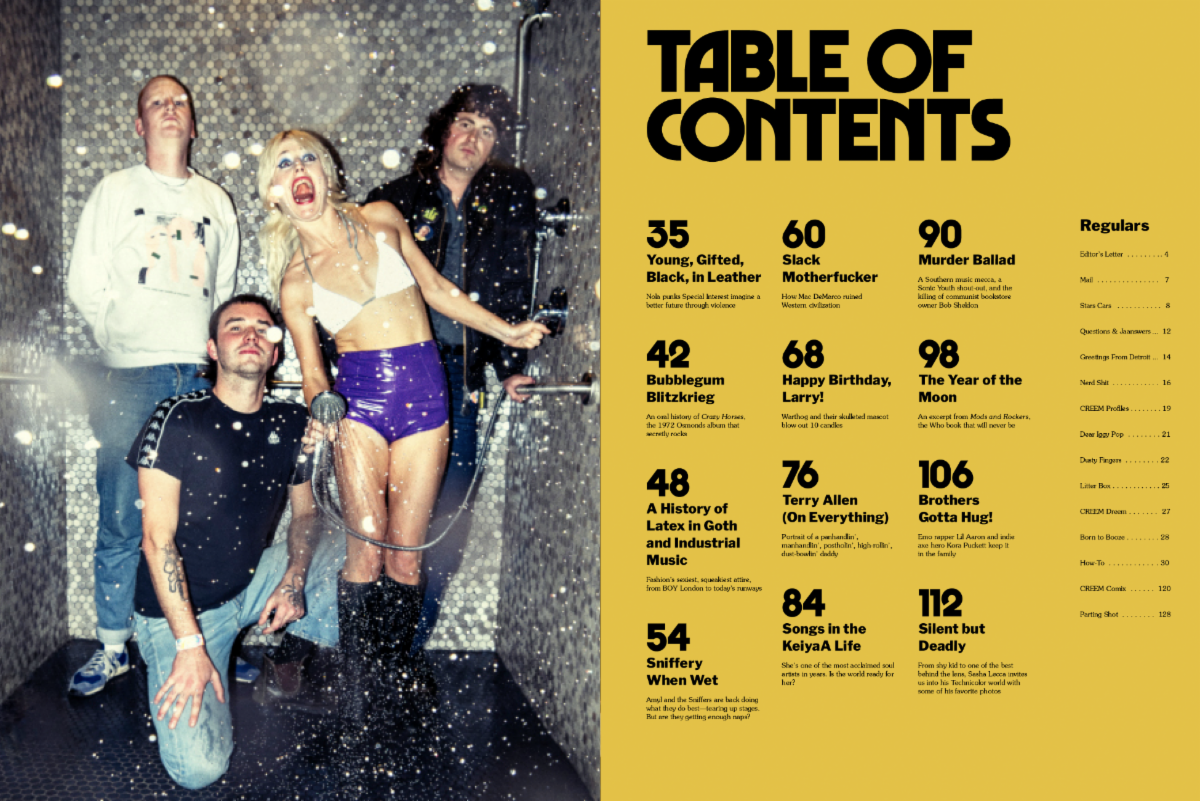 Features:
Young, Gifted, Black, In Leather
Nola punks Special Interest imagine a better future through violence
by Maria Sherman
Bubblegum Blitzkrieg
An oral history of Crazy Horses, the 1972 Osmonds album that secretly rocks
by Eric Renner Brown
A History of Latex in Goth and Industrial Music
Fashion's sexiest, squeakiest attire, from BOY London to today's runways
by Andi Harriman
Sniffery When Wet
Amyl and the Sniffers are back doing what they do best—tearing up stages. But are they getting enough naps?
by Jamie Ludwig
Slack Motherfucker
How Mac DeMarco ruined Western civilization
by Zachary Lipez
Happy Birthday, Larry!
Warthog and their skulleted mascot blow out 10 candles
by Reed Dunlea
Terry Allen (On Everything)
Portrait of a panhandlin', manhandlin', postholin', high-rollin', dust-bowlin' daddy
by Sam Reiss
Songs in the KeiyaA Life
She's one of the most acclaimed soul artists in years. Is the world ready for her?
by Mosi Reeves
Murder Ballad
A Southern music mecca, a Sonic Youth shout-out, and the killing of communist bookstore owner Bob Sheldon
by Emil Amos
The Year of the Moon
An excerpt from Mods and Rockers, the Who book that will never be
by John Liam Policastro
Brothers Gotta Hug!
Emo rapper Lil Aaron and indie axe hero Kora Puckett keep it in the family
by Ross Farrar
Silent but Deadly
From shy kid to one of the best behind the lens, Sasha Lecca invites us into his Technicolor world with some of his favorite photos
Pictorial by Sacha Lecca
Regulars:
Editor's Letter
Mail
Stars Cars
Questions & Jaanswers
Greetings From Detroit
Nerd Shit
CREEM Profiles
Dear Iggy Pop
Dusty Fingers
Litter Box
CREEM Dreem
Born to Booze
How-To
CREEM Comix
Parting Shot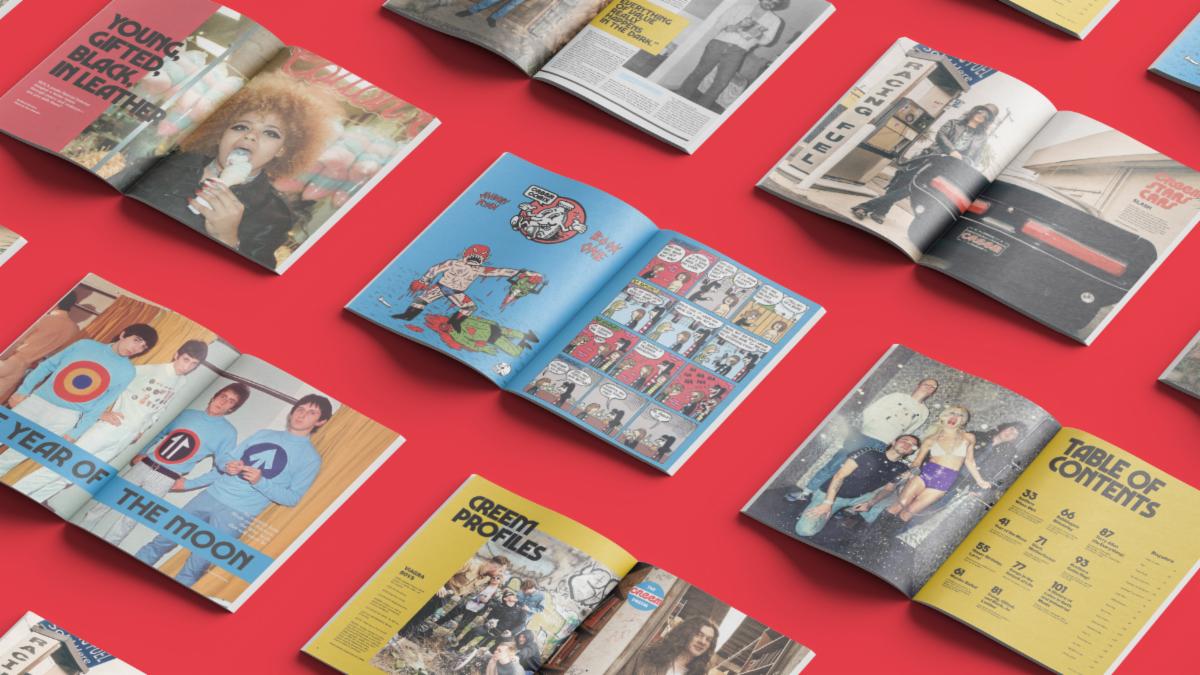 About CREEM Entertainment:
CREEM Entertainment is the modern-day devil spawn of Detroit's legendary CREEM Magazine. During its initial twenty-year run, CREEM launched the careers of countless iconic music journalists and bands, while never hesitating to lampoon those who took themselves too seriously. Today's CREEM, powered by the next generation of cage-rattling truth tellers and provocateurs, will deliver the best in editorial, original programming, merchandise, subscription products, and experiences to rock 'n' roll fans of all ages. Boy Howdy, indeed!
For more information on CREEM, please contact:
Matt Hanks (mhanks@shorefire.com)
Shannon Cosgrove (scosgrove@shorefire.com)