Features Dolly Parton, Rosanne Cash, Steve Earle, Valerie June, Bill Frisell, Marc Ribot, Jerry Douglas, Yasmin Williams, Jeff Parker & Many More
Listen to Dolly Parton's Newly Recorded Rendition Of "The Last Thing On My Mind"
https://www.youtube.com/watch?v=SxO8u23AusA
February 16, 2023 - A dazzling array of musicians, across generations and genres, have contributed to a new album that celebrates the deep influence and legacy of Doc Watson, the North Carolina guitarist, singer and songwriter who would have turned 100 on March 3 of this year. I Am A Pilgrim: Doc Watson at 100 features new renditions of some of Watson's most beloved recordings from his expansive catalog. It will be released April 28 on FLi Records / Budde Music and features Nora Brown, Rosanne Cash, Jerry Douglas, Chris Eldridge, Steve Earle, Bill Frisell, Corey Harris, Valerie June, Jack Lawrence, Lionel Loueke, Jeff Parker, Dolly Parton, Ariel Posen, Marc Ribot, Matthew Stevens and Yasmin Williams. It was produced by guitarist/songwriter/producer Matthew Stevens (known for his work producing and performing with esperanza spalding and Terri Lyne Carrington) over the past year and executive produced by Mitch Greenhill, Matthew Greenhill and Peer Steinwald.
Today the first preview of I Am A Pilgrim has been shared. Listen to Dolly Parton's recording of "The Last Thing On My Mind" here:
https://www.youtube.com/watch?v=SxO8u23AusA
"The Last Thing On My Mind," written by Tom Paxton in the early 60s, was a staple of Watson's catalog and recorded/performed by Parton throughout her career. She released a recording of it in 1967 with Porter Wagoner, and Watson and Parton performed it together in 2001 at MerleFest.
"Doc Watson is everyone's hero and a great guitar player. Some say he is the absolute best, and I was honored to get to work with him a few times in my career," says Dolly Parton.
Arthel Lane "Doc" Watson earned 7 GRAMMY Awards and 23 nominations including the Lifetime Achievement Award in 2004. He received the National Medal of Arts in 1997 from President Clinton and has been the subject of multiple books, boxed sets and compilation albums. He was born in Deep Gap, North Carolina on March 3, 1923, grew up listening to the Grand Ole Opry, Jimmie Rodgers and the Carter Family and learned guitar at a young age. In the 1950s he played electric guitar in regional dance bands and was encouraged to play acoustic music by folklorist and Smithsonian curator Ralph Rinzler, who met Watson on a trip to North Carolina. Watson was an integral part of the early 1960s folk revival and became known as one of the greatest flatpicking guitarists of all time, a style that influenced the playing of countless guitarists. Watson, who lost his eyesight at a young age, was also considered a master of the banjo. He released nearly 30 albums spanning 50 years and collaborated with Earl Scruggs, Ricky Skaggs, Nitty Gritty Dirt Band, Del McCoury, Taj Mahal, Mississippi John Hurt, David Grisman and many others. His work embraced the regional music of North Carolina and he helped to change what people thought about mountain music through his repertoire of traditional and folk recordings. Watson also presided over MerleFest from its inception in 1988, founded to honor the memory of his son, Merle, as a fundraiser for Wilkes Community College in Wilkesboro, North Carolina. Taking place each spring since 1988, MerleFest has become one of the premiere music festivals in the country and I'm A Pilgrim will be released timed to this year's festival. Watson continued performing until he passed away in May of 2012.
I Am A Pilgrim is bursting with influence of Watson's talent and charisma. A mix of vocal and instrumental tracks, it finds a host of musicians - including Rock And Roll Hall of Fame Inductees, numerous GRAMMY Award winners, countless NPR Tiny Desk alumni and recipients of countless other awards and accolades - interpreting his work through a prismatic lens of not only folk and bluegrass but blues, jazz, and influences of experimental and rock music as well. Given Watson's seismic impact on guitar playing, it's no surprise that so many guitar playing styles are represented here, from the finger tapping style of Yasmin Williams ("Doc's Guitar," a Watson original) to the slide guitar of Ariel Posen ("Will The Circle Be Unbroken") and the harmonics featured on Lionel Loueke's version of "Reuben's Train." Valerie June and Bill Frisell join forces for a haunting version of "Handsome Molly," a traditional song that Watson released in 1961. Nora Brown, a teenager turning heads with her take on old time music, contributes a moving rendition of the hymn "Am I Born To Die." Rosanne Cash and Steve Earle each reimagine classic traditionals embraced by Watson with moving renditions of "I Am A Pilgrim" and "Make Me A Pallet," respectively. The album concludes with "Your Lone Journey," a song that Watson penned while mourning his son. It was recorded by Robert Plant and Alison Krauss for their Raising Sand album and lovingly interpreted here by Bill Frisell.
Producer and album performer Matthew Stevens is an accomplished guitarist, composer and recent GRAMMY Award winner. His songs and guitar playing are featured on over 70 recordings including those by Christian Scott atunde Adjuah, Anna B. Savage, esperanza spalding and Terri Lyne Carrington. Stevens has released six solo albums that have been praised by Pitchfork, Stereogum, MOJO, The Fader and beyond, and is an Associate Professor at Berklee College of Music in Boston.
I Am A Pilgrim was executive produced by musician/composer/author Mitch Greenhill alongside Matthew Greenhill and Peer Steinwald. Mitch Greenhill also penned the album's liner notes and is President of Folklore Productions/FLi Artists. Greenhill had a close relationship with Watson, having worked with him for decades. Greenhill is known for his book Raised By Musical Mavericks, written about the lessons he learned from meeting a number of towering figures of folk and blues music at a young age through the work of his father, Manny Greenhill, who founded Folklore Productions in 1957.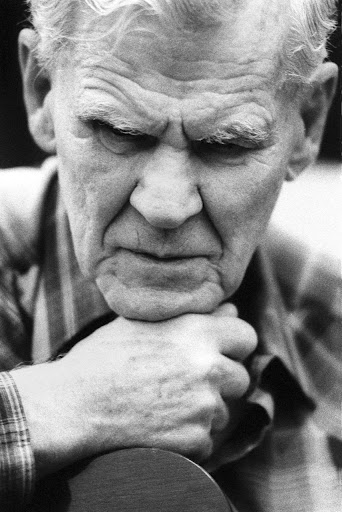 [Photo credit: Jim Gavenus]
I Am A Pilgrim: Doc Watson at 100 Track List:
Shady Grove - Jerry Douglas
The Last Thing On My Mind - Dolly Parton
Am I Born To Die - Nora Brown
Alberta - Jeff Parker & Matthew Stevens
Make Me A Pallet - Steve Earle
I Am A Pilgrim - Rosanne Cash
Florida Blues - Jack Lawrence
How Long Blues - Corey Harris
WIll The Circle Be Unbroken - Ariel Posen
Handsome Molly - Valerie June & Bill Frisell
Doc's Guitar - Yasmin Williams
Little Sadie - Chris Eldridge
Reuben's Train - Lionel Loueke
The Lost Soul - Marc Ribot
Your Lone Journey - Bill Frisell