Today (9.1), Jacob Sartorius -- the multi-talented musician, actor, and worldwide social media force -- shares his latest single "Hey, Hello, Goodbye" featuring emerging pop-star dempsey hope. Co-written by Sartorius, dempsey hope and Jake Crocker, the song's deceptively infectious hooks are layered with the stark realities of the disingenuous relationships that can occur while living in the glass castle that is Los Angeles. This single is the latest from a forthcoming, TBA project from Jacob.
Available alongside the single is the official video. Shot by Sartorius and Dominick A. Dodd (dempsey hope, Kateel), and edited by Brenton Giesey, the accompanying video is a behind the scenes glimpse into the entire process, from Jacob flying from LA to dempsey hope's hometown of Seattle, to the two collaborators and friends creating magic in producer Jake Crocker's studio.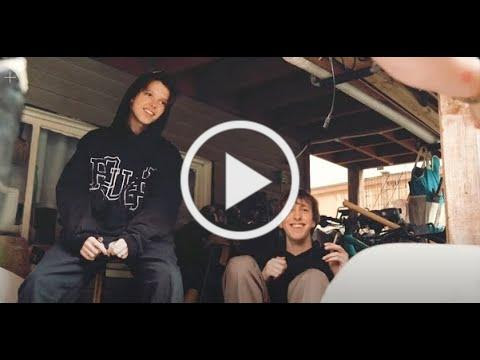 "Often times conversation while living in Los Angeles consist of three words: Hey, Hello and Goodbye," says Jacob. "This is something dempsey and I have both experienced and struggled with while living in the city. It gets lonely sometimes always questioning who you can trust and who really cares."
"We're so stoked for this track. Jacob reached out and we really vibed when we first met in November 2020," says dempsey hope. "Jacob came to Seattle a few months ago to finish the track, I'd always loved his music but in the process he's not only become a collaborator but a great friend."
Earlier this Summer, Jacob released "For Real" alongside a The Truman Show-inspired video that playfully explores a sense of disconnection from reality. The track premiered exclusively on MTV and Nickelodeon, plus was featured on MTV's Times Square billboard.
About Jacob Sartorius
18-year-old musician, actor and social media phenom Jacob Sartorius is one of Gen-Z's fastest-growing stars. The People's Choice Award, Kid's Choice Award and Teen Choice Award-nominee consistently delivers honest and heartfelt content that has catapulted him to "5th most engaged user on Twitter" and "one of the most engaged accounts globally on Instagram." A strong advocate for mental well-being, Jacob is passionate about anti-bullying and adoption. He has accumulated an ever-growing following that includes 9.4 million Instagram followers, over 3 million YouTube subscribers and more than 24 million TikTok followers. In addition to sold-out performances in the U.S. and around the world, and RIAA gold status for his singles "Sweatshirt" (2016) and "Hit or Miss" (2017), Jacob has graced the cover of Billboard magazine, guested on HBO's Vice News and NPR's Here and Now, performed at the Kid's Choice Awards and HALO Awards and made his national TV debut on MTV's TRL. Recently, he was featured on Entertainment Tonight, Clevver News and Seventeen.