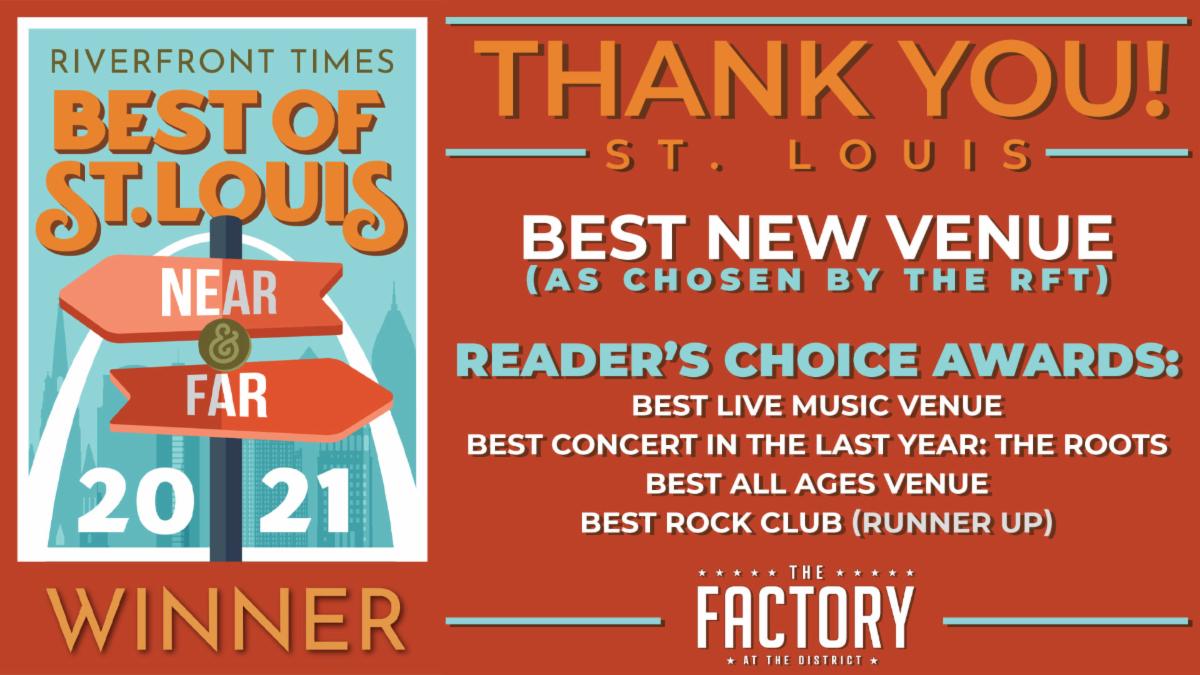 The Factory at The District, which opened in Chesterfield this July, was named St. Louis' "Best New Venue" by the Riverfront Times, whose readers also chose it as "Best Live Music Venue," "Best Concert in The Last Year (The Roots)" and "Best All Ages Venue." It was also the runner up for Riverfront Times' "Best Rock Club" category. Read more, here: riverfronttimes.com/stlouis/BestOf?category=2349232&year=2021
A one-of-a-kind premier venue and the first new venue built in the Midwest from the ground-up in more than 40 years, The Factory is the area's new go-to spot for eating, playing and rocking. The event space has welcomed musical acts like Sublime, The Beach Boys, Don Toliver, BIA, Buddy Guy and Midland, with many more to come for the remainder of 2021 including the MJ Experience, Daughtry, Old Dominion and more. For the full lineup, visit thefactorystl.com/shows.
ABOUT THE FACTORY:
The Factory St. Louis is a brand-new music club built on a foundation of solid rock and roll. The first performance venue built from-the-ground-up in the Midwest in over twenty years, The Factory offers 52,000 square feet constructed specially for live music, with every detail designed for the performer and the audience. Inside, the audience will find a great view of the 60-foot-wide stage from every seat. Outside, concertgoers will find the location convenient (immediately off I-64) and safe with free, expansive and lighted parking lots. The Factory has a capacity of 3,000, but with its unique, movable partitions different seating configurations can be created — offering tremendous floor plan flexibility — ranging from 2,350-person seated shows to 610-person seated dinners to intimate gatherings of any size.
 Located in St. Louis' upscale community of Chesterfield, The Factory is one of the anchors in the new entertainment complex – The District. The Factory is surrounded by restaurants, shops and entertainment options designed to appeal to everyone. Visit thefactorystl.com.