MetaZoo Games LLC has formally announced a partnership with Steve Aoki, who will be employed as a full equity partner and cofounder.
Steve Aoki, acclaimed DJ, producer, entrepreneur, and philanthropist, will head MetaZoo Games LLC's marketing and corporate partnership endeavors. This announcement comes shortly after Michael Waddell, the founder and creator of MetaZoo Games LLC, was featured during a live-break in Aoki's Cardhouse YouTube livestream on July 18th. This timely announcement, key to MetaZoo's growth, coincides with the company's 1st Edition print run of its debut trading card game (TCG) set, MetaZoo: Cryptid Nation---on sale July 30th.
"Steve is a powerhouse innovator," said Michael Waddell. "He's been instrumental to us behind the scenes over the past few months and now that his involvement is official there's no limit to what MetaZoo will accomplish!"
Steve Aoki's excitement matches Michael's: "I knew from the moment I laid eyes on the first MetaZoo cards that the potential for this brand is absolutely crazy. Michael and I are going to blow the lid off this thing and make it the biggest and best TCG in the world - this is just the beginning!"
Additionally, Shaw Mead has joined the MetaZoo Games' executive team as Chief Operating Officer. He brings over two decades of experience and industry innovation, with a history of building multiple successful companies in the hobby and trading card game market.
"I immediately recognized the overwhelming potential of the amazing MetaZoo world," said Shaw Mead. "The market is red hot right now, and it is the perfect time for MetaZoo Games. This partnership with Michael and Steve is the opportunity I have been waiting years for; I'm excited to help them build MetaZoo to its full potential!"
And indeed it is just the beginning - Michael and Steve have big plans for the future of MetaZoo, including five TCG set releases rolling out over the next 18 months (see titles below).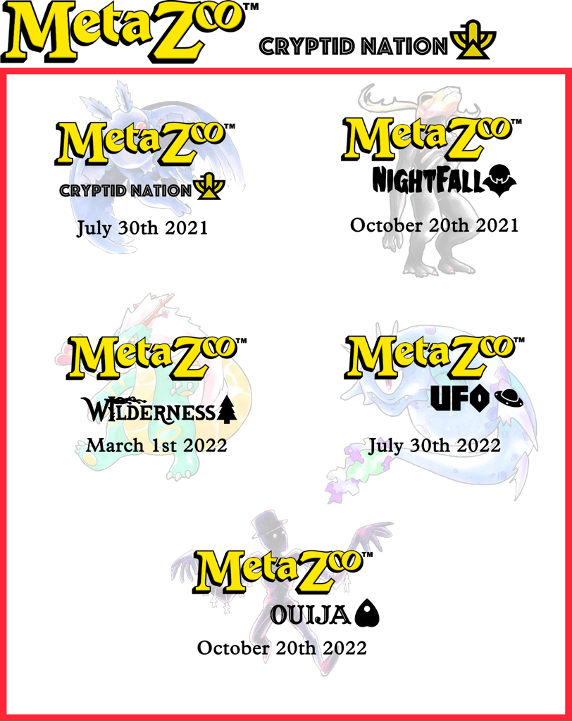 But their vision for the brand is even wider...Think toys, plushies, figurines, a television show, movies - you name it! Everything will be possible in the world of MetaZoo.
The company has a range of exciting plans for its future:
● MetaZoo Games has recently brought on new high-profile distribution partners, making the reach of MetaZoo nearly worldwide. Channel Fireball, a leading supplier of trading card game products, will be a primary distributor of MetaZoo products to the US, Australia, and New Zealand. Adding to the list of prestigious distributors, Universal Distribution will cover Canadian distribution, and Peachstate Hobby Distribution will cover US, Central America, and LATAM distribution. Golden Distribution will continue core hobby distribution as well as complete MetaZoo Games fulfillment operations.
● MetaZoo is also proud to announce that it's working with Topps on a Series 1 trading card set and a Series 1 collectible sticker set.
● Michael and his team have been working closely with TCGPlayer and MetaZoo is officially released on their world-class online market platform.
● On the streaming side of the TCG universe, MetaZoo is also pleased to announce an official partnership with whatnot. Its official box breakers on the whatnot platform and sponsors at New York Comic Con will be none other than the incredible stashhhloot!
● MetaZoo will also be partnering with Collect-A-Con in an effort to create a powerful presence at various conventions nationwide.
● Finally, Michael and Steve have been working closely with PSA, BSG, CGC, and DGS to bring MetaZoo fans as many top-tier grading service options as possible!
The 1st Edition Print Run for MetaZoo: Cryptid Nation will be released on July 30th at a local game store near you! This first print run is already almost entirely sold out! But don't worry - if you are a fan or even local game store that missed out on this print run, a second print run is already on its way!
More information on purchasing and MetaZoo related products can be found here.
About Steve Aoki:
Steve Aoki, the two-time Grammy-nominated producer/DJ is one of today's most successful American cross-genre artists, collectively counting 2.8 billion music streams on Spotify. As the founder of the trendsetting record label, events/lifestyle company, and apparel line Dim Mak Records, which he founded in 1996, Aoki has helped launch the careers of global acts like The Chainsmokers, Bloc Party, The Bloody Beetroots, The Gossip, and The Kills, among many others. Dim Mak today counts more than 1,000 official releases from the biggest acts and most buzzing newcomers across EDM, indie rock, hip-hop and beyond over its two-decades-plus discography. As a solo artist, Aoki boasts a lauded discography that includes: Wonderland (2012), his debut solo album, which garnered him his first-ever Grammy nomination for Best Dance/Electronica Album; hip-hop centric Kolony (2017), and the Neon Future series, which includes 'Neon Future I' (2014, certified gold by the RIAA), 'Neon Future II' (2015), 'Neon Future III' (2018) and the recently released 'Neon Future IV' (April 2020); which has rocketed in streaming to date and received praise from singles such as "Maldad" ft. Maluma and "Let It Be Me" ft. Backstreet Boys. Recognized by Forbes as one of the top 5 world's highest paid DJ'sand the world's hardest working DJ, Aoki is "one of the most in-demand entertainers in the world" (Billboard), counting more than 250 tour dates per year. In 2012, Aoki founded THE AOKI FOUNDATION, which primarily supports organizations in the brain science and research areas with a specific focus on regenerative medicine and brain preservation. Most recently, Steve Aoki released his critically acclaimed memoir entitled BLUE: The Color of Noise published by St. Martin's Press.
About MetaZoo
MetaZooGames is a startup launched in August 2020 that creates trading cards, accessories, and clothing. The company utilizes creatures from urban and modern folklore, such as Mothman, Bigfoot, or the Fresno Nightcrawlers. MetaZoo: Cryptid Nation is the premiere trading card game by MetaZooGames LLC, which launched its successful Kickstarter print run in March 2021.
MORE FROM STEVE AOKI: