"The Hardest Rocking Women in the Genre" (Associated Press) Return with One of the Year's Best-Selling Tours, Proving Women in Rock's Selling Power
Listen to "Better Without You," Evanescence's Current Top-10 Rock Radio Single (Billboard, MediaBase) HERE
Tickets to the fall tour here: evanescence.com
Read more at Pollstar here: https://www.pollstar.com/article/amy-lee-and-lzzy-hale-promise-a-thunderous-and-joyous-arena-co-bill-148536
Evanescence and Halestorm are hitting the road together this November, and their ability to sell out arenas nationwide has landed them on the cover of the latest issue of Pollstar.
Lauded as the "Hardest rocking women in the genre" (Associated Press), the nationwide arena tour is one of the best-selling in the post COVID-vaccine era. And for most of the arenas they're playing, Amy Lee and Lzzy Hale are the only female headliners appearing this year - in any genre.
Amy said to Pollstar: "We don't know if we have tomorrow. I don't want to waste a day. And if we know we're not going to be out on tour, we want to spend it doing the thing that we want, and know the fans want, the most, like a new album of music."
She continued on to explain how the pandemic influenced Evanescence's new album: "We're all suddenly faced with our mortality. I had just gone through the loss of my brother, which was so hard and such a big part of the inspiration for the music writing that I've been doing. And suddenly I was like, the world needs this."
Rick Franks, Global Touring Live Nation, said: "We have two of the most iconic female-fronted bands on the planet working together in North American arenas this fall. The business to date is far exceeding our forecasts and we are adding additional cities to the itinerary based on the very hot demand. It is never surprising when you have a great talent bill that the tickets fly out the door. We can't wait to kick things off November 5 in Portland!"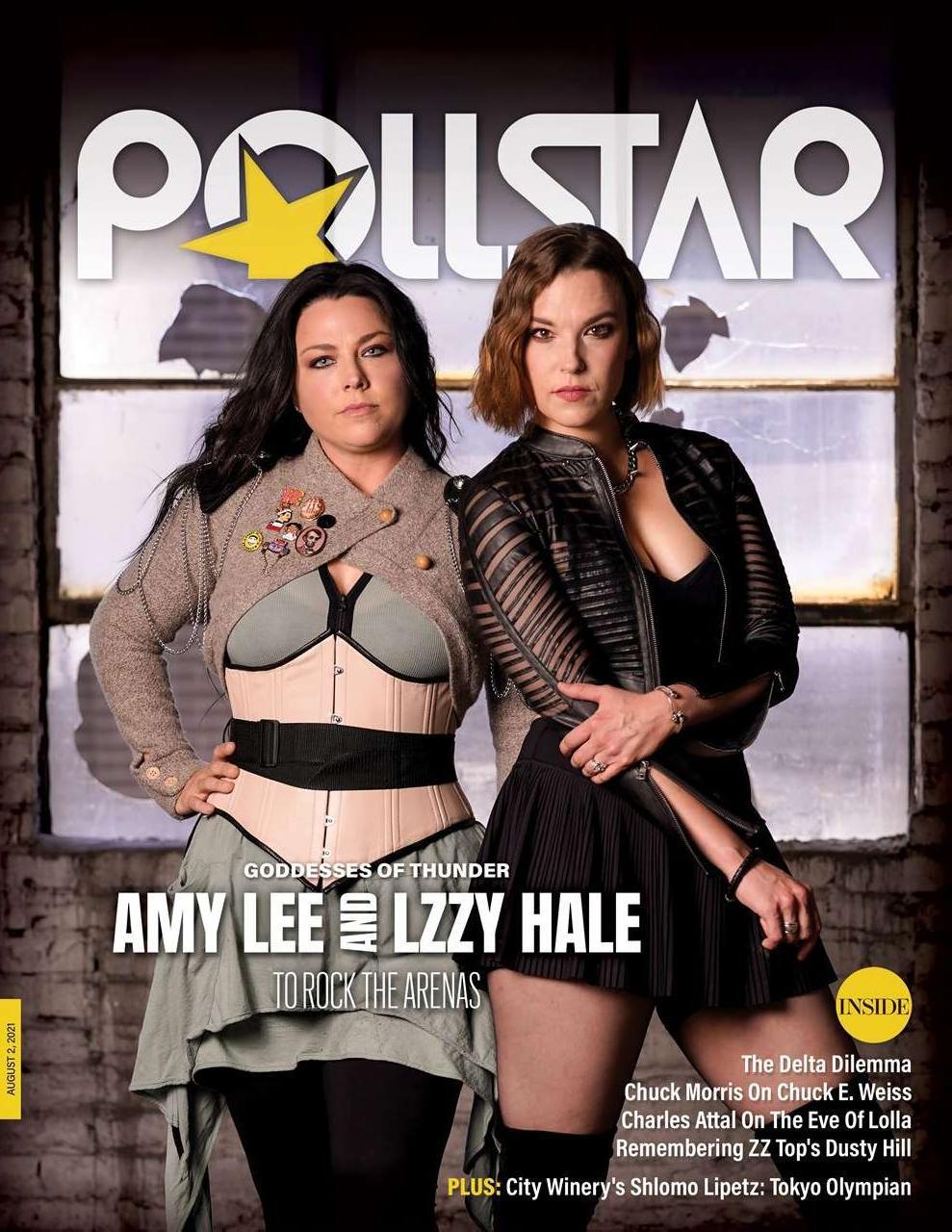 Photo: Associated Press / Mark Humphrey
Evanescence returned earlier this year with The Bitter Truth, their first album of all new material in a decade, which will feature prominently on this tour. Described by The LA Times as the group's "fiercest songs to date," the album dealt with the tragedy and growth that singer Amy Lee personally experienced in recent years (as well as the collective tragedy and growth of the planet over the past year), in the epic rock style that put the band on the map.
Evanescence's current single, "Better Without You," just went Top 10 on both the Billboard and Mediabase Rock Radio Charts.
Listen to 'The Bitter Truth' HERE, watch the video for "Better Without You" HERE, and check out praise and additional stats below.
Tour dates for Evanescence & Halestorm's fall tour at bottom (tickets - evanescence.com)
The Bitter Truth and "Better Without You" on the Charts:
The Bitter Truth - opened #1 on The Billboard Current Rock & Current Alternative Charts
The Bitter Truth- reached #1 on iTunes in 22 countries
"Better Without You" - Top 10 at Rock Radio (the band's first top 10 in a decade) - Billboard Mainstream Rock Chart & MediaBase Active Rock Chart
"Better Without You" - 11th Most-Played Current Rock Song This Year (MediaBase)
Recent Critical Acclaim for Evanescence:
Rolling Stone's Best Albums of 2021 So Far
Entertainment Weekly: "Lee's voice has never sounded rawer or more passionate than it does on The Bitter Truth"
LA Times: [Amy Lee's] "fiercest songs to date."
V Mag: "An epic rock blast … in a word, iconic."
Consequence of Sound: "Amy Lee and company triumphantly return … it's certainly worth the wait."
About Evanescence
Two-time GRAMMY® Award-winning Evanescence has made an impact on people around the world. The group's 2003 landmark debut album Fallen laid the foundation spending 43 weeks on the Billboard Top 10 and selling more than 17 million copies worldwide. Debut single and global hit "Bring Me to Life" reached #5 on the Billboard Hot 100 and marked their first U.K. #1 hit single. The equally popular "My Immortal" peaked at #7 in the U.S. and U.K. Following multiple worldwide tours, The Open Door came next, which went on to sell more than five million copies followed by the self-titled Evanescence which debuted at No. 1 on the Billboard Charts. Evanescence lead singer-songwriter and pianist Amy Lee, bassist Tim McCord, drummer Will Hunt, lead guitarist Troy McLawhorn, and guitarist and backing vocalist Jen Majura went down both very new and familiar paths for their fourth and most ambitious release to date, Synthesis, in 2017 via BMG. The symphonic effort scored four Billboard #1s, debuting atop the Independent, Alternative, Rock, and Classical Album Charts. Evanescence launched their worldwide "Synthesis Live" tour in October 2017 combining their intense live performances and timeless songwriting with a powerful live orchestra. The Bitter Truth, out now on BMG, is Evanescence's fourth studio album.
About Halestorm
Named "Rock Artist of the Decade" in 2019 by Loudwire, Grammy-winning hard rock band Halestorm are currently at work on the follow-up to 2018's Vicious, which Rolling Stone called a "muscular, adventurous, and especially relevant rock record." "Uncomfortable" from that album earned the band their second Grammy nomination and a fourth #1 at rock radio. Fronted by the incomparable vocalist/guitarist Lzzy Hale, recently named Gibson's first female brand ambassador, with drummer Arejay Hale, guitarist Joe Hottinger, and bass player Josh Smith, Halestorm has earned a reputation as a powerful live music force, headlining sold-out shows and topping festival bills around the world, and sharing the stage with icons including Heaven & Hell, Alice Cooper, and Joan Jett.
Evanescence & Halestorm 2021 Tour Dates
Fri, Nov 5 - Portland, OR - Veterans Memorial Coliseum *
Sun, Nov 7 - Seattle, WA - Climate Pledge Arena *
Tues, Nov 9 - San Jose, CA - SAP Center at San Jose *
Wed, Nov 10 - Los Angeles, CA - YouTube Theater *
Fri, Nov 12 - Las Vegas, NV - The Cosmopolitan of Las Vegas - The Chelsea *
Sat, Nov 13 - San Diego, CA - San Diego State University - Viejas Arena *
Mon, Nov 15 - Phoenix, AZ - Arizona Federal Theatre *
Sat, Nov 20 - Fort Worth, TX - Dickies Arena *
Thu, Dec 2 - Duluth, GA - Gas South Arena ^
Sun, Dec 5 - Saint Louis, MO - Saint Louis University - Chaifetz Arena ^
Sat, Dec 11 - Detroit, MI - Little Caesars Arena ^
Sun, Dec 12 - Cincinnati, OH - Heritage Bank Center ^
Tue, Dec 14 - Pittsburgh, PA - University of Pittsburgh - Petersen Events Center ^
Wed, Dec 15 - Newark, NJ - Prudential Center ^
Fri, Dec 17 - Camden, NJ - BB&T Pavilion ^
Sat, Dec 18 - Worcester, MA - DCU Center ^
*PLUSH supports
^ Lilith Czar supports