New Album Watch The Sun Out April 29th
Summer & Fall Tour Includes NYC's Apollo Theater, LA's Theater at Ace Hotel, Nashville's Ryman Auditorium & Much More On Sale Today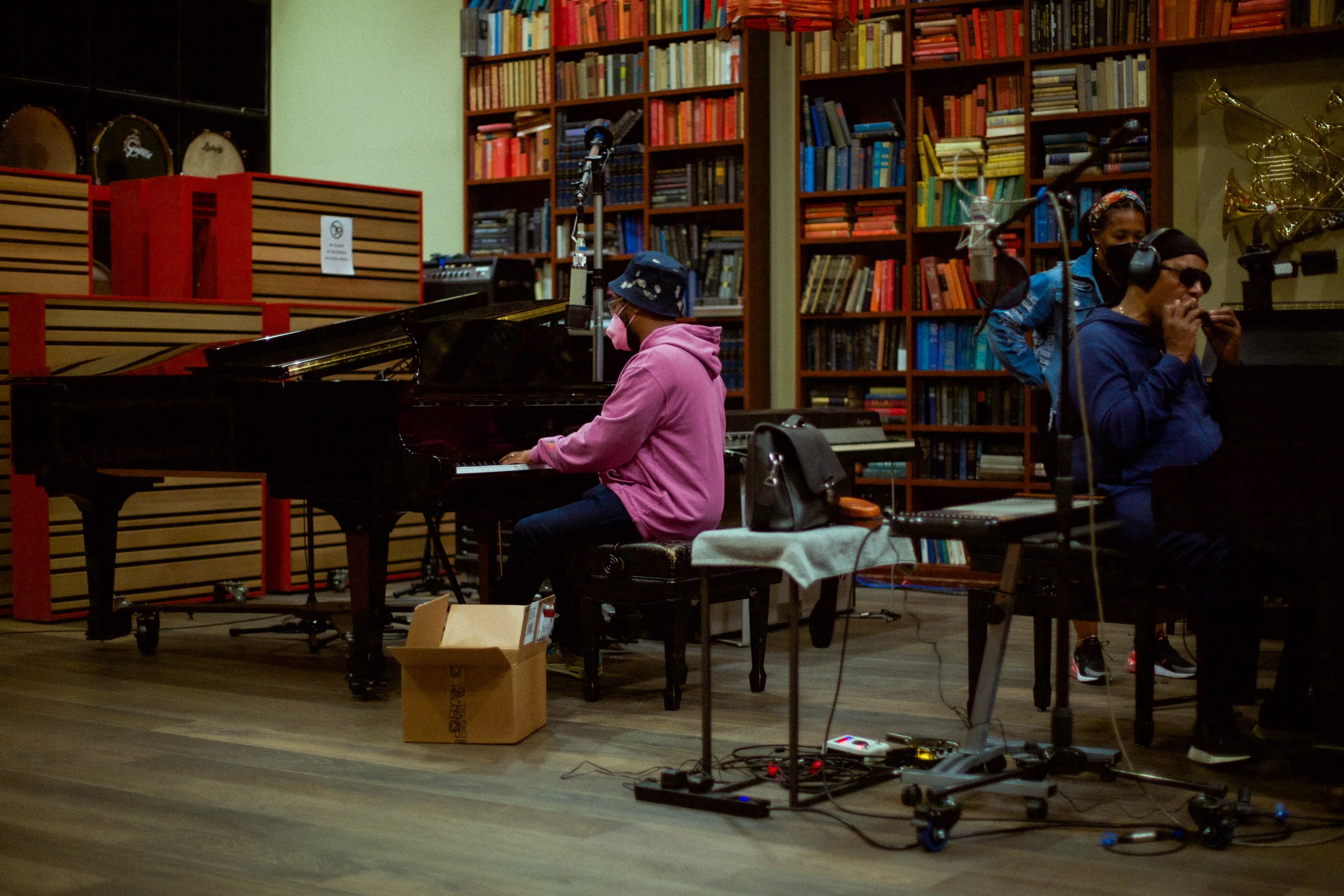 Photo by Laiken Joy
Today, PJ Morton brings together two of his biggest musical heroes on one new single: "Be Like Water" (feat. Stevie Wonder & Nas). A highlight and spiritual centerpiece of his forthcoming album Watch The Sun, out April 29th on his own Morton Records, the song is a message to remain fluid and adaptable to life's challenges and changes, blending strings, synths and shifting tempos in an attempt to wash away the worries. It wasn't until after he finished writing and producing the track that PJ Morton began to envision multiple sections of lead vocals, harmonies and harmonica from Wonder, and a rousing verse by Nas. The end result marks another dream come true for the four-time Grammy-winning soul artist.
Listen to "Be Like Water" (feat. Stevie Wonder & Nas) Here:
https://music.empi.re/belikewater
"'Be Like Water' was definitely a phrase I had heard before," says PJ Morton. "Bruce Lee made it famous of course, but it didn't fully connect with me until we were all shut down and I had to pivot in my life like we all had to. After I finished writing it I could only hear Nas' voice on it. For him to actually get on it blew my mind. Then when Stevie Wonder agreed to be on it and to learn that Nas had always wanted to work with Stevie, it was beyond my wildest dreams!"
While PJ Morton previously collaborated with Stevie Wonder on his 2013 Grammy-nominated single, "Only One," the two have since grown closer as mutual fans and friends. "Be Like Water," however, is the first time they have sung together on a brand new, studio record, as well as the first time Morton has worked with Nas. The rest of Watch The Sun also features special appearances from Alex Isley, Chronixx, El DeBarge, Jill Scott, JoJo, Wale and more listed in the full tracklist below. See Morton discuss the album in recent appearances on The Real and Good Morning America, where he also delivered the live debut of "My Peace" (feat. JoJo & Mr. Talkbox).
This summer and fall, PJ Morton and his band will bring the music of Watch The Sun on tour to more than 35 shows across the country, including stops at Nashville's Ryman Auditorium, New York City's Apollo Theater, Los Angeles' Theater at Ace Hotel, Detroit's Aretha Franklin Amphitheatre and far beyond. Announced earlier this week, all dates on the upcoming Watch The Sun Tour are on-sale at 10am local time today. Find tickets and more information at pjmortonmusic.com/#shows.
Watch The Sun Tracklist
Love's Disease (Just Can't Get Enough)
Biggest Mistake
Please Don't Walk Away
Watch The Sun (feat. Chronixx)
My Peace (feat. JoJo & Mr. Talkbox)
Be Like Water (feat. Stevie Wonder & Nas)
So Lonely (feat. Wale)
Still Believe (feat. Jill Scott & Alex Isley)
Lil' Too Heavy
On My Way (feat. El DeBarge)
The Better Benediction (feat. Zacardi Cortez, Gene Moore, Samoht, Tim Rogers & Darrel 'MusiqCity' Walls)
PJ Morton - 2022 Tour Dates
4/29 - New Orleans, LA - New Orleans Jazz & Heritage Festival
5/25 - Sydney, NSW - Oxford Art Factory
5/26 - Melbourne, VIC - Corner Hotel
5/28 - Jakarta, IDN - Java Jazz Festival
6/17 - Houston, TX - House of Blues Houston
6/18 - Austin, TX - Emo's
6/19 - Dallas, TX - House of Blues Dallas
7/6 - Detroit, MI - Aretha Franklin Amphitheatre
7/10 - Bellingham, WA - NW Tune-Up Festival
7/15 - St. Louis, MO - Delmar Hall
7/16 - Chicago, IL - Athenaeum Theatre
7/17 - Nashville, TN - Ryman Auditorium
7/20 - Memphis, TN - The Cannon Center for the Performing Arts
7/22 - Indianapolis, IN - The Vogue
7/23 - Columbus, OH - KEMBA Live!
7/24 - Pittsburgh, PA - Stage AE
7/26 - Buffalo, NY - Town Ballroom
7/27 - Toronto, ON - Queen Elizabeth Theatre
7/29 - New York, NY - Apollo Theater
7/30 - Philadelphia, PA - The Fillmore
7/31 - Newport, RI - Newport Jazz Festival
8/23 - Oklahoma City, OK - Tower Theatre
8/25 - Mobile, AL - Soul Kitchen Music Hall
8/27 - Fort Lauderdale, FL - Revolution Live
8/28 - Lake Buena Vista, FL - House of Blues Orlando
8/30 - Knoxville, TN - Bijou Theatre
8/31 - Charleston, SC - Charleston Music Hall
9/2 - Atlanta, GA - The Tabernacle
9/3 - Charlotte, NC - Knight Theater
9/4 - Washington, DC - Warner Theatre
9/15 - Portland, OR - Wonder Ballroom
9/16 - Vancouver, BC - Hollywood Theatre
9/17 - Seattle, WA - Moore Theatre
9/20 - Sacramento, CA - Ace of Spades
9/22 - San Francisco, CA - Palace of Fine Arts
9/23 - Santa Cruz, CA - The Catalyst Club
9/24 - Los Angeles, CA - The Theatre at Ace Hotel
9/29 - San Diego, CA - The Observatory North Park
9/30 - Phoenix, AZ - The Crescent Ballroom
10/1 - Albuquerque, NM - Sunshine Theater
Follow PJ Morton
For more information, contact Matt Hanks or Greg Jakubik at Shore Fire Media,
(718) 522-7171