Two New SC25 Singles Feature Covers of Kacey Musgraves & Kelly Lee Owens by NNAMDÏ & Beach Fossils: LISTEN
All Proceeds Benefit $250,000 Fundraising Goal for New Hope For Families, Advancing Secretly Canadian's Mission to Aid Every Homeless Family in Bloomington, Indiana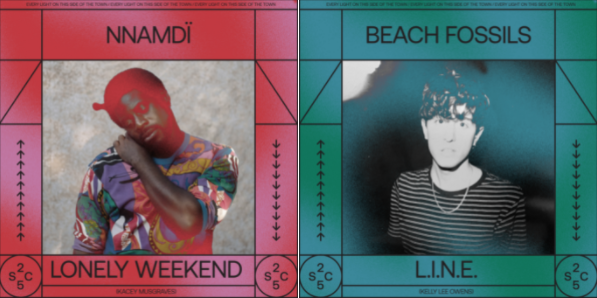 Today, Secretly Canadian reveals its next set of SC25 Editions, a reissued series of classic albums that have defined and redefined a quarter century worth of history for Bloomington, Indiana's most indispensable indie record label. Out September 3rd and available to pre-order now, ANOHNI's HOPELESSNESS, Damien Jurado's Where Shall You Take Me?, Here We Go Magic's A Different Ship and Richard Swift's Dressed Up For the Letdown are the latest four titles to receive physical releases as limited edition, specially packaged new LPs. Pressed on colored vinyl and accompanied by commemorative essays, art prints and more, each title in SC25 Editions advances the charitable efforts of SC25 - Every Light On This Side of The Town, Secretly Canadian's year-long 25th Anniversary celebration that commenced this spring.
In a mission to aid every family experiencing homelessness in its hometown of Bloomington, Secretly Canadian will donate net proceeds from all SC25 Editions - and every initiative in the sweeping SC25 campaign - to a $250,000 fundraising goal for New Hope For Families. The fellow Bloomington institution is the only place in the city and the greater Monroe County where families with children can find shelter together. Instead of separating male and female populations like most shelters in the US, New Hope's housing-first model accepts families as they self-define, inclusive of all sexual orientations and gender identities. There are currently a reported 334 unhoused people in Bloomington, including 81 children and 34 families. With Secretly Canadian's donation of $250,000, New Hope can build a housing unit to serve 20 families in a year (800 families in its 40-year lifespan), or provide services to 40 families for the full duration of their time with New Hope, covering housing, case management, deposits on rent or permanent housing, childcare and other special needs.
A total of twelve SC25 Editions will arrive in groups of four throughout 2021, and the newly announced titles from ANOHNI, Damien Jurado, Here We Go Magic and Richard Swift follow the inaugural batch of Jens Lekman's When I Said I Wanted To Be Your Dog, The War On Drugs' Wagonwheel Blues, Tig Notaro's Live and Whitney's Light Upon the Lake, out now.
Order all SC25 Editions here and learn more at the SC25 site:
https://sc25.secretlycanadian.com
Secretly Canadian has also announced the two latest installments in its SC25 Singles series with two exclusive reimaginings: NNAMDÏ's take on Kacey Musgraves' "Lonely Weekend" and Beach Fossils' rendition of Kelly Lee Owens' "L.I.N.E.". Inspired by Secretly Group's Our First 100 Days - which in 2017 raised funds for worthy causes under threat from the then-new Trump administration - SC25 Singles delivers 25 new and unreleased songs, covers and collaborations from artists both within and beyond the Secretly Canadian roster. To date, the label has shared contributions from Stella Donnelly, Porridge Radio, Skullcrusher and Green-House.
Listen to NNAMDÏ's "Lonely Weekend," Beach Fossils' "L.I.N.E." and revisit all SC25 Singles here: https://ffm.bio/sc25
"Folks that toured with me in the past few years know it's no secret that I'm a huge fan of Kacey Musgraves' music," says NNAMDÏ. "I got the dang tweet receipts and everything. Every song on Golden Hour is a bop and 'Lonely Weekend' is one that always pumps me up because of its immediacy. The song just starts with the vocals and you're in it for the ride from the get go. Kacey introduced me to an album by the prodigy, bluegrass savant Chris Thile that really blew me away. Since I was gifted a really old ukulele and a funky lil busted ass banjo early last year, I decided it would be fun to incorporate some elements of that into this cover despite never having played banjo before. Lol. It's kind of a slight homage to that with my own spin on it and a thank you to her for introducing me to one of my new favorite records."
Beach Fossils' Dustin Payseur adds, "I've been friends with Kelly for over a decade, it's been inspiring to see her evolution as a musician/songwriter/producer. 'L.I.N.E.' was my favorite track of 2020, the first time I heard it I stopped what I was doing and had to play it over and over. I've always believed that a great song lends itself to being performed in any genre, so I was excited to take on the challenge of covering it in my own style."
Since brothers Ben and Chris Swanson founded Secretly Canadian with two friends in a basement back in 1996, Secretly Canadian has become "one of the most respected independent labels in the world" (Variety). The company has evolved into the global Secretly Group - a family encompassing the equally venerated labels of Jagjaguwar and Dead Oceans, in addition to Secretly Distribution, Secretly Publishing, Numero Group, Ghostly International and more - while providing a home to a multitude of fellow record companies, small businesses and a myriad of trailblazing artists. Through it all they've remained a Bloomington-based operation, and with SC25, the label and the city will move forward together, continuing to build new futures for families in need of a home.
Follow Secretly Canadian