LISTEN ON DSPS HERE
Watch the Riveting Video For "Already free" HERE
Watch Shungudzo's National Late Night TV Debut On Full Frontal With Samantha Bee HERE
Following her national television debut on Full Frontal with Samantha Bee last week, Zimbabwean-American artist/activist Shungudzo today releases her debut album, 'I'm not a mother, but I have children' (Svikiro Records/Young Forever/BMG). Shungudzo will also be performing her first full set on It's A School Night on Monday June 21st at 5pm PT.
Also today, Shungudzo adorns the Times Square Spotify billboard, and drops the chilling & inspiring video for "Already free". Watch HERE.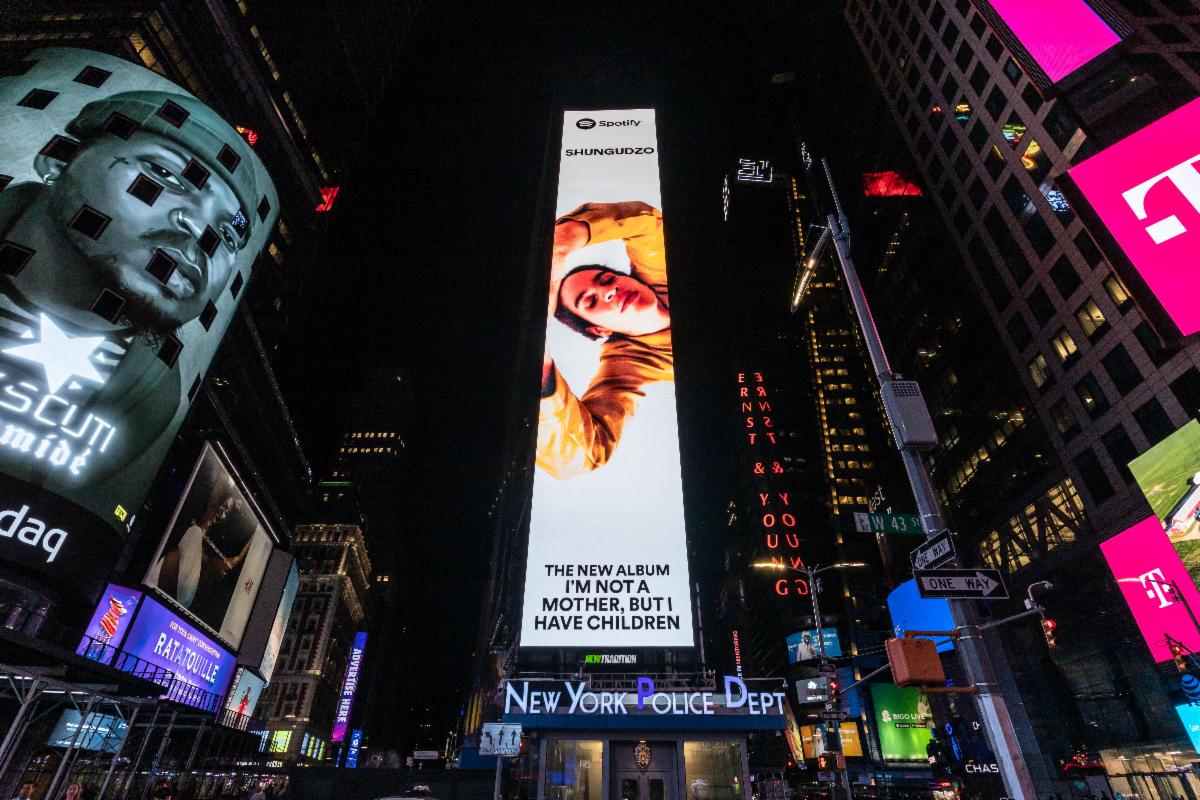 Written and produced primarily on her own, the 16-track (13 songs and 3 poems) album is Shungudzo's musical diary that challenges today's societal systems while introspectively shedding light on her personal journey growing up in both Zimbabwe and America.
Shungudzo's mission in the music industry is not one of self gratification but instead of collaborative change. Created out of the angst she and many Americans felt during protests for racial justice across the world last summer, Shungudzo knew it was time to take pen to paper and collect her thoughts in the form of music and poetry. "I hope that being open about the range of emotions I've felt over the Black experience, the female experience and the human experience encourages other people to be more open about what they're going through," she states on her thought process when creating the album.
Examples of these "experiences" can be found on the album's previously released singles. "It's a good day to fight the system" released in October 2020, shortly before election day, quickly became a voter's anthem with lyrics that encouraged everyone, no matter what their race, class or status to make a change in the world, either by protest or simply casting a vote. Second single "To be me" approached a difficult topic in a very emotional and eye opening way. Bringing attention to the topic of feeling unsafe in your own body, Shungudzo lyrically envelops the listener with the thoughts of a woman walking alone at night, then later goes into the nuances of being Black in America and being targeted for doing regular things. "There's only so much a soul can take" takes a more bold and frustrated stance on societal stereotypes and the toll it takes on one's mental and spiritual health, while "White parents" brings a taboo topic to centerstage by touching on the fetishization of people of color without the intent to marry or take the relationship to a mature level.
Title track "I'm not a mother, but I have children" is the most sentimental of the tracks released and represents the album holistically. The track is Shungudzo's interpretation of a classic folk protest song mixed with her personal approach to production, songwriting and song structuring. With an infusion of layered American and Zimbabwean sonic and vocal elements, the result is a dreamy sound capsule of hope.
In a singles-driven world, I'm not a mother, but I have children is an album to be refreshingly listened to from start to finish. There is a journey in each of the 16 tracks, 15 of which Shungudzo wrote all of the lyrics and melodies entirely on her own, and all of which she either produced and engineered alone or alongside friends. Many of Shungudzo's collaborators on this album are fellow Zimbaweans. "It was important for me to use the privilege I have — to be able to make music on an international platform — to give back to others who don't have that same privilege," she says, "Which is why I hired so many Zimbabwean musicians to play on the album. The soul of their playing was the final step in making the album's heart beat."
When Shungudzo was five years old, she made a promise to herself to write a poem every day for the rest of her life. In addition to her own poetry and songwriting, Shungudzo has written for Little Mix, Chiiild, and Jessie Ware among others. She is also a talented dancer and gymnast, and was the first female artistic gymnast of color to compete on the Zimbabwean National Team. Before pursuing music full time, she ran a media company and attended Stanford University. She now lives in Los Angeles.
With the release of her debut album, Shungudzo hopes that listeners come away better than they were before listening to the album. Music is more than just good beats and catchy superficial lyrics to Shungudzo, she instead wants to incorporate the good tunes with real life lyrical tools that ask the listener to look inside themselves, embrace their good, analyze their intentions, and rethink life's priorities. "I've always believed that things have to get better, and that if something has to be, then it will be, she says. "But not without a commitment to bettering ourselves and our communities; to thinking outside of ourselves and instead about future generations of all living things. We have to fight for this planet and everything on it to have a future. And each of us has a special skill that we can contribute to that fight. For me, for now, it's music."
Tracklist
Black breath (intro)
It's a good day (to fight the system)
Fatherless child
Trippin'
There's only so much a soul can take
I'm not a mother, but I have children
'Merican dream
To be me
When to stop talking about it (intermission)
Where are my friends?
White parents
Good thing I'm not god
How many more lives?
The world can't change for you, but you can change the world
Already free
Silence, hate, beat, kill (outro)
Shungudzo on the Web