On what would have been Mike Seeger's 86th birthday, Smithsonian Folkways has announced the September 20th release of 'Just Around The Bend: Survival and Revival in Southern Banjo Styles – Mike Seeger's Last Documentary,' a 2-CD and DVD set that collects the fruits of Seeger's final trip through Appalachia in 2009, documenting regional banjo styles, techniques, and tunes. Recorded months before Seeger's death, the collection features musicians from many different backgrounds from throughout North Carolina, Virginia (Seeger's home state), West Virginia, Kentucky, Alabama, and Tennessee. These virtuosic players, including Riley Bagus, Rhiannon Giddens, Leroy Troy, and many more, display an incredible range of stylistic diversity that points to the continued resilience of the banjo as a means by which local and regional culture is preserved, even as new generations project their own voice onto well-worn styles.
'Just Around The Bend' is not only a fascinating look at the ever-evolving state of Southern musical heritage, but a loving tribute to Seeger and his life's work as a musician, folklorist, and documentarian of the people. The impeccable audio recordings are accompanied by a documentary film, shot by filmmaker Yasha Aginsky, which provides snapshots of the individuals behind the music, and offers glimpses into how Seeger and his wife Alexia Smith approached their work documenting and preserving these traditions.The musicians were primarily recorded in their homes and on their front porches, with Seeger and Smith looking on with rapt attention, inquiring about not only the histories of the songs but personal histories as well.
Mike Seeger's career was defined by his tireless dedication to traditional music and musicians. He was one of the most important and influential documentarians and performers of folk and old-time music of the 20th century, and his recordings of Elizabeth Cotton, Doc Boggs, and Roscoe Holcomb, as well as his numerous compilations for Folkways in the 1950s and 60s, remain iconic and highly sought after. As a member of the New Lost City Ramblers, he was an active participant in keeping these songs alive and popularizing them for a new generation. Along with his half-brother Pete Seeger and sister Peggy Seeger, he was a member of what is perhaps the most influential family in the history of folk music. 'Just Around The Bend' is the final chapter in that legendary lineage, which, as any great folk tradition does, continues on long past Seeger's death.
Pre-order here: orcd.co/justaroundthebend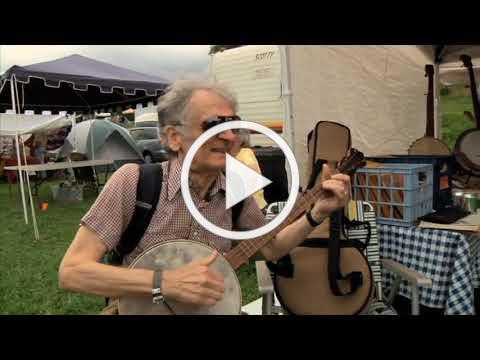 ABOUT SMITHSONIAN FOLKWAYS:
Smithsonian Folkways Recordings, the "National Museum of Sound," makes available close to 60,000 tracks in physical and digital format as the nonprofit record label of the Smithsonian, with a reach of 80 million people per year. A division of the Smithsonian Center for Folklife and Cultural Heritage, the non-profit label is dedicated to supporting cultural diversity and increased understanding among people through the documentation, preservation, production and dissemination of sound. Its mission is the legacy of Moses Asch, who founded Folkways Records in 1948 to document "people's music" from around the world. For more information about Smithsonian Folkways Recordings, visit folkways.si.edu.
FOLLOW SMITHSONIAN FOLKWAYS HERE:
Official website: folkways.si.edu
Facebook: facebook.com/smithsonianfolkwaysrecordings
Twitter: twitter.com/folkways
Instagram: instagram.com/smithsonianfolkways