WATCH "NUMB" NOW
Sylvan Esso has been on a remarkable run this fall and the surprises continue today. On the heels of their 3rd album Free Love, a 6-episode experimental podcast called Shaking Out The Numb, a recent performance CBS This Morning Saturday and so much more, the duo of Amelia Meath and Nick Sanborn have released WITH LOVE, a new EP out now on Loma Vista Recordings. The EP finds Sylvan Esso reimagining six songs from Free Love with a 10-piece dream team band of players from their tight-knit artistic community, including musicians who perform with Bon Iver, Wye Oak, Hiss Golden Messenger, Mr. Twin Sister, Hand Habits, and Mountain Man.
Of the experience, the band says: "Getting the WITH band back together a year after our original tour (and in most cases, the last shows any of us played) was such an unexpected joy in a year where all other plans fell through. We are immensely grateful to everyone who worked so hard to help us make this safe and possible, and to everyone out there who listens. Thank you."
Watch the WITH LOVE track "Numb" here: https://found.ee/SE_WLNumbVideo
The songs on the WITH LOVE EP are from the final installment of Sylvan Esso's 3-part virtual concert series FROM THE SATELLITE that just aired earlier tonight, transforming and exploring several songs from Free Love with this 10-piece ensemble in thrilling new ways. The WITH LOVE concert performance is available to stream for the next 48 hours. On Friday morning, the WITH LOVE EP will be available as a limited edition vinyl pressing, which will be available for pre-order via the band's site and Bandcamp.
The band featured on WITH LOVE is the same that performed on Sylvan Esso's pivotal WITH tour in fall of 2019, selling-out multiple nights at the historic venues like Beacon Theater and Disney Hall in Los Angeles. Sylvan Esso then released a feature length concert film/documentary of the tour in April, and performed with the WITH band for The Late Show with Stephen Colbert as well.
Free Love was released in September and deemed "one of the year's most resonant, warm, necessary albums" by Entertainment Weekly. In addition to creating their own podcast, and appearing on multiple multiple national TV performances, they recently shared a remix of Free Love track "Ferris Wheel" created by producer/multi-instrumentalist Terrace Martin (Kendrick Lamar, Travis Scott) and featuring Robert Glasper (Kanye West, Erykah Badu, JAY-Z). Amelia also sang the track from the bed of a moving flatbed truck for a performance on Full Frontal with Samantha Bee this summer and re-created the "Ferris Wheel" music video entirely in Animal Crossing.
With Love tracklist
1. Train
2. Ferris Wheel
3. Numb
4. Frequency
5. Rooftop Dancing
6. Free
With band, photo credit Lia Clay Miller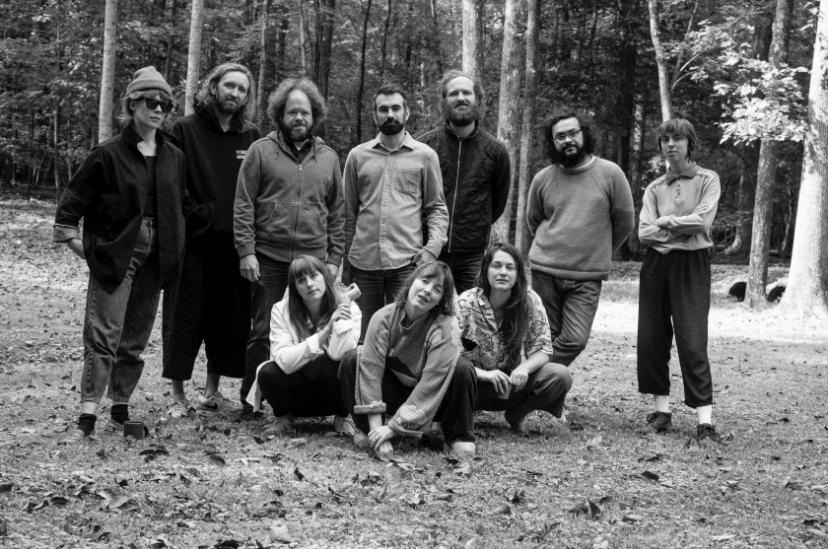 Praise for Free Love
"Uncompromising pop music presented as pop music that doesn't talk down to its listeners...one of the year's most resonant, warm, necessary albums"
- Entertainment Weekly
"The perfect time to receive their buoyant, joyful, dance-inducing music" - Paste
"Exquisite pearls of synth pop" - Line Of Best Fit, 9 out of 10 stars
"Stunning...an album you wade through, one that carefully encourages you to move with it and move through it, challenges your existence and presses you to feel, then drops you off lightly just a few feet away" – Consequence of Sound
"Minimal, syncopated, glitchy synthesizer chords puff like digital smoke signals"
- NY Times (on "Frequency")
"Sylvan Esso reveals it has built something meant to last" - The AV Club
"A whirlwind of thrills...exactly what pop should be: punchy and pure"
- DIY, 4 out of 5 stars
"Devastatingly intimate" - The Forty Five, 5 out of 5 stars
"Deeply beautiful" - Stereogum
"Life affirming...magical and much-needed" - No Depression
Instagram: https://found.ee/SE_instagram
Twitter: https://found.ee/SE_twitter
Facebook: https://found.ee/SE_facebook
YouTube: https://found.ee/SE_YouTube