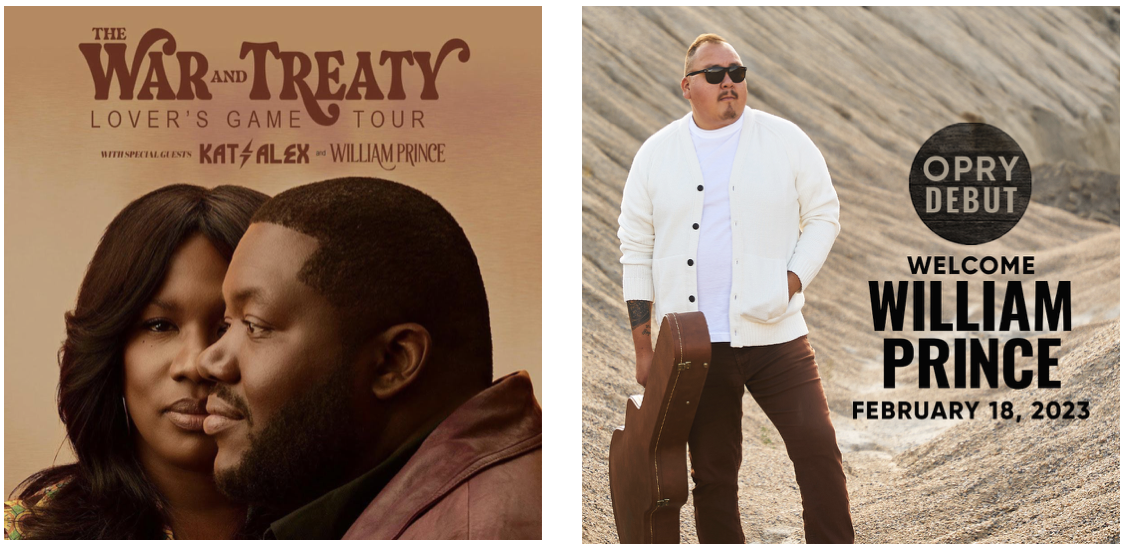 Today, William Prince shares that he will be accompanying The War & Treaty on their Lover's Game Tour this Spring. Prince will be opening a majority of the tour's 35 shows including major markets like New York City (5/03), Washington, DC (5/06), and Nashville (5/13). A portion of ticket sales will be donated to the Alzheimer's Association and Vet Tix. All dates featuring William Prince can be found below.
In the midst of the tour, Prince will release his new album Stand in the Joy, due for release on April 14 on Six Shooter Records. Produced by GRAMMY-winner Dave Cobb (Chris Stapleton, Brandi Carlile), this 10-song album is evidence of a songwriter coming into his own, not only as a master of his craft but as an actualized person.
Says William: "This record acknowledges pain but does not give it power. What I hope comes through are feelings of love, peace, and strength. The strength to stand in the goodness of what you have, rather than sit in what you have lost."
Listen to "When You Miss Someone" and "Tanqueray" from Stand In The Joy here.
Later this week, William Prince will be in Nashville for two shows, performing as part of WMOT's Finally Friday series at 3rd and Lindsley on February 17, before taking the stage for his Grand Ole Opry debut on February 18. He'll then travel to New York for a show at Rockwood Music Hall on February 22 and then to Los Angeles to perform at Hotel Cafe on March 1.
William Prince's music has resonated with so many, appearing everywhere from NPR's Tiny Desk to the hit television series Yellowstone, and a listen to any of his records quickly reveals why. Prince's debut Earthy Days won a JUNO Award, and he followed that up with a pair of albums in 2020. The first of those, Reliever, "captures what makes William Prince such a beautiful presence" (NPR Music) and earned him his US television debut performance on CBS Saturday Morning. Prince followed that up with Gospel First Nation, which Rolling Stone called "fantastic" and was named as one of NPR Music's favorite releases of 2020. On the back of these two 2020 releases, Prince amassed 11 awards, including Folk Alliance International Artist Of The Year for 2021 and a Canadian Folk Music Award for Contemporary Album Of The Year for Reliever.
In his home country of Canada, Prince is a star: He sold-out his national theater tour (including Toronto's legendary Massey Hall), opened for Neil Young, and collaborated with Buffy Sainte-Marie as part of a CBC celebration of her profound musical legacy. Internationally, Prince's profile continues to grow. His 2022 included a bevy of festival performances— including New Orleans Jazz Festival, BottleRocks Napa Valley, and AmericanaFest in Nashville — as well as extensive tours across the US, Europe, and the UK, on his own and with artists like Yola and Katie Pruitt.
Watch William Prince's Tiny Desk Concert for NPR Music here.
When You Miss Someone
Only Thing We Need
Tanqueray
Young
Broken Heart Of Mine
Pasadena
Goldie Hawn
Easier and Harder
Peace Of Mind
Take a Look Around
WILLIAM PRINCE TOUR DATES:
2/17 Nashville, TN - 3rd and Lindsley
2/18 Nashville, TN - The Grand Ole Opry
2/22 New York, NY - Rockwood Music Hall
3/1 Los Angeles, CA - Hotel Cafe
4/13 Louisville, KY - Headliners Music Hall *
4/14 St. Louis, MO - Old Rock House *
4/15 Davenport, IA - Raccoon Motel *
4/16 Minneapolis, MN - Fine Line *
4/19 Evanston, IL - Space *
4/20 Grand Rapids, MI - The Stache *
4/21 Detroit, MI - El Club *
4/22 Columbus, OH - A&R Music Bar *
4/23 Cleveland, OH - House of Blues *
4/25 Buffalo, NY - The 9th Ward *
4/28 South Burlington, VT - Higher Ground Ballroom *
4/30 Rockland, ME - The Strand Theatre *
5/02 Hamden, CT - Space Ballroom *
5/03 New York, NY - Bowery Ballroom *
5/05 Ardmore, PA - Ardmore Music Hall *
5/06 Washington, DC - Union Stage *
5/09 Charlotte, NC - Visulite Theater *
5/10 Durham, NC - Caroline Theater *
5/11 Knoxville, TN - Bijou Theatre *
5/13 Nashville, TN - Brooklyn Bowl *
* Lovers Game Tour
FOLLOW WILLIAM PRINCE
Facebook | Instagram | Twitter | Official Site | YouTube