Click
on photo to download high resolution version
All rights reserved. Photos are for editorial use only.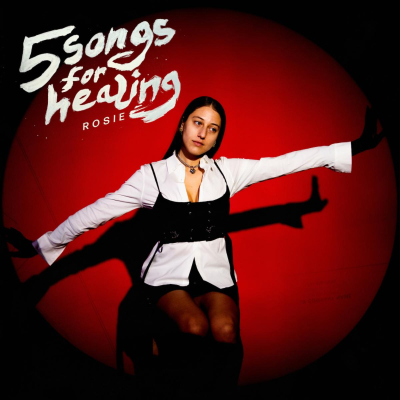 5 Songs For Healing EP
Release date: 6.23.23
Label: Arista Records
June 23, 2023
Singer-Songwriter ROSIE Releases 5 Songs For Healing EP 
Read More
May 26, 2023
Singer-Songwriter Rosie Announces 5 Songs For Healing EP With New Single & Video "Potential"
Read More
Biography View
ROSIE Bio:
With ROSIE, what you see is what you get. A genuinely remarkable pop singer and songwriter, the 23-year-old New York native has earned millions of followers who are drawn to her music's warmth, empathy, and candor.
Growing up in Nyack, NY, ROSIE felt particularly drawn to pop and indie icons such as Taylor Swift, Bon Iver, and Justin Bieber; she also took major inspiration from her father, an art director and production designer, and brother Matteo — her manager and fiercest advocate. Watching her father work 60+ hour weeks, ROSIE quickly realized just how much time and effort goes into the entertainment industry, and at times she would join him on the set of a movie or TV show, where she'd chip in by washing paint buckets. "That definitely shaped my work ethic," she says. "It also shaped my relationship to the visual component of music and being an artist. Visuals are such a crucial part of telling a story and growing up with a father who art directed TV and film really helped me see that."
Prior to pursuing a singing career, ROSIE held both music-related and everyday teen jobs, spending one summer as a lifeguard, babysitting, and writing/producing for Songs Of Love, a non-profit that creates personalized songs for children suffering from illness.
After high school, ROSIE attended the prestigious Berklee College Of Music from 2018 to 2020. Going into her freshman year in college, ROSIE began to truly find her voice in pop music while also making the empowered decision to go makeup-free and use zero filters. In 2020, however, the COVID-19 pandemic forced ROSIE's Berklee education to go remote, so she started sharing music on social media. That same year, ROSIE went viral after she shared a raw TikTok heartbreak ballad "Never The 1," which today has more than four million TikTok likes, over 18 million views, and is featured on ROSIE's debut EP, 20mg Of Happiness.
Fellow singers such as Charlie Puth and Troye Sivan immediately took notice, and soon, so did the major labels. Soon, she signed to Arista Records. Today, after releasing 20mg Of Happiness in October 2021, spending 2022 touring with Chelsea Cutler, playing summer festivals including Lollapalooza, and supporting Jake Scott on his US fall tour, ROSIE recently released a new EP, 5 Songs For Healing.
A collection of poignant, coming-of-age songs, 5 Songs For Healing is an always-honest, heart-in-hands journey that places ROSIE's unmatched vocal talent front and center. "20mg Of Happiness was exploring heartbreak, sadness, loss, and the stages of grief. It was really 'you'-oriented," ROSIE explains of the connection between this and her 2021 EP. "Next comes the healing. It felt only right that this next era of ROSIE would be self-oriented and about looking inward. This is about growing, confidence, and self love."
One of the first tastes of 5 Songs For Healing is "Someone You Once Had" — a slow-burning, high-energy track that starts gradually before bursting into a full-fledged pop banger. This is followed by "Startover," an arena-filling plea to achieve closure. "If we keep going the way that things are going/ We'll go crazy, the compromise will tear us apart/ And maybe giving up is good for us and it won't be easy/ But starting over is the hardest part," ROSIE acknowledges over booming bass drums and shimmering guitar chords.
Then, there's the wrenching single "Potential," which finds the singer in a groundbreaking moment of clarity: "When I fell I thought you were special/ But I fell for your potential." Reflecting on a detail her therapist observed about her romantic patterns, ROSIE unpacks the song's themes: "I was talking about how sad I was that I saw the best in someone, but I felt like they weren't who I made them out to be. And my therapist said, 'The problem is, you don't fall for people, you fall for people's potential.' I thought about how many times in my life I'd fallen for someone's potential because I see the best in them – who they are turning into, or who they could turn into. That's a problem. I need to stop projecting some future idea of someone onto the present version of someone. That's not cool on their end either. Definitely red flags."
ROSIE also spent 2022 co-writing "Love Again" with celebrated songwriter Dan Wilson (of Semisonic) for Celine Dion. The soaring single accompanies SONY Pictures' romantic comedy of the same name starring Priyanka Chopra Jonas, Dion, and Nick Jonas. In fact, SONY loved the song so much that they ended up changing the film's original title – A Text From You — to "Love Again." As Dion's first release in four years, since her stiff person syndrome diagnosis, "Love Again" holds an even more meaningful place in the icon's history.
"It was surreal," ROSIE admits of the experience writing an original song for Dion. "More than anything, it was like a dream. It was a humbling experience. As it sets in more, hopefully I'll be able to feel it more. I'm trying to give myself some credit. It really feels like an honor."
When ROSIE was preparing to embark on her first headline tour this summer, she thought about some words of wisdom from fellow performer Chelsea Cutler, whom ROSIE supported on the road in 2022. "When I first got on the road, I would see Chelsea crushing every night. I asked her, 'How are you not nervous?' She said, 'I am nervous. That's why I'm an artist. I care deeply.' That was a huge breakthrough for me. Being nervous doesn't make me a fake artist. Being nervous makes me a real artist — because I care."
Between planning live performances and recording new material, ROSIE is first and foremost committed to connecting with her fans and driving home a message of authenticity — outside and in. No filters, no Facetune, no Vsco. "If you were to meet me in person or on the street, I would really truly hope that it's the same person you see on stage," she says. "I want to be transparent. Everything is exactly as it appears. The scale of emotions that everyone feels is such a spectrum. The bad days are equally as important as the good days. Be strong when you're feeling strong, be vulnerable when you're feeling vulnerable."
Online
.(JavaScript must be enabled to view this email address)