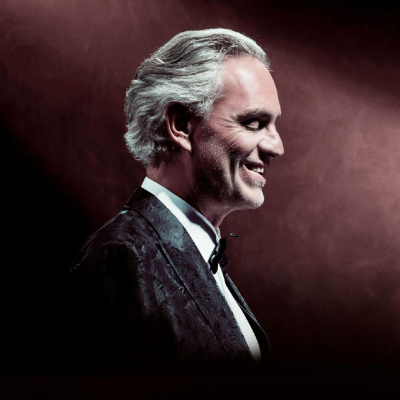 Andrea Bocelli Announces February and April North American Tour Dates
Exclusive Pre-Sale Available to Citi Members Begins October 3
General On-Sale for All Shows Begins October 10
Wednesday, September 27 - Today, Iconic Italian tenor Andrea Bocelli announced new 2024 North American tour dates in February and April. The new tour includes eleven show dates in major cities across the US and Canada including Orlando, Atlanta, Pittsburgh, Cincinnati, Toronto, Montreal, and Detroit. The February dates will once again honor Valentine's Day with Bocelli's first time in Raleigh, NC with the North Carolina Symphony Orchestra and in Greenville, SC with the Greenville Symphony Orchestra. The April tour will see Bocelli return to Toronto for his first performance in 15 years with the Toronto Symphony Orchestra, as well as a return to Milwaukee with the Milwaukee Symphony Orchestra and to Indianapolis with the Indianapolis Symphony Orchestra. All shows will be conducted by Maestro Steven Mercurio.
2024 officially marks 30 years of Andrea Bocelli's iconic career as well as his 65th birthday. In celebration of his upcoming birthday on September 22, PBS stations across the U.S. will be airing past Bocelli Specials throughout September and October. Check local listings for air times.
Tickets for Bocelli's 2024 North American tour dates go on sale to the public Tuesday, October 10 at 10 a.m. local time. For all upcoming tour routing, please see dates listed below and visit www.andreabocelli.com/tickets for more info.
The tour will feature performances from Bocelli's beloved repertoire, including music to celebrate Valentine's in February. All newly announced dates will feature selections from his uplifting solo album Believe, as well as a selection of arias, his beloved crossover hits, and famed love songs.
Citi cardholders will have a special early on-sale with access to pre-sale tickets starting on Tuesday, October 3 at 10 a.m. local time at www.citientertainment.com. Andrea Bocelli Fan Club members will gain access on Thursday, October 5 at 10 a.m. local time.
Meanwhile, tickets for Bocelli's upcoming 2023 fall and winter tour dates in North America are currently on sale now. The US dates include two nights in New York City as Bocelli returns to the famed Madison Square Garden for his annual holiday show on December 13 and 14, celebrating his #1 album, A Family Christmas. Tickets are available at www.andreabocelli.com/tickets.
As one of the most recognizable voices in the entertainment industry and revered by fans internationally, Andrea Bocelli has been entertaining audiences for 30 years, counting nearly 90 million records sold worldwide. In addition to his sold-out arena-sized concert events and record-breaking live-streams, Bocelli has shared his talents at many major events including the Olympic Games, the World Cup, and Global Citizen. He has earned a Golden Globe, seven Classical BRITs and seven World Music Awards, plus a star on the Hollywood Walk of Fame.
ANDREA BOCELLI February 2024 U.S. Tour
Wednesday, February 14 - Raleigh, NC *with the North Carolina Symphony
Thursday, February 15 - Greenville, SC *with the Greenville Symphony Orchestra
Saturday, February 17 - Duluth, GA *with Atlanta Symphony Orchestra
Sunday, February 18 - Orlanda, FL *with Orlando Philharmonic
ANDREA BOCELLI April 2024 U.S. Tour
Thursday, April 4 - Pittsburgh, PA
Saturday, April 6 - Milwaukee, WI *with the Milwaukee Symphony Orchestra
Sunday, April 7 - Cincinnati, OH
Wednesday, April 10 - Toronto, ON *with the Toronto Symphony Orchestra
Thursday, April 11 - Montreal, QC
Saturday, April 13 - Indianapolis, IN *with the Indianapolis Symphony Orchestra
Sunday, April 14 - Detroit, MI
__________
ANDREA BOCELLI November and December 2023 U.S. Tour (all tickets currently on sale)
Wednesday, November 29 - San Antonio, TX - AT&T Center
Thursday, November 30 - Dallas, TX - AAC
Saturday, December 2 - Louisville, KY - KFC Yum Arena *with the Louisville Orchestra
Wednesday, December 6 - Boston, MA - TD Garden
Thursday, December 7 - Philadelphia, PA - Wells Fargo Center
Saturday, December 9 - Hartford, CT 0 XL Center *first time in Hartford in 25 years
Sunday, December 10 - Baltimore, MD - CFG Bank Arena *with the Baltimore Symphony Orchestra
Wednesday, December 13 - New York, NY - Madison Square Garden
Thursday, December 14 - New York, NY - Madison Square Garden
Saturday, December 16 - Hollywood, FL - Hard Rock Live
Sunday, December 17 - Hollywood, FL - Hard Rock Live