Aoife O'Donovan Announces The Apathy Sessions, Deluxe Version Of GRAMMY-Nominated Album Age Of Apathy
Watch A New Video For "Age Of Apathy" (dir. Omar Cruz) HERE
Listen To A New Cover Of Bill Callahan's "Drover," Featured On The Apathy Sessions, HERE
Watch Aoife O'Donovan's Performance Of "Prodigal Daughter" Featuring Allison Russell On Jimmy Kimmel Live!
Nominated For 3 GRAMMYs (Best Folk Album, Best American Roots Performance & Best American Roots Song)
Embarks On Aoife O'Donovan Plays Nebraska Tour Beginning In January — Dates Below
Today, Aoife O'Donovan announces The Apathy Sessions, a deluxe edition of her multiple GRAMMY-nominated 2022 album Age Of Apathy.Accompanying the announcement is the "Age Of Apathy" video, directed byOmar Cruz. Cruz helped provide artistic guidance and collaboration for all of the album's art, photography, and videos. He's a somewhat unlikely collaborator: the Miami-based Cruz is best known for his photography and video work with Latin pop stars like J Balvin, Luis Fonsi, Gloria Estefan, and Shakira, and has also notably photographed former President Barack Obama. But one viewing of the "Age Of Apathy" video makes it clear that their partnership was a fruitful one, as Aoife performs amid stark landscapes and Cruz's cinematography accentuates the dramatic stakes of the music.
Watch the video for "Age Of Apathy" here.
O'Donovan also shares a brand new cover version of the Bill Callahan song"Drover." It's another classic Aoife interpretation that showcases a distinctive vocal performance and a subtle, sophisticated arrangement that features Aoife performing every instrument on the track.
Says O'Donovan:
"In 2011, Bill Callahan released Apocalypse, a collection of seven perfectly crafted songs. As a longtime fan of his music, released both under his own name and as SMOG, I was immediately smitten with the record. There was something about the solitude in his voice that gripped me.
I'm an obsessive listener. I once spent the entire 4 hour drive from Boston to New York, listening to "One Fine Morning" on repeat. I bought a ticket to his show at Lincoln Center and went by myself — I didn't want to sully my experience with any social obligation whatsoever. Pure music.
While holed up in the studio in 2021 after we had just finished mixing Age of Apathy, I came up with my own arrangement of "Drover," the lead track onApocalypse. I play every instrument — guitars, keys, bass — and sing all of the vocals. I had so much fun recording this song and hope you enjoy listening to it."
Recorded through a unique residency with Full Sail University in Winter Park, FL, O'Donovan wrote and recorded Age Of Apathy on-site at their studio with GRAMMY-nominated engineer Darren Schneider while collaborating entirely remotely with producer Joe Henry (Bonnie Raitt, Rhiannon Giddens).
Age Of Apathy is now nominated for the Best Folk Album GRAMMY as well as Best American Roots Performance and Best American Roots Song, both of those for "Prodigal Daughter" featuring Allison Russell. Rolling Stonecalled the album "stunning," NPR Music "a moving self-portrait," and No Depression "an astounding accomplishment." Pitchfork says O'Donovan "taps into the propulsion of prime Joni Mitchell," while The New York Times praises the album's "musical surprises: daring melodic leaps, unexpected chord progressions, [and] subtle rhythmic shifts."
Last week, O'Donovan performed "Prodigal Daughter" with Allison Russell on Jimmy Kimmel Live!, watch that HERE.
In late 2021, O'Donovan shared an album-length live cover performance of Bruce Springsteen's Nebraska for Bandcamp Friday. This winter, she takes her versions on the road for Aoife O'Donovan Plays Nebraska. Dates include the UK and US, see below.
Keep an eye out for more from Aoife this month, including a January 14 performance on CBS Saturday as well as a January 17 performance on The Kelly Clarkson Show.
ABOUT AOIFE O'DONOVAN
GRAMMY Award-winning artist Aoife O'Donovan operates in a thrilling musical world beyond genre. Deemed "a vocalist of unerring instinct" by the New York Times, she has released three critically-acclaimed and boundary-blurring solo albums including her most recent record, 2022's boldly orchestrated and literarily crafted Age Of Apathy. Recorded and written over the course of Winter and Spring 2021 with acclaimed producer Joe Henry (Bonnie Raitt, Rhiannon Giddens), Age Of Apathy is "stunning" (Rolling Stone) and "taps into the propulsion of prime Joni Mitchell" (Pitchfork). Age of Apathy is nominated for 3 GRAMMY awards including Best Folk Album.
A savvy and generous collaborator, Aoife is one third of the group I'm With Her with bandmates Sara Watkins and Sarah Jarosz. The trio's debut album See You Around was hailed as "willfully open-hearted" by NPR Music. I'm With Her earned an Americana Music Association Award in 2019 for Duo/Group of the Year, and a Grammy-award in 2020 for Best American Roots Song.
O'Donovan spent the preceding decade as co-founder and front woman of the string band, Crooked Still and is the featured vocalist on The Goat Rodeo Sessions — the group with Yo-Yo Ma, Stuart Duncan, Edgar Meyer, and Chris Thile. She has appeared as a featured vocalist with over a dozen symphonies including the National Symphony Orchestra, written for Alison Krauss, performed with jazz trumpeter Dave Douglas, and spent a decade as a regular contributor to the radio variety shows "Live From Here" and "A Prairie Home Companion."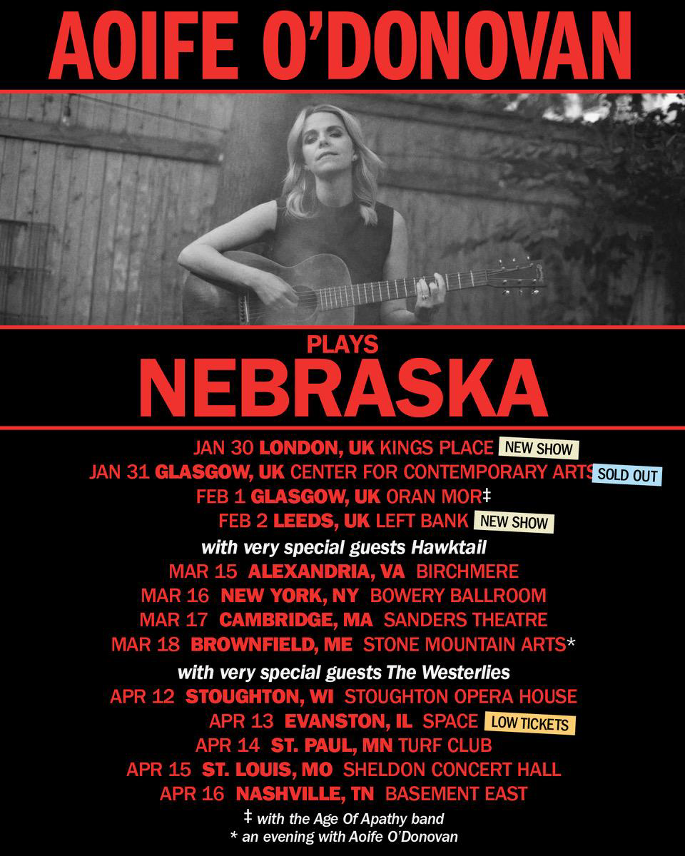 Aoife O'Donovan Plays Nebraska
Jan 30 — London, UK @ Kings Place
Jan 31 — Glasgow, UK @ Center For Contemporary Arts
Feb 1 — Glasgow, UK @ Oran Mor %
Feb 2 — Leeds, UK @ Left Bank
Mar 15 — Alexandria, VA @ Birchmere ^
Mar 16 — New York, NY @ Bowery Ballroom ^
Mar 17 — Cambridge, MA @ Sanders Theatre ^
Mar 18 — Brownfield, ME @ Stone Mountain Arts
Apr 12 — Stoughton, WI @ Stoughton Opera House *
Apr 13 — Evanston, IL @ SPACE *
Apr 14 — St. Paul, MN @ Turf Club *
Apr 15 — St. Louis, MO @ Sheldon Concert Hall *
Apr 16 — Nashville, TN @ Basement East *
% = performing with the Age Of Apathy band
^ = with very special guests Hawktail
* = with very special guests The Westerlies
Connect with Aoife O'Donovan