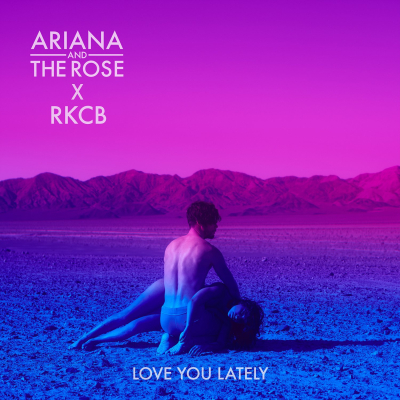 Ariana and the Rose Debuts "Love You Lately" Duet with RKCB
Listen to "Love You Lately" on Vice Noisey
Ariana and the Rose's first new music of 2017 is the new 'Retrograde' EP cut "Love You Lately," a gripping duet with LA-based R&B/electro duo RKCB, which Vice Noisey says "[brings] out a more sultry, R&B-toned side to Ariana," while the song "captures the sting of relationship disintegration."
The track is built upon the mesmeric vocal harmony between the "cosmic-tinted electro beats" (Nylon) of Ariana and RKCB, a back and forth between two lovers falling apart but still close together. Based on a foundation of muted, snappy percussion and arpeggiated synths, the song climaxes when the two voices join in musical harmony, but lyrical discord.
"The song is a snapshot of the moment you realize you're both not the same people who entered the relationship anymore. It's as if you're watching both of you go through the motions while you know it's falling apart," says Ariana of the captivating duet. "The song felt really poignant as a duet, to have a male and female perspective and voice telling the story. Working with RKCB was the best, the song just kind of flowed out of us and being in the studio together was a blast."
Of the back and forth with Ariana in the song, RKCB says, "The song is about that moment when you find yourself deep in a relationship that no longer feels genuine, and there's a moment you let it take over the fear of letting go. This is a conversation with someone you've let in, right after you realize you need to let them out."
Listen to "Love You Lately" on Vice Noisey: http://shorefi.re/2kVG9kn
An artist who embraces an audio-visual approach to creativity, Ariana and the Rose is as much a musical project as it is a visual spectacle taking the form of interactive live shows that transcend the audience-performer dichotomy. Ariana and the Rose received plaudits from Nylon, Clash, V Magazine, and more, with Red Bull Music calling her "both intriguing but knock-your-socks-off immediate at the same time."
When Riley Knapp and Casey Barth fuse together their diverse layers of electronic, R&B music, the result is an unparalleled work of art that could be displayed in a gallery for the most modern music consumer. Both accomplished as producers and songwriters, RKCB have worked with the likes of Erik Hassle, Kacy Hill, and Tinashe. Avant-guard by design, RKCB's songs are also personal and strive to inspire listeners within the lyrics of this narrative.
A video for "Love You Lately" is slated for release in early 2017, and Ariana and the Rose will perform at SXSW 2017.