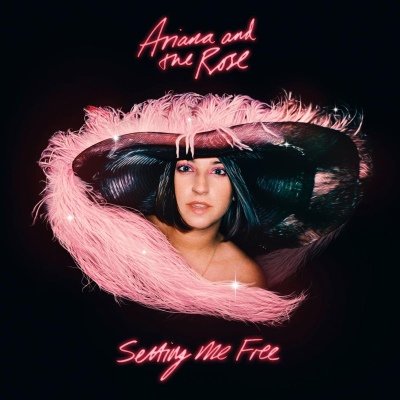 Ariana And The Rose Is Liberated On New Track "Setting Me Free"
Debut Album 'Lonely Hearts Club' Out Summer 2022
Ariana and the Rose launched into 2022 making her national TV performance debut on Full Frontal with Samantha Bee last month, and today she reaches another career landmark with her brand new song "Setting Me Free", one of the most inspired tracks of her career. The first single off her upcoming debut album 'Lonely Hearts Club' (out Summer 2022), "Setting Me Free" is a hard-thumping yet shimmeringly effervescent pop gem (think Madonna's "Ray Of Light" which Ariana cites as an inspiration for the track) brimming with affirmations of self-empowerment and evolution.
Born initially from a feeling of isolation at the start of the pandemic lockdown, "Setting Me Free" is a song steeped in a carefree message of liberating oneself from the people, things and mantras that only serve to hold us back.
"During the first few months of lockdown I, like so many people, was really left to just sit with myself and my thoughts and it pushed me to take the time and space to really delve into past traumas and relationships and work through it all. I was writing my album while simultaneously taking a hard look at any blocks or things I hadn't been dealing with. This song was born out of that work." Ariana added that "There are so many things we accept about ourselves as truths just because someone else said it to us. Those things aren't for us to hold onto anymore, we can give those things back to the people who said them. Ultimately my self image and self love is based on my own opinion of myself, rather than the opinions of others."
Listen to "Setting Me Free" HERE
Earlier this year, Ariana and the Rose made her late night TV debut and performed her hypnotic ode to unity "Every Body" on Full Frontal with Samantha Bee. Paper Magazine called the track "an electric invitation to the dance floor" and the accompanying video is a beautiful inclusive call to the dancefloor featuring a resume of nightlife & NYC/LA art world legends including (in alphabetical order) Amanda Lepore, Bex Taylor-Klaus, Cakes Da Killa, CT Hedden, The Dragon Sisters, Kandy Muse, Laith Ashley, Love Bailey, Madison Rose, Marizol, Merlot, Rhea Litre, Rify Royalty, Ryan Burke, Spencer Ludwig, & Zero Waste Daniel.
Watch "Every Body" video HERE
She found fame during the pandemic via TikTok when a video of a piano-assisted spoken word piece she posted earned an astounding 8 million views on the social media platform in less than a week. The video gained extra exposure when it was shared by the likes of Betches (via Instagram), NYT best-selling author Meena Harris & Tony-nominated actress Laura Benanti. She found further success on TikTok when another spoken word piece went viral being used by over 11k followers including Alyssa Milano and Girlboss and has teamed up with brands empowering women, like Knix.
"Setting Me Free" is the first single off the upcoming debut album of an artist that has previously earned additional acclaim from Consequence of Sound, Vice, Time Magazine, Refinery 29, LOGO, and more. They are also a taste of the next era for the multi-hyphenate powerhouse who has more music on the horizon. Additionally, Ariana and the Rose is the curator of the immersive music and art party "light + space" which has had numerous events across Manhattan & Brooklyn (including a residency at House Of Yes), as well as one-off performances in LA and (of course) London.
She will be performing at the The Peppermint Club in LA along with Madison Watkins and Jillian Rossi on March 12th. More info HERE.