Brittney Spencer Signs With United Talent Agency, Announces U.S. Tour Dates
Opening for Jason Isbell & The 400 Unit's Fall 2021 Tour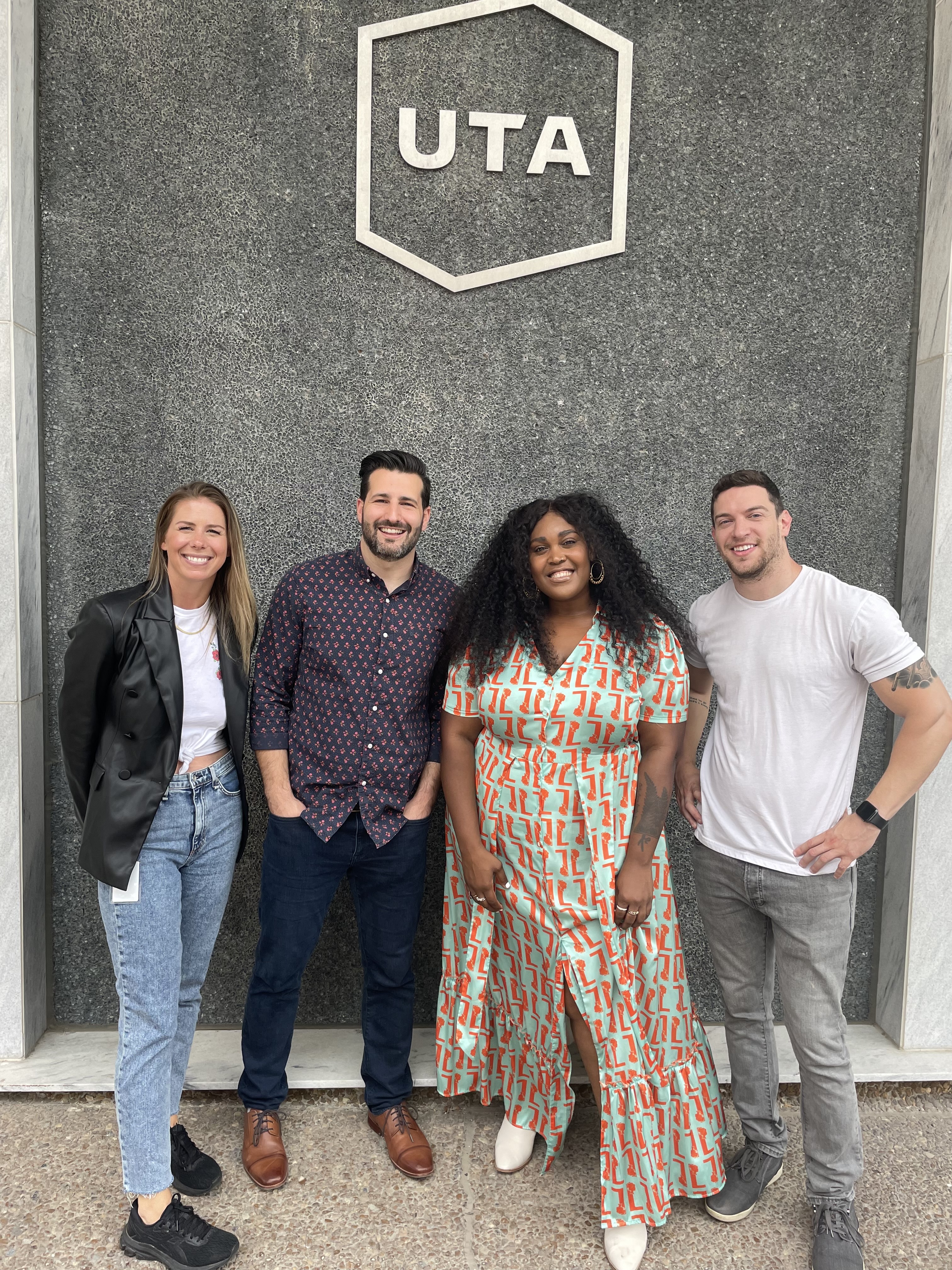 Pictured (L-R): Emily Wright (UTA), Jeffrey Hasson (UTA), Brittney Spencer, Andrew Cohen (Cohencidence Projects)
Not Pictured: Alec Vidmar (UTA), Joe Wohlfeld (UTA), Riley Folsom (UTA)
Download Photo HERE
CBS This Morning calls her "Nashville's new star," and she's graced billboards in New York City's Times Square. She's also a Spotify and Pandora 2021 Artist to Watch, and she's done it all as an independent artist. Today, Brittney Spencer announces her signing with United Talent Agency (UTA) as she prepares to go on the road, opening shows for Jason Isbell and making stops at festivals like Merlefest, The Melissa Etheridge Cruise and Cayamo Cruise 2022.
"We are incredibly honored to represent such an amazingly talented artist such as Brittney," says Jeffrey Hasson, UTA Agent. "Brittney's ability to tackle deep and relatable subject matters with such power and control vocally is inspiring. It was clear to us from the first meeting that Brittney has such an important voice for the future, and we're honored to help share that with the world through every area at UTA."
"I'm so excited to partner with UTA!" exclaims Spencer. "I'm confident this partnership will aid in helping me find creative, innovative ways to build out my live show and connect with lots of music lovers along the way. Live shows are finally back, and I feel more ready than ever with this incredible new addition to my team."
On Fri., Jun. 18, Spencer released her "insightful" (New York Times) song "Sober & Skinny," which earned praise from Rolling Stone, American Songwriter and others. She sat down with CBS This Morning's Anthony Mason to discuss her journey from Baltimore to Nashville, and her fast rise as a powerful female force in country music, HERE.
For tickets and more information on Spencer's upcoming tour dates, visit brittneyspencer.com.
Spencer is represented by Andrew Cohen at Cohencidence Projects; Jeffrey Hasson, Alec Vidmar, Joe Wohlfeld, Riley Folsom and Emily Wright at United Talent Agency; and Shore Fire Media.
BRITTNEY SPENCER ON TOUR:
Sat., Jul. 31 | Watershed Music Festival | Quincy, WA
Sat., Aug. 21 | The Corn Crib, CornBelters Stadium | Normal, IL*
Sun., Aug. 22 | Wintrust Field, Boomers Stadium | Schaumburg, IL*
Tues., Aug. 24 | TCU Amphitheater at White River State Park | Indianapolis, IN*
Thurs., Aug. 26 | DeVos Performance Hall | Grand Rapids, MI*
Sat., Aug. 28 | Riverfront Park | Harrisburg, PA*
Sat., Sep. 18 | MerleFest | Wilkesboro, NC
Mon., Sep. 20 | The Fillmore Detroit | Detroit, MI*
Sat., Sep. 25 | Roots N Blues Festival | Columbia, MO
Fri., Oct. 8 | Brandon Amphitheater | Brandon, MS*
Sun., Oct. 10 | Artsplosure - The Raleigh Arts Festival | Raleigh, NC
Sat., Oct. 16 | Ryman Auditorium | Nashville, TN*
Fri., Nov. 12 | The Melissa Etheridge Cruise | Miami, FL
Fri., Nov. 19 | Phillips Center Mainstage | Gainesville, FL
Thurs., Dec. 16 | Tabernacle | Atlanta, GA*
Fri., Mar. 18, 2022 | Cayamo 14th Edition: A Journey Through Song | Miami, FL
*Opening for Jason Isbell & The 400 Unit
Read the news break on Billboard, HERE.