Brooklyn Bowl Family Reunion, in partnership with Harley-Davidson
Three-Day Event at SXSW 2019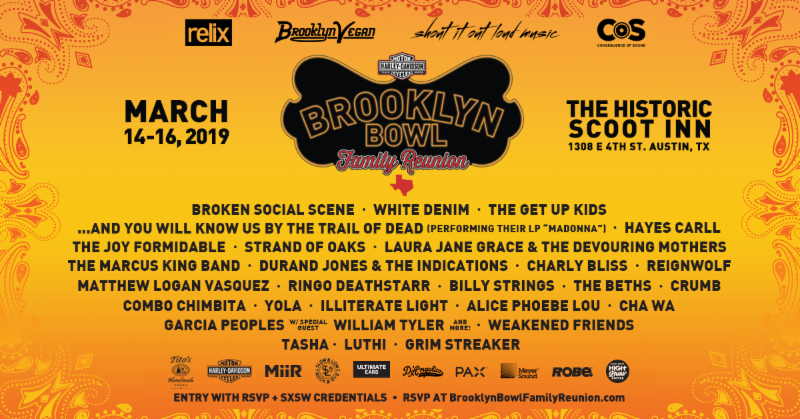 When: March 14 – 16, 2019
What: Brooklyn Bowl Family Reunion Austin
Where: The Historic Scoot Inn (1308 E 4th St, Austin, TX 78702)
More Info: www.brooklynbowlfamilyreunion.com
(Austin, TX): SXSW is the largest music, film, and interactive conference of its kind in the world attracting over 400,000 to Austin in 2018. The Brooklyn Bowl Family Reunion, presented by Harley-Davidson, will return for a 3-day event in Austin during SXSW 2019.
The multi-day music event will feature live performances from over 25 artists — both emerging and established — reflecting the variety of music Brooklyn Bowl brings to the world. The Brooklyn Bowl Family Reunion will team up some of the most influential music publishers; Relix, Consequence of Sound, BrooklynVegan, and Shout It Out Loud Music, to capture Austin's spirit of music discovery.
This year's lineup features sets from Broken Social Scene, White Denim, The Get Up Kids, ...And You Will Know Us by the Trail of Dead (performing their LP "Madonna"), Hayes Carll, The Joy Formidable, Strand of Oaks, Laura Jane Grace & The Devouring Mothers, The Marcus King Band, Durand Jones & The Indications, Charly Bliss, Reignwolf, Matthew Logan Vasquez, Ringo Deathstarr, Billy Strings, The Beths, Crumb, Combo Chimbita, Yola, Illiterate Light, Alice Phoebe Lou, Cha Wa, Garcia Peoples with special guest William Tyler, Weakened Friends, Tasha, LUTHI, Grim Streaker
The Brooklyn Bowl Family Reunion will feature the Harley-Davidson Jump-Start activation, where attendees will be able to sign up to learn and experience riding a motorcycle. Guests will also be able to check out all of the new Harley-Davidson models on display at the event. 2019 partners include Harley-Davidson, Tito's Handmade Vodka, and Slow and Low.
Brooklyn Bowl Family Reunion is partnering with MiiR to further our mission of minimizing waste products at our SXSW event. Every guest attending the Brooklyn Bowl Family Reunion will be provided with a MiiR reusable metal cup, free for all guests to take home. These reusable cups will be the only way to get a drink. You also won't find straws or other wasteful products being used during the event. These actions fall in line with the opening of the world's first LEED certified bowling alley, Brooklyn Bowl.
The Relix Roadie Lounge also returns to SXSW at the Brooklyn Bowl Family Reunion. This program was developed to give back to the hardworking people essential to making each show happen, the bands and crew. The Roadie Lounge is supported by Meyer Sound, Robe Lighting, Ultimate Ears Pro, High Brew Coffee, PAX, D'angelico Guitars, and more. Welcoming artists, stagehands, audio engineers, lighting directors, tour managers, instrument techs, and everyone else deemed a "Roadie," the Roadie Lounge will provide a much needed recharge to help power through this year's festival.
Brooklyn Bowl partners with publishers and brands all year long and across the country to curate a unique music discovery experience and culture with bands representing all genres and guests from a wide demographic. At SXSW 2019 we will fit that experience into three packed days and nights of music and culture.
About Brooklyn Bowl:
Brooklyn Bowl, ranked the #1 busiest club in NYC and the #7 busiest club in the world in 2017 (Pollstar), is the ultimate night out, with its groundbreaking integration of premiere music, 16 lanes of bowling, a bar featuring locally crafted beers, and food by the acclaimed Blue Ribbon restaurant group. Located in the beautiful, 19th-century Hecla Iron Works building, the venue -- aka "rock and roll heaven" (Village Voice) -- boasts a sound system and amenities that "no other local rock club can offer" (The New York Times).
Wearing its homegrown values on its sleeve, Brooklyn Bowl is as committed to locally made products -- serving award-winning beer from the adjacent Brooklyn Brewery -- as it is to environmental sustainability -- it's the first L.E.E.D.-certified bowling alley in the world. And the food? "Epic," says Eater. In other words, Brooklyn Bowl's unprecedented combination of top-flight music, bowling, beer and food is "like nailing a spare on a four-ten split" (The New Yorker).