CREEM Announces "Austin's Only Rock 'n' Roll Party" At SXSW
be your own PET, Enumclaw, Lifeguard, CIVIC, Poison Ruïn, Militarie Gun + More To Perform
Presented by Slane Irish Whiskey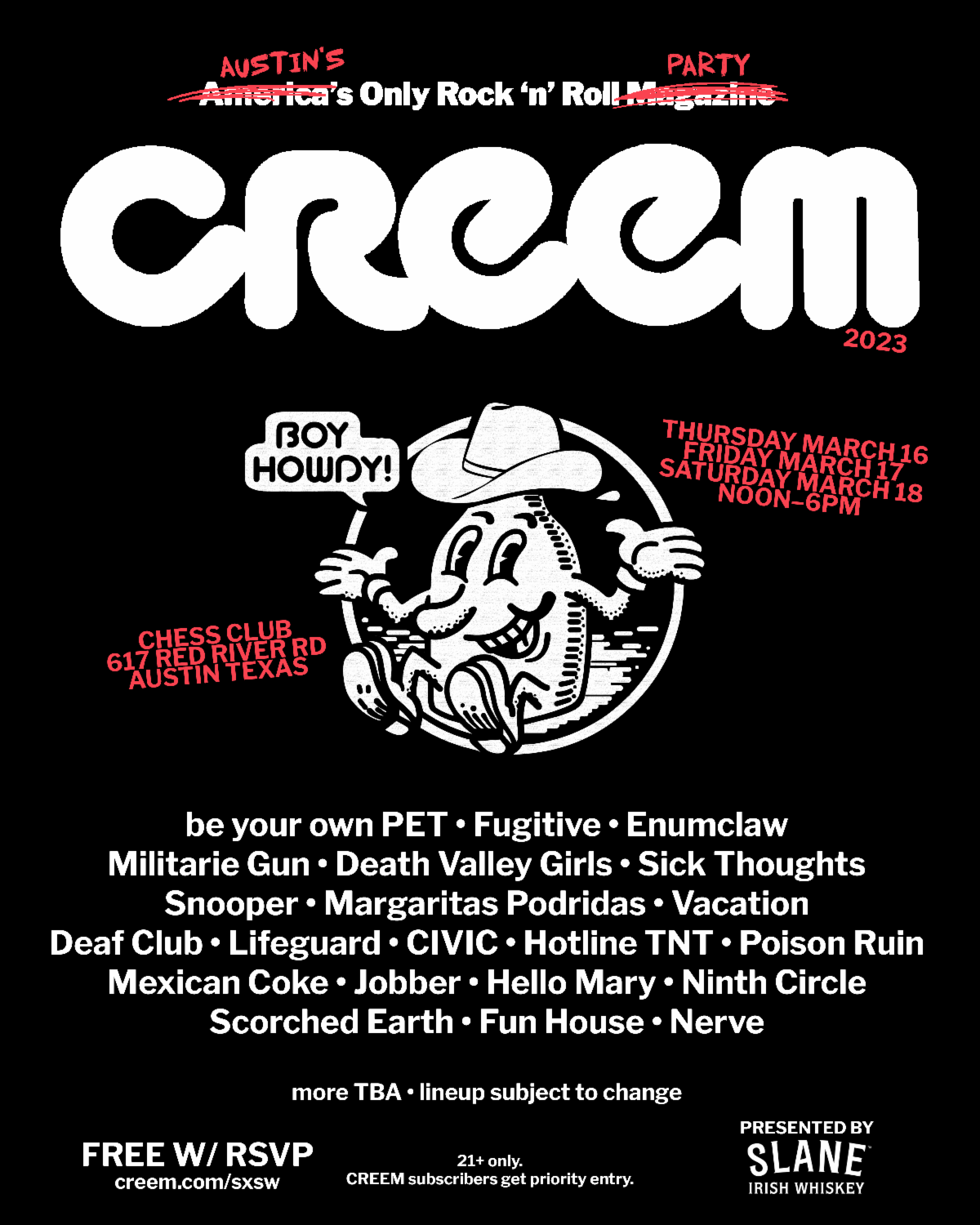 >
CREEM Magazine is throwing a free three day rock 'n' roll rager during SXSW in Austin, TX next week from March 16-18 at Chess Club - "Austin's Only Rock 'n' Roll Party" free RSVP here. Everything from much-anticipated rock reunions to hardcore supergroups and the next wave of indie-punk will be showcased up close and personal at Austin's 100-capacity Chess Club. It's going to get loud. The line-up, curated by the editors of America's Only Rock 'n' Roll Magazine, includes be your own PET, Enumclaw, Lifeguard, CIVIC, Poison Ruïn, Militarie Gun, and more below.
The shows will coincide with the launch of CREEM's Spring issue out March 15, featuring Metallica, Smashing Pumpkins' Billy Corgan, The Return of Britpop, Ty Segall, Weyes Blood, "Clowncore" and beyond. CREEM subscribers will receive priority entry - sign up here.
The CREEM event is sponsored by Slane Irish Whiskey, a triple cask blend with its own storied rock 'n' roll past. In honor of St. Patrick's Day, Friday's party will feature food and drink specials free for party attendees.
"Austin's Only Rock 'n' Roll Party"
When:
Thursday, March 16: 12pm-6pm
Friday, March 17: 12pm-6pm
Saturday, March 18: 12pm-6pm
Where:
Chess Club
617 Red River St
Austin, TX 78701
Lineup:
be your own PET, Fugitive, Enumclaw, Militarie Gun, Death Valley Girls, Sick Thoughts, Snooper, Margaritas Podridas, Vacation, Deaf Club, Lifeguard, CIVIC, Hotline TNT, Poison Ruïn, Jobber, Hello Mary, Ninth Circle, Scorched Earth, Fun House, Nerve, and more TBA
Follow @creemmag for details and schedule announcements.

About CREEM Entertainment:
CREEM Entertainment is the modern-day reincarnation of Detroit's legendaryCREEM Magazine. Founded in 1969 Detroit, CREEM grew from underground paper to national powerhouse - an essential source of music journalism for twenty years. It reflected and shaped the culture, cultivating some of the most legendary writing talent of the era: Lester Bangs, Cameron Crowe, Patti Smith, Robert Christgau and Jaan Uhelszki, who now returns as Editorial Director alongside Chairman JJ Kramer (son of original co-founder & publisher Barry Kramer), CEO John Martin, VP of Content Fred Pessaro and more. Today's CREEM, powered by the next generation of cage-rattling truth tellers and provocateurs, delivers the best content, merchandise, and experiences to rock 'n' roll fans of all ages. Boy Howdy!
About Slane Irish Whiskey:
Slane Irish Whiskey marries traditional Irish craftsmanship with innovations like its signature Triple Casked maturation process. Using a blend of virgin, seasoned and sherry casks, the resulting spirit is bold, yet smooth and more robust and complex than a traditional blended Irish whiskey. Its striking black bottle calls out its distinctive flavor and unconventional approach that embodies the pride of Slane. It was created by Brown-Forman working with the Conyngham family, which has three centuries of ties to the village of Slane. For more information about Slane Irish Whiskey, please visit www.slaneirishwhiskey.com. Honor the legacy. Sip Responsibly.
For more information on CREEM + press RSVPs:
Matt Hanks (mhanks@shorefire.com)
Shannon Cosgrove (scosgrove@shorefire.com)