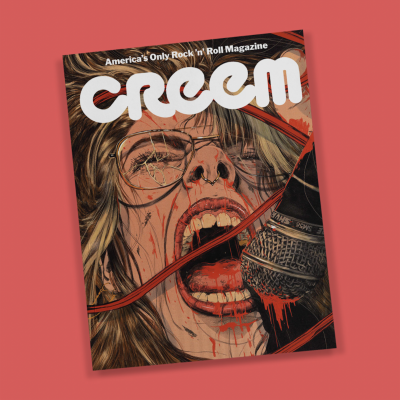 CREEM Announces Summer Issue Out June 15 Marking One Year Anniversary Of Relaunch
Featuring Sleaford Mods vs. Coachella, ZZ Top's Fourth Man, CREEM's Breakfast With Nickelback, The Return Of Paramore & More
Today, the iconic and irreverent CREEM announced its Summer 2023 Issue, out June 15 – just in time for the one-year anniversary of the magazine's audacious relaunch following a 33 year hiatus. The fourth issue's bold cover is by New York-based illustrator Nicole Rifkin, whose work has appeared in The New Yorker, The New York Times, The Atlantic and more. Celebrating the catharsis of performers onstage giving it their all, she explains: "I can't tell you how many times I've been inspired by seeing a band empty their souls and desecrate their body on stage just for my personal enjoyment." Existing and new subscribers at CREEM.com can look forward to features like: Breakfast With Nickelback, Paramore, Sleaford Mods, Wire's Colin Newman, the mysterious making of ZZ Top's Eliminator, Screaming Females, Danny Clinch's photos, Stars Cars with J Mascis and even a little True Crime with Joel Rifkin (complete Table of Contents below). Subscription to the oversized premium quarterly also grants access to CREEM's full 1969-1989 digital archive and all new issues.
One of the most surprising recent media relaunches, in the past year CREEM has proven that a truly rock 'n' roll print magazine can still be successful in a digital age. From classic coverage (The Who, Peter Frampton, Metallica) to new faces (Amyl and the Sniffers, Weyes Blood, Poison Ruïn) and everything that CREEM missed in between during its hiatus (Smashing Pumpkins, Hole, David Berman), readership has become bigger and even more engaged than anyone imagined.
Visionary artists like Raymond Pettibon (Sonic Youth, Black Flag - see Vanity Fair) and Jeremy Dean (Grateful Dead/Black Flag tees, Rolling Stones) have designed CREEM's new covers and merch lines. The magazine has also partnered Oxford Pennant to carry their products and with Slane Irish Whiskey for a three day rock 'n' roll rager during SXSW, featuring be your own PET, Enumclaw, Soul Glo and others. And they're only just getting started.
Founded in 1969 Detroit, CREEM grew from underground paper to national powerhouse - an essential source of music journalism for twenty years. It reflected and shaped the culture, cultivating some of the most legendary writing talent of the era: Lester Bangs, Cameron Crowe, Patti Smith, Robert Christgau and Jaan Uhelszki, who now returns as Editorial Director. The magazine's original rise and fall is chronicled in the critically-acclaimed 2020 documentary CREEM: America's Only Rock 'n' Roll Magazine, which earned praise everywhere from The New York Times to CBS This Morning.
Today, CREEM Entertainment is led by former VICE publisher John Martin as CEO, alongside Chairman JJ Kramer (son of original CREEM co-founder & publisher Barry Kramer). In addition to Uhelszki, the new CREEM editorial staff includes VP of Content Fred Pessaro formerly of VICE's Noisey and Executive Editor Dan Morrissey from Entertainment Weekly. Editorial Director Dave Carnie has worked with Jackass, ESPN, Big Brother, and Penthouse. Grace Scott joined as Associate Editor after her work with VICE & The Toronto Star, and Zachary Lipez as Editor at Large, following his work with Pitchfork, The Washington Post and others. Last fall, CREEM welcomed Stephanie Augello as Photo Editor. Augello is an entertainment photographer and editor who has worked with Live Nation, Shutterstock Editorial, and ABC.
CREEM Summer 2023
Table of Contents
Paramore Is a Band
How the Tennessee rockers survived, thrived, and set a new bar.
BY MARIA SHERMAN
Sleafords Are Doing It for Themselves
The grim U.K. duo bring sand to the desert.
BY ZACHARY LIPEZ
Beard Science
The mysterious making of ZZ Top's Eliminator.
BY GRACE SCOTT
In an Instant
Kate Killet's Polaroid menagerie.
Breakfast With Nickelback
These musical cockroaches are in on the joke.
BY HETHER FORTUNE
"All Right, Guys, We'll See You at the Triple Rock!"
An oral history of Minneapolis' legendary punk (and everything else) venue.
BY MICHAELANGELO MATOS
Locked & Loaded
Militarie Gun wage war for a spot on the big stage.
BY JESSE MILLER-GORDON
Seaplanes, Slednecks, and Screaming Females
New Jersey's own play the Upper Upper Upper West Side.
BY KATE SWEENEY
Eleganza: The Internet IRL
Musings on the Marc Jacobs Heaven x Deftones Spectacular in NYC.
BY MANDY BROWNHOLTZ
Talkin' 'Bout My Generator
The best show you see this year may be against the law.
BY WHITEY MCCONNAUGHY AND DAVE CARNIE
Living in Synth
In the studio with Nation of Language.
BY RYAN LEAS
Big Boss Man
Photographer Danny Clinch captures giants for a living.
Plus…
Litter Box: Tim Burgess
CREEM Dreem: Lemon Twigs
Punch the Clock: Mudhoney
Greetings From Detroit
Stars Cars: J Mascis
Born to Booze
Dusty Fingers: Colin Newman
True Crime: Joel Rifkin
How-To: Record Shelves
Nerd Shit: Sad Songs Say So Much
Mean Jeans and Guantanamo Baywatch
CIVIC
Staff Picks
CREEM Comix
About CREEM Entertainment:
CREEM Entertainment is the modern-day reincarnation of Detroit's legendary CREEM Magazine. During its initial twenty-year run, CREEM launched the careers of countless iconic music journalists and bands, while never hesitating to lampoon those who took themselves too seriously. Today's CREEM, powered by the next generation of cage-rattling truth tellers and provocateurs, delivers the best content, merchandise, and experiences to rock 'n' roll fans of all ages. Boy Howdy!