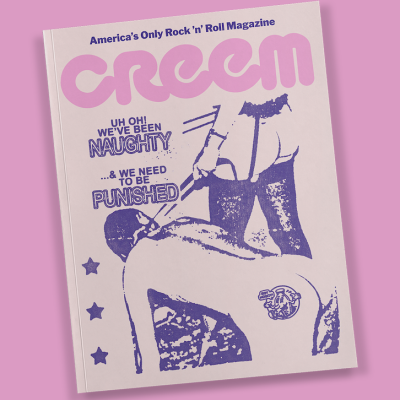 CREEM Spring Issue Out Today
Feat. Metallica, Weyes Blood, Peter Frampton, Tom Waits, Ty Segall, Katy Kirby, "Clowncore" & More
Smashing Pumpkins' Billy Corgan Feature Available Here
Today, the iconic and newly revived CREEM released its third issue since the magazine's audacious relaunch earlier last year. The Spring issue cover features original artwork by L.A.-based graphic artist and musician Iphigenia (Foie Graphics), who also created an exclusive merch collection playing on old CREEM headlines of female musicians like Joan Jett, Pat Benatar and Debbie Harry - unisex t-shirts, tote bags, and thongs available here. The release coincides with "Austin's Only Rock 'n' Roll Party" - a three day rock 'n' roll rager CREEM is throwing during SXSW in Austin, TX from March 16-18 at Chess Club. Presented by Slane Irish Whiskey, the line-up includes be your own PET, Enumclaw, Soul Glo, Lifeguard, CIVIC, Poison Ruïn, Militarie Gun, and more - free RSVP here.
The latest issue is in the mail to print subscribers and available at CREEM.com, along with the entire magazine's archive to those who subscribe. Subscribers can read the issue's interview with Smashing Pumpkins' Billy Corgan and original CREEM editor Jaan Uhelszki discussing AI, cancel culture, wrestling, Harry Styles, Bono, Elvis, and Corgan's dear friend Lisa Marie Presley.
The new issue spans generations & genres, from "How to party your way into signing Metallica" featuring never-before seen photos of the band from Michael Alago's personal collection to features on Peter Frampton's final tour, Tom Waits, Weyes Blood, Katy Kirby, Poison Ruïn, the return of Botch, a CREEM history of Britpop and beyond. Classic CREEM columns Stars Cars (Ty Segall), CREEM Dreem (Hurray for the Riff Raff), Eleganza ("Clowncore" music and fashion), and CREEM Comix also return.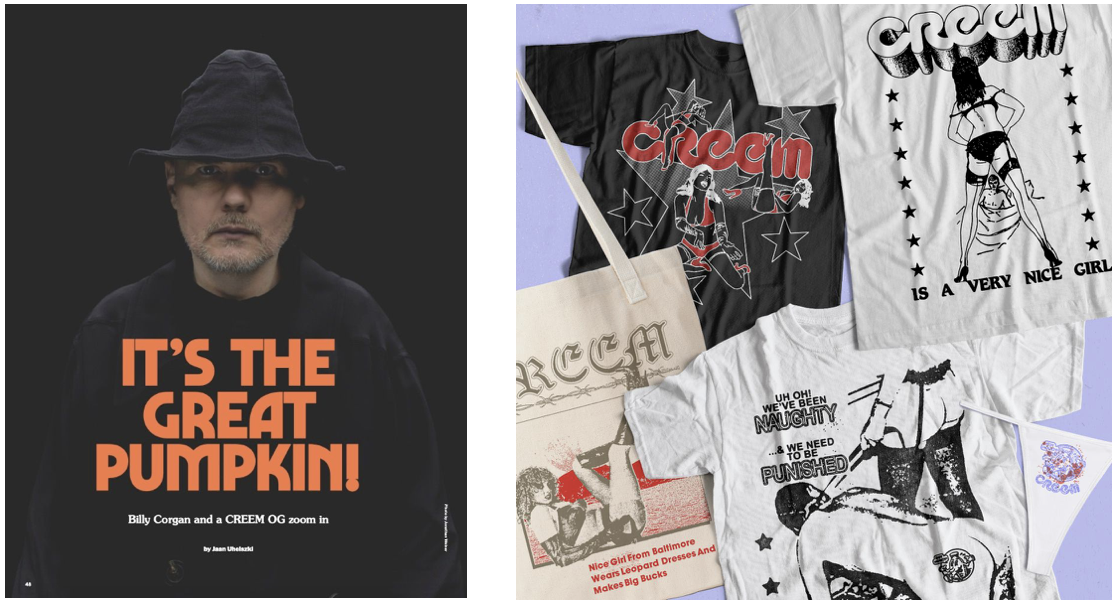 One of the most unlikely and successful media relaunches, CREEM debuted its first magazine issue since 1989 in 2022, along with the CREEM Archive featuring every issue from the magazine's original 20 year run. Vanity Fair revealed the first print cover for the new oversized subscription-only premium quarterly, featuring original art by the legendary Raymond Pettibon (responsible for Sonic Youth's Goo album cover & others).
CREEM's second revived issue featured a cover and apparel designed by visionary artist Jeremy Dean – best known for his "Wonders of Black Flag'' tees mashing up Grateful Dead & Black Flag iconography, alongside working with The Rolling Stones, Circle Jerks, Ceremony & more. The new CREEM has featured fresh takes on classic stories from The Who, Terry Allen and a Creedence Clearwater Revival CIA scandal, championed up-and-coming artists like Special Interest and KeiyaA, as well as explored in-depth pieces from the last days with David Bermanto billionaire CEOs like the Winklevoss twins "purchasing" rock-star status and beyond.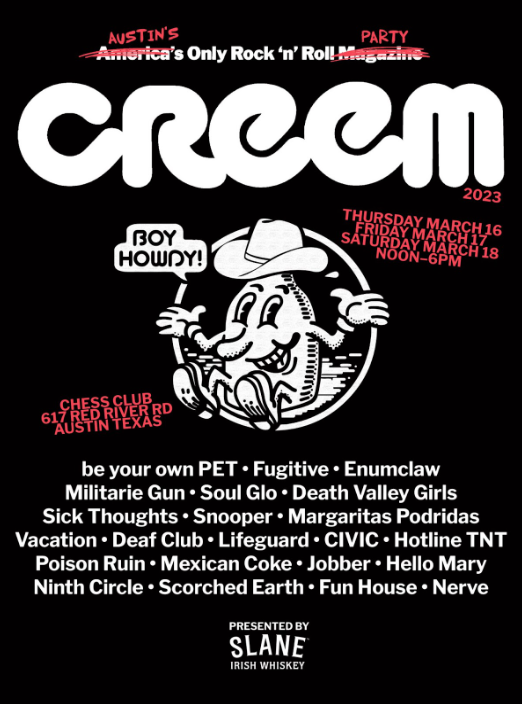 Founded in 1969 Detroit, CREEM grew from underground paper to national powerhouse - an essential source of music journalism for twenty years. It reflected and shaped the culture, cultivating some of the most legendary writing talent of the era: Lester Bangs, Cameron Crowe, Patti Smith, Robert Christgau and Jaan Uhelszki, who now returns as Editorial Director. The magazine's original rise and fall is chronicled in the critically-acclaimed 2020 documentary CREEM: America's Only Rock 'n' Roll Magazine, which earned praise everywhere from The New York Times to CBS This Morning.
Today, CREEM Entertainment is led by former VICE publisher John Martin as CEO, alongside Chairman JJ Kramer (son of original CREEM co-founder & publisher Barry Kramer). In addition to Uhelszki, the new CREEM editorial staff includes VP of Content Fred Pessaro formerly of VICE's Noisey and Executive Editor Dan Morrissey from Entertainment Weekly. Editorial Director Dave Carniehas worked with Jackass, ESPN, Big Brother, and Penthouse. Grace Scott joined as Associate Editor after her work with VICE & The Toronto Star, and Zachary Lipez as Editor at Large, following his work with Pitchfork, The Washington Postand others. This fall, CREEM welcomed Stephanie Augello as Photo Editor. Augello is an entertainment photographer and editor who has worked with Live Nation, Shutterstock Editorial, and ABC.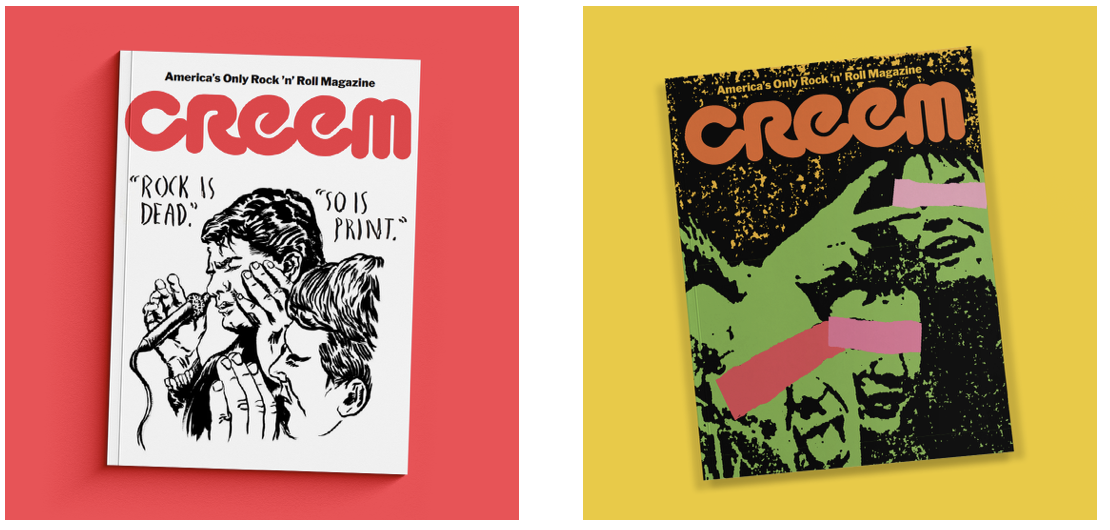 About CREEM Entertainment:
CREEM Entertainment is the modern-day reincarnation of Detroit's legendaryCREEM Magazine. During its initial twenty-year run, CREEM launched the careers of countless iconic music journalists and bands, while never hesitating to lampoon those who took themselves too seriously. Today's CREEM, powered by the next generation of cage-rattling truth tellers and provocateurs, delivers the best content, merchandise, and experiences to rock 'n' roll fans of all ages. Boy Howdy!
For more information on CREEM, please contact:
Matt Hanks (mhanks@shorefire.com)
Shannon Cosgrove (scosgrove@shorefire.com)