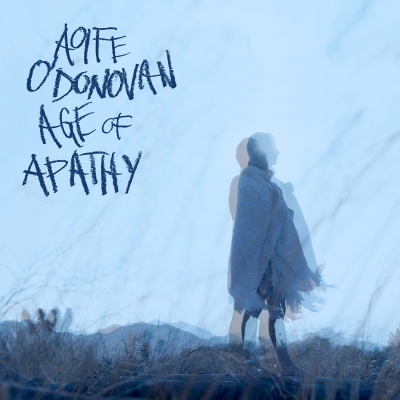 Following 3 GRAMMY Nominations, Aoife O'Donovan Shares Acoustic Version Of "Age Of Apathy"
Listen To "Age Of Apathy (Acoustic)" HERE
Age Of Apathy Is Nominated For Best Folk Album
"Prodigal Daughter" (ft. Allison Russell) Nominated For Best American Roots Performance & Best American Roots Song
Also Announces Aoife O'Donovan Plays NebraskaTour, Playing Cover Of Classic Springsteen Album In Full — See US + UK Dates Below
Today, Aoife O'Donovan — who was just nominated for three 2023 GRAMMY Awards for her 2022 album Age Of Apathy — shares an intimate acoustic version of "Age Of Apathy" (produced with Darren Schneider). The performance is essential Aoife: delicately expressive phrasings, instinctive accompaniment, and the elemental power of that voice cast against sparse instrumentation.
Listen to "Age Of Apathy (Acoustic)" here.
The acclaimed, Joe Henry-produced (Bonnie Raitt, Rhiannon Giddens) Age Of Apathy is nominated for the Best Folk Album GRAMMY as well as Best American Roots Performance and Best American Roots Song (both of those for "Prodigal Daughter" featuring Allison Russell).
This is far from O'Donovan's only bout of recognition this year: Rolling Stone called the album "stunning," NPR Music "a moving self-portrait," and No Depression "an astounding accomplishment." Pitchfork says O'Donovan "taps into the propulsion of prime Joni Mitchell," while The New York Times praises the album's "musical surprises: daring melodic leaps, unexpected chord progressions, [and] subtle rhythmic shifts."
Earlier this year, O'Donovan also was the subject of a Jon Pareles-penned The New York Times profile, read that here.
Last month, PBS aired O'Donovan's performance at The Kennedy Center's presentation of A Joni Mitchell Songbook, a celebration of the venerated artist's music led by multi-Grammy Award winner Vince Mendoza and accompanied by the National Symphony Orchestra. This one-of-a-kind concert includes performances by O'Donovan, Renée Fleming, Lalah Hathaway, Jimmie Herrod, and Raul Midón.Stream A Joni Mitchell Songbook at PBS.
In late 2021, O'Donovan shared an album-length live cover performance of Bruce Springsteen's Nebraska for Bandcamp Friday. This winter, she takes her versions on the road for Aoife O'Donovan Plays Nebraska. Dates include the UK and US, see below.
Says Greil Marcus of Aoife's interpretation of Nebraska's title track: "As exposed in a vacuum as Bruce Springsteen was when he made the song, she lets you hear how meticulously his first-person account of Charlie Starkweather's death rampage was crafted to follow the structure of a traditional murder ballad — or maybe it's her voice, the way it hovers over the details in the story, that's rewriting the song that way."
"The original album was desperate and dark, with doubt coursing through its tracks like murky blood," says The New York Times. "O'Donovan treats them as canon, saluting Springsteen's songcraft with clear, pitch-perfect articulation and affable delivery."
Watch Aoife O'Donovan perform for NPR Music's Tiny Desk Concerts here.
ABOUT AOIFE O'DONOVAN
GRAMMY Award-winning artist Aoife O'Donovan operates in a thrilling musical world beyond genre. Deemed "a vocalist of unerring instinct" by the New York Times, she has released three critically-acclaimed and boundary-blurring solo albums including her most recent record, 2022's boldly orchestrated and literarily crafted Age Of Apathy. Recorded and written over the course of Winter and Spring 2021 with acclaimed producer Joe Henry (Bonnie Raitt, Rhiannon Giddens), Age Of Apathy is "stunning" (Rolling Stone) and "taps into the propulsion of prime Joni Mitchell" (Pitchfork). Age of Apathy is nominated for 3 GRAMMY awards including Best Folk Album.
A savvy and generous collaborator, Aoife is one third of the group I'm With Her with bandmates Sara Watkins and Sarah Jarosz. The trio's debut album See You Around was hailed as "willfully open-hearted" by NPR Music. I'm With Her earned an Americana Music Association Award in 2019 for Duo/Group of the Year, and a Grammy-award in 2020 for Best American Roots Song.
O'Donovan spent the preceding decade as co-founder and front woman of the string band, Crooked Still and is the featured vocalist on The Goat Rodeo Sessions — the group with Yo-Yo Ma, Stuart Duncan, Edgar Meyer, and Chris Thile. She has appeared as a featured vocalist with over a dozen symphonies including the National Symphony Orchestra, written for Alison Krauss, performed with jazz trumpeter Dave Douglas, and spent a decade as a regular contributor to the radio variety shows "Live From Here" and "A Prairie Home Companion."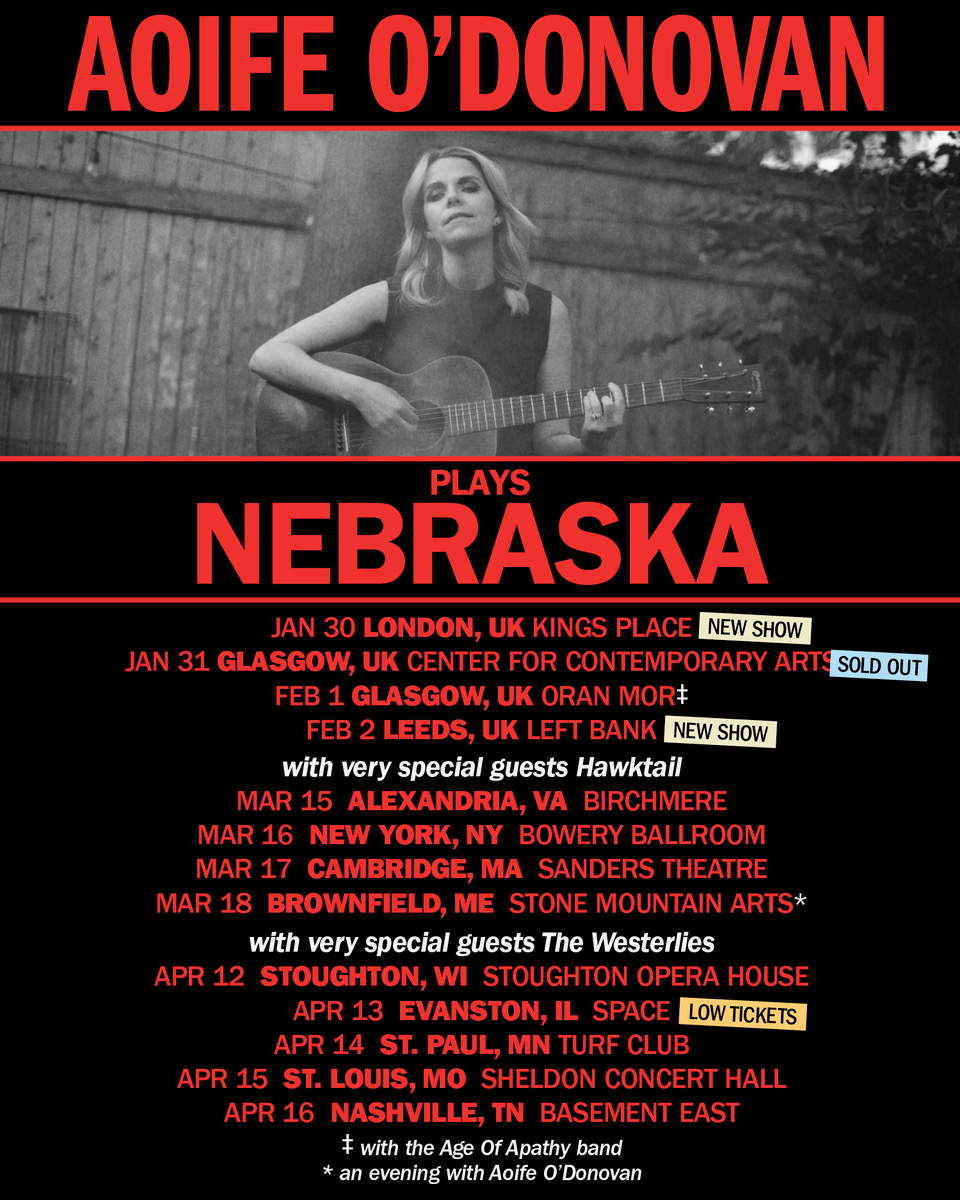 Aoife O'Donovan Plays Nebraska
Jan 30 — London, UK @ Kings Place
Jan 31 — Glasgow, UK @ Center For Contemporary Arts
Feb 1 — Glasgow, UK @ Oran Mor %
Feb 2 — Leeds, UK @ Left Bank
Mar 15 — Alexandria, VA @ Birchmere ^
Mar 16 — New York, NY @ Bowery Ballroom ^
Mar 17 — Cambridge, MA @ Sanders Theatre ^
Mar 18 — Brownfield, ME @ Stone Mountain Arts
Apr 12 — Stoughton, WI @ Stoughton Opera House *
Apr 13 — Evanston, IL @ SPACE *
Apr 14 — St. Paul, MN @ Turf Club *
Apr 15 — St. Louis, MO @ Sheldon Concert Hall *
Apr 16 — Nashville, TN @ Basement East *
% = performing with the Age Of Apathy band
^ = with very special guests Hawktail
* = with very special guests The Westerlies
Connect with Aoife O'Donovan
Official Site | Facebook | Instagram