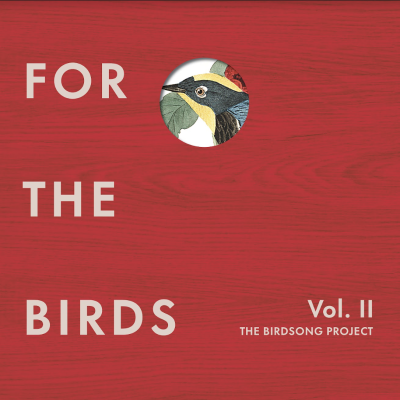 For The Birds: The Birdsong Project Volume II Out Today
51 NEW RECORDINGS FEATURING OLIVIA CHANEY, ELVIS COSTELLO, DAN DEACON, GIRLPOOL, BUZZY LEE, YO-YO MA, STEPHIN MERRITT, HANIA RANI, THE FLAMING LIPS, JEFF TWEEDY, VERY NICE PERSON, ANDREW WYATT, AND MANY OTHERS
WITH SPOKEN WORD CONTRIBUTIONS FROM BOBBY CANNAVALE, JONATHAN FRANZEN, JEFF GOLDBLUM, JORIE GRAHAM, NATASHA LYONNE, MATTHEW MCCONAUGHEY, LORRIE MOORE, ROBERT PATTINSON, MICHAEL PENN, ALICE WATERS, FLORENCE WELCH
LISTEN HERE: https://orcd.co/forthebirdsvol2
FIVE-VOLUME COLLECTION FEATURES 242 NEWLY RECORDED & ORIGINAL RECORDINGS FROM LEADING ARTISTS INSPIRED BY BIRDSONG
Produced by Grammy Award-winning Music Supervisor/Producer Randall Poster
Executive Producers Are Elliot Bergman, Stewart Lerman, Lee Ranaldo and Rebecca Reagan
All Proceeds Benefit National Audubon Society, Drawing Attention to Threats Facing Bird Populations
Partnerships and Events Confirmed with American Museum of Natural History, BirdLife International, Brackenridge Park Conservancy San Antonio, Brooklyn Botanic Garden, Lotusland and Warby Parker
Watch Yo-Yo Ma's Video Performance of In the Gale HERE
June 24, 2022---Today marks the release of Volume II of For the Birds: The Birdsong Project, an expansive collection of 242 recordings inspired by birdsong and created to support the conservation of birds and their habitats. The second volume of For the Birds, 51 tracks available now for streaming on all platforms, showcases a stylistic range of newly recorded and original music by leading artists---including Olivia Chaney, Elvis Costello, Dan Deacon, Eleanor Friedberger, Inara George, Mary Lattimore, Mary Lattimore, Yo-Yo Ma, Stephen Merritt, Van Dyke Parks, Hania Rani, Shearwater, Isabella Summers, The Flaming Lips, Jeff Tweedy, Very Nice Person, Andrew Wyatt, and many others---as well as compelling spoken-word recordings from acclaimed actors and writers including Bob Balaban, Bobby Cannavale, Jonathan Franzen, Jeff Goldblum, Jorie Graham, Natasha Lyonne, Matthew McConaughey, Lorrie Moore, Robert Pattinson, Alice Waters, and more.
The Birdsong Project was produced by Randall Poster, the Grammy Award-winning producer and music supervisor known for his longtime work with Wes Anderson and Martin Scorsese.
The Project was conceived and inspired by Executive Producer Rebecca Reagan, who brought a grand creative vision and wisdom to the project.
Since being announced in May with the release of Volume I, The Birdsong Projecthas been featured multiple times in the New York Times, in addition to The Guardian, CBC, Rolling Stone, Pitchfork, Stereogum and more.
Cellist Yo-Yo Ma today released a video performance of "In the Gale," composed by Anna Clyne. Watch it here: https://youtu.be/cEavsIoMxn8
"The music of The Birdsong Project is a reminder that we are part of nature, that the survival of life on planet earth — from trees to birds to humans — cannot be separated from the health of the planet," says Yo-Yo Ma.
Listen to/share selections from Volume II here:
"And Your Bird Can Sing/The Birds Will Be Singing" – Elvis Costello
"Tomorrow" – Hania Rani
"When the Sun Explodes" – Very Nice Person
All proceeds from The Birdsong Project will be donated to the National Audubon Society, the world's oldest environmental society dedicated to the conservation of birds and their habitats.
In a project partnership, the Brooklyn Botanic Garden has mounted a multidisciplinary exhibition and program series in collaboration with exhibition creative director and Birdsong Project producer Randall Poster—running now through October 23. It includes an outdoor exhibition of birdhouses created by international artists and inspired by Brooklyn Botanic Garden's resident birds as well as The Birdsong Project's recordings. Brooklyn Botanic Garden hosted an outdoor liminal sound bath live ambient music event on June 20 which featured performances by Birdsong project contributors Alex Somers, Mary Lattimore, and Julianna Barwick: https://www.bbg.org/forthebirds
To help foster an awareness of—and love for—birds in future generations, The Birdsong Project has also partnered with eyewear brand Warby Parker to donate 20,000 limited-edition "Birdoculars" to numerous cultural institutions that support the conservation of the natural world and its avian inhabitants.
The remaining volumes of The Birdsong Project will be released one per month, concluding with Volume V in September. It is also available as a limited edition 20-LP deluxe box set, which includes a 60-page book featuring an essay by musician-ornithologist Jonathan Meiburg of Shearwater and a package bursting with paintings and illustrations of birds by well-known artists.
The range of diverse artistry across the project's five volumes includes GRAMMY, Oscar, Emmy, Pulitzer, Peabody and James Beard Award winners: Adam Horovitz, Andrew Bird, Animal Collective, Beck, Cassandra Jenkins, Esperanza Spalding, Haden Triplets, Nico Muhly, Jim James, Julia Holter, Julianna Barwick, Kamasi Washington, Karen O, Kurt Vile, Laurie Anderson, Atlas Sound & L'Rain, Makaya McCraven, Mark Ronson, Nick Cave & Warren Ellis, Terry Riley, Tyondai Braxton, John Cale, UNKLE, Karen O, Jarvis Cocker, and many more.
Interspersed with music tracks that were recorded and donated to this project are works by writers including Raymond Carter, Maggie Smith, Ocean Vuong, Anne Sexton, Ada Limón, W.S. Merwin, Allen Ginsberg, Shel Silverstein, and Mary Oliver, read by Alice Waters, Bette Midler, Florence Welch, Greta Gerwig, Jelani Cobb, Olivia Wilde, Regina King, Sean Penn, Tilda Swinton, Suzan-Lori Parks, George Saunders, Tim Blake Nelson, John Lithgow, Toni Collette, and others.
Stream / Download Volume II here: https://orcd.co/forthebirdsvol2
Pre-order Volume II here: https://orcd.co/ftbphysical
Volume II Track List:
ALBUM #5
SIDE A
1. Birdsong for Randy - Performed by Dan Deacon
2. When the Sun Explodes - Performed by Very Nice Person
3. Weird Bird - Written by Shel Silverstein. Read by Bobby Cannavale
4. And Your Bird Can Sing / The Birds Will Be Singing - Performed by Elvis Costello
5. Lucifer Hummingbird - Performed by The Flaming Lips
6. Who (Don't Look Back) - Performed by Andrew Wyatt
7. California Towhee - Written and read by Jonathan Franzen
SIDE B
1. Open Window - Performed by Michael Uzowuru
2. tori no uta - Performed by Aska Matsumiya
3. Two Arms - Performed by Le Ren
4. Sparrow, Sparrow, What Did You Say? - Written by Ada Limón. Read by Molly Rosen
5. Your Birthday at the Huntington - Performed by Mary Lattimore
6. Are We - Written and read by Jorie Graham
ALBUM #6
SIDE A
1. The Hawk & the Crow - Performed by Olivia Chaney
2. Bell Minor - Performed by Jeff Tweedy
3. Broom - Written by Jim Harrison. Read by Matthew McConaughey
4. Godswits - Performed by Mark Mulcahy
5. Red Tailed Hawk - Performed by Inara George and Van Dyke Parks
6. Great Blue Heron - Performed by Calexico
SIDE B
1. Trying To Get Out - Performed by Siddhartha Khosla
2. Hope Is a Feather - Performed by Ganavya
3. Birdsong - Performed by Ramesh & Jason Chronis
4. Black Cherries - Written by W.S. Merwin. Read by Alice Waters
5. Stations Parallel - Performed by Sam Prekop
6. Kwitaro Backbone - Performed by Shearwater
ALBUM #7
SIDE A
1. Wild Geese - Written by Mary Oliver. Read by Florence Welch
2. Overview - Performed by CUP (Yuka C. Honda & Nels Cline)
3. The Gospel of Oke - Performed by Ebe Oke
4. One Eye Open - Performed by Douglas Dare feat. EERA
5. Theme for Flight - Performed by Cecile Believe
6. Hyper Happy - Performed by Eleanor Friedberger
7. Good Bones - Written by Maggie Smith. Read by Natasha Lyonne
SIDE B
1. V Formation - Performed by Buzzy Lee
2. The Last Love Poem I Will Ever Write - Written by Gregory Orr. Read by Ann Beattie
3. TINSELTOWN - Performed by Girlpool
4. If I Were a Kookaburra - Performed by Stephin Merritt
5. Ostrich Walk - Performed by Vince Giordano and the Nighthawks
6. The Hidden Singer - Written by Wendell Berry. Read by Bob Balaban
7. Birds and Piano - Performed by Michael Penn
ALBUM #8
SIDE A
1. A Dark Thing inside the Day - Written by Linda Gregg. Read by Robert Pattinson
2. Tomorrow - Performed by Hania Rani
3. In the Gale - Performed by Yo-Yo Ma. Composed by Anna Clyne
4. Winter's Blessing - Written by John Kelly. Read by Brady Corbet
5. The Maddening Hour, or Ode to Owl - Performed by Isabella Summers
6. Evening Chorus (Live in the Bluebell Woods) - Performed by Cosmo Sheldrake
7. LSD - Written by Alex Dimitrov. Read by Jeff Goldblum
SIDE B
1. Strong but Fail - Performed by Roddy Bottum
2. Love High Noon - Performed by Claude Fontaine
3. Good To See - Performed by Seu Jorge & Flor
4. Wefoch (Birds) - Performed by Dexter Story
5. The Sparrow - Written by William Carlos Williams. Read by Tim Blake Nelson
About Randall Poster
Randall Poster is one of the most highly sought-after music supervisors in the film and television industries. Over the last three decades, he has bolstered the work of some of the world's most innovative film directors.
In 1996, Poster produced the soundtrack for Larry Clark's groundbreaking film KIDS, a foray into music supervision that led to high-profile collaborations in independent and commercial cinema. His selective, distinctive ear has been essential to the musical identities of critically acclaimed films including SCHOOL OF ROCK (Richard Linklater), COUNTRY STRONG (Shana Feste), MEET THE PARENTS (Jay Roach), THE HANGOVER PARTS I, II and III (Todd Phillips), and VELVET GOLDMINE (Todd Haynes). Poster has also lent his skills and musical insights to the works of directors Sam Mendes, Olivia Wilde, Danny Boyle, Karyn Kusama, Antonio Campos, Kevin Smith, Harmony Korine, and Sean Penn.
Poster has been an essential participant in shaping the unique aesthetic of all of Wes Anderson's films; supervising the scores and soundtracks from 1998's RUSHMORE to 2014's GRAND BUDAPEST HOTEL, to the upcoming ASTEROID CITY. Poster has also developed musical identities for many of Martin Scorsese's biggest recent projects, including films HUGO, THE AVIATOR, THE WOLF OF WALL STREET, and the hit HBO series BOARDWALK EMPIRE and VINYL. In 2011, Poster's work on the BOARDWALK EMPIRE soundtrack earned him a GRAMMY Award for Best Compilation Soundtrack. Poster won a second GRAMMY for his role in producing the soundtrack to THE GRAND BUDAPEST HOTEL.
Poster is currently at work on Mr. Scorsese's KILLERS OF THE FLOWER MOON.
Recent projects of note include THE FRENCH DISPATCH, THE QUEEN'S GAMBIT, TIGER KING, ONE NIGHT IN MIAMI, THE DEVIL ALL THE TIME, PRETEND IT'S A CITY, and Questlove's Academy Award-winning, feature documentary debut, SUMMER OF SOUL (...OR, WHEN THE REVOLUTION COULD NOT BE TELEVISED). Poster's work will soon be heard in Olivia Wilde's DON'T WORRY DARLING, Scott Cooper's PALE BLUE EYE, and new films by Sam Mendes, Davis Guggenheim, and Maya Forbes & Wally Wolodarsky.
About The Executive Producers
ELLIOT BERGMAN
Elliot Bergman is a musician and artist living in Chicago and Los Angeles. After studying Jazz, Composition, and Gamelan music at the University of Michigan, he has been an active part of the creative music scenes in Brooklyn and Chicago while touring extensively with his groups Wild Belle and NOMO. He has also performed and recorded with Beck, Iron and Wine, Yeasayer, Cage the Elephant, and His Name is Alive. His musical and visual art practices are uniquely intertwined. His early training in metal work led to experimentation with material and sound and the production of bronze bells and sound sculptures. He has exhibited his work at The Marciano Art Foundation In Los Angeles, The Depaul Art Museum in Chicago, and at the Hirshhorn Museum in Washington D.C..
STEWART LERMAN
Stewart Lerman is a Bronx born NY based 2x Grammy winning(3x nominated) music producer and recording/mix engineer who has produced over 100 albums and worked on countless movie and TV soundtracks.
He has worked with such artists as Patti Smith, Loudon Wainwright, Elvis Costello, The Roches, Shawn Colvin, Sharon Van Etten, etc. In the film and TV world he has worked with directors Martin Scorcese, Woody Allen, Barry Levinson, Wes Anderson, Amy Sherman-Palladino, to name a few.
LEE RANALDO
Musician, visual artist, and writer, Lee Ranaldo co-founded Sonic Youth in 1981, and has been active both in New York and Internationally for 40 years as composer, performer and producer; also exhibiting visual art worldwide and publishing several books of journals, poetry and writings on music. Recent live performances with partner Leah Singer, Contre Jour, have been large scale, multi-projection sound and light events with suspended electric guitar phenomena that challenge the usual performer/audience relationship.
Most recent album In Virus Times, an instrumental acoustic piece in four parts, was released in November 2021 on Mute Records, A new collaborative quartet album with Jim Jarmusch, Churning of the Ocean, was released by Trost Records in May 2021. Sonic Youth released new compilation IN/OUT/IN in March 2022 on Three Lobed Records. Previous album Names of North End Women – a collaboration with Raul Refree - was released in February 2020 on Mute. Lives and works in New York City
REBECCA REAGAN
Rebecca Reagan is an LA-based executive producer, advisor at Kiss the Ground, and cofounder of the Ecuador non-profit Amazon Healing.
She is a multidisciplinary creator, who values the potential of global listening, empathy in communities, and accessible education, to support the ecological well-being of our planet and all beings.
Rebecca is also a mother, meditator, and tea enthusiast/curator.
About The National Audubon Society
The National Audubon Society protects birds and the places they need, today and tomorrow, throughout the Americas using science, advocacy, education and on-the-ground conservation. Audubon's state programs, nature centers, chapters and partners have an unparalleled wingspan that reaches millions of people each year to inform, inspire and unite diverse communities in conservation action. Since 1905, Audubon's vision has been a world in which people and wildlife thrive. Audubon is a nonprofit conservation organization. Learn more at www.audubon.org and @audubonsociety.
About Warby Parker
Founded in 2010, Warby Parker is an eyewear brand with a mission: to inspire and impact the world with vision, purpose, and style.
Warby Parker aims to demonstrate that businesses can scale, do well, and do good in the world. Ultimately, the brand believes in vision for all, which is why for every pair of glasses or sunglasses sold, they distribute a pair to someone in need through their Buy a Pair, Give a Pair program. To date, Warby Parker has worked alongside its nonprofit partners to distribute more than 10 million glasses to people in need. Learn more at warbyparker.com