Freakonomics Radio Is Expanding!
Freakonomics Radio, the award-winning podcast and public-radio show, is expanding in a new partnership with Stitcher.
The show is hosted by Stephen J. Dubner, co-author of the best-selling Freakonomics book series. Launched in 2010, it has become one of the biggest podcasts in the world, with 37 million downloads in the first quarter of 2018, according to Podtrac: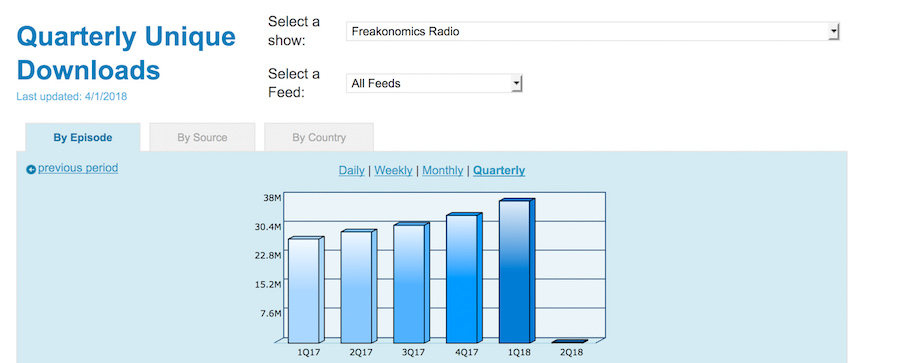 Freakonomics Radio is heard by millions more on NPR affiliate stations across the country, as well as on SiriusXM, Spotify, and elsewhere.
And now Freakonomics Radio is getting even bigger. In partnership with the podcast network and listening platform Stitcher, it will increase programming by roughly 50 percent, including:
+ The weekly Freakonomics Radio podcast, which features academics, newsmakers, Nobel laureates, and other underachievers.
+ The live game show "Tell Me Something I Don't Know," a Freakonomics spinoff that debuted at No. 1 on Apple Podcasts and has 12 million downloads to date.
+ "Self-Help Sundays," a new regular series exploring the most empirical way to be more productive, cheat at cards, and make great pizza at home.
+ Special projects like the recent Freakonomics Radio series "The Secret Life of a CEO," which featured interviews with Mark Zuckerberg, Indra Nooyi, Richard Branson, Ray Dalio, Satya Nadella, and others. Upcoming series include in-depth explorations of the sports industry and the creative mind.
Freakonomics Radio will continue to be distributed through all podcast apps and on Freakonomics.com, with bonus episodes available through Stitcher Premium. The show's archives will be available on Stitcher and Freakonomics.com.
The show is broadcast weekly on 175 public-radio stations, including WNYC in New York, which has co-produced Freakonomics Radio since 2010. WNYC will continue to distribute the program to NPR stations.
"WNYC has been, and continues to be, a great podcast incubator," said Dubner. "I'm hugely grateful for their support and really pleased to continue our broadcast partnership. I'm also thrilled to be expanding the Freakonomics Radio footprint with Stitcher. They are an organization brimming with talent and have played a huge role in turning podcasting into a global phenomenon."
"Stephen Dubner and his team have created a well-loved podcast and radio show that has stood the test of time and continues to reach new audiences," said Erik Diehn, CEO of Stitcher and its parent company, Midroll Media. "We look forward to partnering with the Freakonomics Radio team to continue to fuel the show's growth while telling new stories."
WNYC Studios is very proud of our work with Stephen Dubner on the Freakonomics Radio podcast, which successfully translated a popular book and print column into a must-listen audio experience for listeners everywhere," said Laura Walker, President and CEO of New York Public Radio, which includes WNYC Studios. "We are pleased to continue to distribute the show to public radio stations across the country, and wish Stephen the best on his new podcast projects."

The new partnership begins July 1.