Fred Minnick Invites Distilled Spirits Lovers Worldwide To Celebrate The 88th Anniversary Of The End Of Prohibition
Repeal Day Expo Is Set For December 4-5th (Virtual)
Tickets on sale today (10.15), here: brownpapertickets.com/event/5272639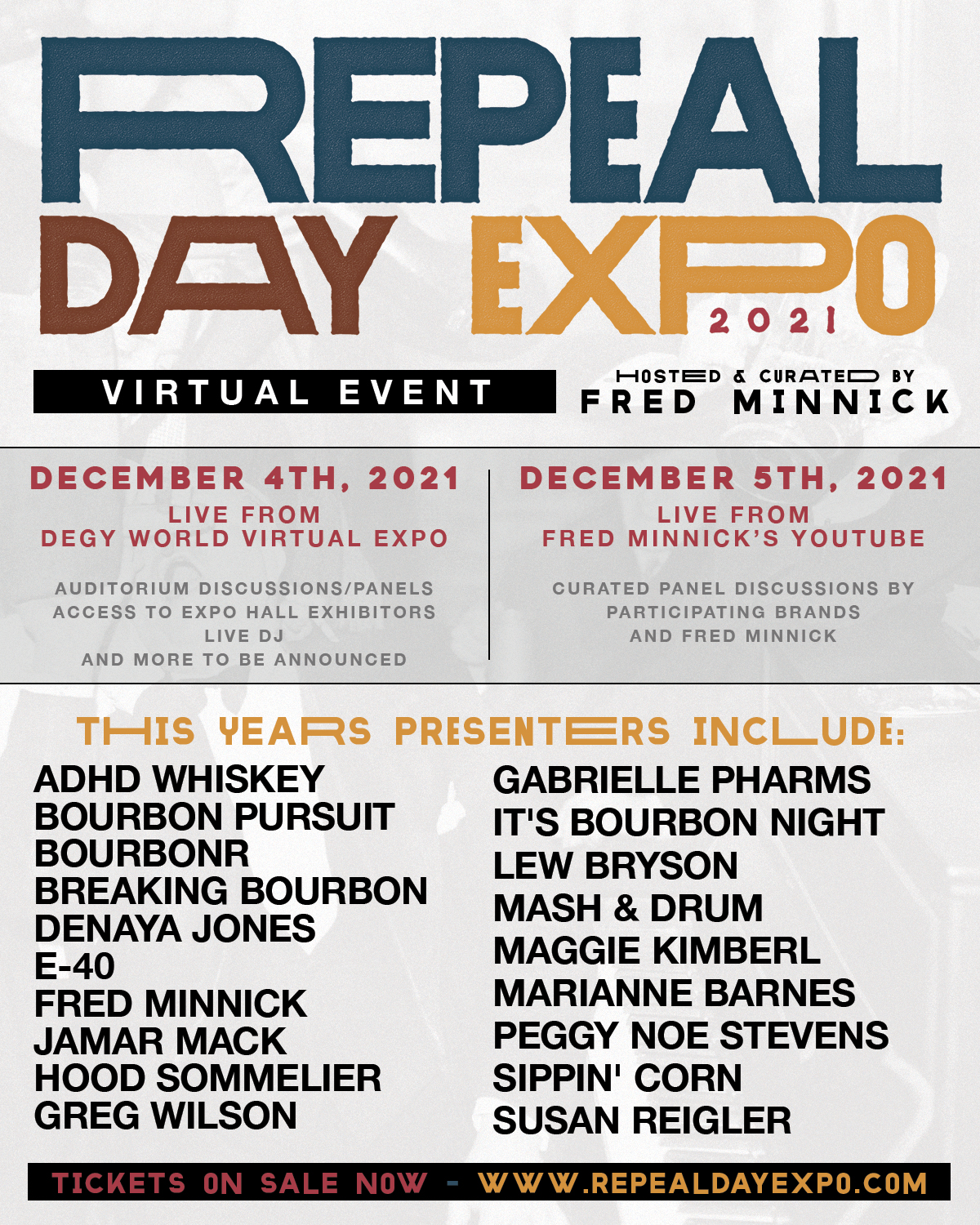 Celeb bourbon entrepreneur Fred Minnick will host his 2021 Repeal Day Expo, celebrating the 88th anniversary of the end of the prohibition with a virtual conference that includes discussions with prominent spirits industry experts. The event will take place on Saturday, December 4th and Sunday, December 5th via immersive virtual event platform Degy World and live panels streaming on Minnick's YouTube Channel.
"We continue to face Prohibition-era laws in this country," says Minnick, author of Bourbon: The Rise, Fall & Rebirth of An American Whiskey. "And while we are here to have a good time in the virtual world with good drams, we also want to put a spotlight on the 13 dry years and how Prohibition-centric laws continue in the United States. This expo serves as a reminder that Prohibition can always happen again, but more importantly, it's a virtual gathering of great minds and good times."
Attendees will be able to create their own avatar and experience the conference through a virtual reality with access to bourbon tastings, musical performances, interactive conversations with brand owners and industry experts, educational panels and more.
Panels Include:
Dooms Day: How Another Prohibition Can Happen
State of Bourbon
Dry Counties and Other Dumb Alcohol Laws
Celebrity Takeover: Are They The Future of Booze?
New Innovations in Spirits
Post Prohibition: How the Three Tier System Happened
Watch the Repeal Day Expo 2020 Recap, here: youtu.be/faaNpWV7ORM
The 2021 Repeal Day Expo has capacity for 1,000 guests and tickets, available for adults over 21 years old, start at $25. Tickets are on-sale today (10.15), here: brownpapertickets.com/event/5272639
Minnick continuously revives the age-old traditions and cultures of bourbon and spirits through his media empire which includes the Bourbon Pursuit Podcast, DASH Radio's "Minnick Minute" show and his Hermes Creative Awards Platinum-winning Podcast The Fred Minnick Show (PodcastOne), which features interviews with musicians, athletes and other celebrities including Peyton Manning, Ludacris, Lindsay Ell, Terry Bradshaw, Ashley McBryde and more. Minnick, a Louisville, KY-based father of two, is also an avid music fan, curating his annual Bourbon and Beyond festival which has welcomed acts like Lynn Kravitz, John Mayer and Stevie Nicks to its stages. He has authored several books including Wall Street Journal best-seller Bourbon Curious.
ABOUT REPEAL DAY:
The Repeal Day Expo returns to celebrate the ratification of the 21st amendment. Join Fred Minnick in the virtual Degy World on December 4th & 5th. This two-day virtual expo and conference will feature the world's top spirits and industry professionals. Repeal Day Expo is a ticketed event for those 21+ years old happening December 4 & 5, 2021. There is only a capacity for 1,000 guests and tickets are competitively priced, so we expect this will sell out quickly. We encourage attendees to purchase products from our list of exhibitors prior to the event. This way guests can enjoy a drink and learn more about the exhibiting brands. We look forward to partying like it's 1933. Cheers!
For more information on the 2021 Repeal Day Expo, visit repealdayexpo.com.