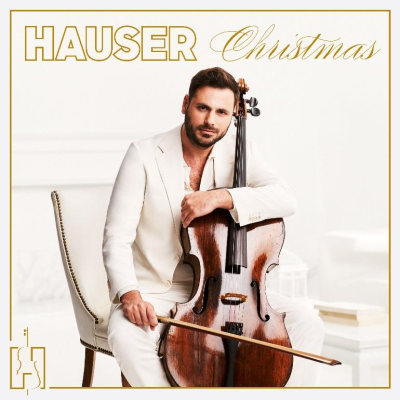 HAUSER Global Cello Sensation Will Release First-Ever Holiday Album 'Christmas' 
An All-New Collection Of The World's Favorite Melodies In Sumptuous New Arrangements Arrives Friday, October 27
OUT NOW: LEAD SINGLE "AMAZING GRACE" & ACCOMPANYING MUSIC VIDEO
APPROVED IMAGE (CREDIT: NIKES SOOS) DOWNLOAD
NEW YORK, NY (September 15, 2023) – Celebrating a lifelong love for the music of the Christmas season, international superstar cellist HAUSER today announces his first-ever holiday album, 'Christmas.' Available everywhere Friday, October 27, Christmas features 14 of the world's most beloved Christmas melodies newly arranged for orchestra and choir to showcase his inimitable cello artistry. Echoing the musical magic of the holidays, Christmas captures the intimate warmth and friendly spirit of the yuletide, evoking the romance and the many pleasures of holidays past and present. Available for preorder now, the CD edition of Christmas will include a Christmas ornament and special video message from HAUSER as a bonus holiday gift. Making its debut today alongside preorder is the album's lead single "Amazing Grace," accompanied by an epic new visual of the dynamic cellist performing at the prestigious French Pavilion in his homeland of Croatia. – listen now & watch the video here.
"Instrumental music is something everyone, everywhere can understand equally. A big advantage of playing an instrument like the cello is that people everywhere can enjoy these songs in a totally new dimension," says HAUSER of the new album, adding, "People can enjoy it in the background, even if they're not focused on listening. It's perfect for opening presents, preparing dinner, decorating the tree, whatever. I wanted this album to be a pleasant listening experience, however you want to enjoy it."
On Christmas, HAUSER has selected 14 holiday perennials, including eight seasonal carols beloved all over the world, four popular Christmas hits from The Great American Songbook, and two of the cellist's favorite melodies of the spirit – the American hymn "Amazing Grace" and Mozart's sublime sacred aria "Laudate Dominum." Christmas includes seasonal standards like "Silent Night," "Adeste Fideles (O Come, All Ye Faithful)," "Angels We Have Heard on High," "The First Noël," "The Little Drummer Boy," "O Holy Night," "O Little Town of Bethlehem" and "Carol of the Bells" (based on an old Ukrainian song). HAUSER was inspired by his enduring love for singers like Frank Sinatra, Dean Martin, Bing Crosby and Elvis Presley, selecting four iconic American holiday pop songs from the mid-20th century to round out the collection – "White Christmas," "The Christmas Song (Chestnuts Roasting on an Open Fire)," "Have Yourself a Merry Little Christmas" and "I'll Be Home for Christmas."
Each selection is festively "gift-wrapped" in lush new arrangements that feature HAUSER's artistry with a full orchestra and chorus. "I wanted everything to sound like classical music," he said of the sumptuous orchestrations for Christmas. "Even those pop songs now sound so gorgeous in this instrumentation, with a huge orchestra. They really sound like classical masterpieces. I think people will be surprised to hear their favorite Christmas song in this romantic, 'Hollywood' style. I really wanted to recreate that."
"I wanted this to be the ultimate Christmas album," HAUSER concludes, with the idea that the 14 selected songs and carols reflect every holiday mood, from "a fun Christmas and, I hope, a holy Christmas."
Growing up in Croatia, HAUSER remembers music at Christmas "as the most magical part of the year as a child." It was also a family tradition, from his mother leading the choir at their local church to carols sung every year by his family at home. Musically, the budding cellist was a part of that, from an early age, in a culture where Christmas music was especially popular.
"I always had the cello in my hands," he recalls. "At times like Christmas, I would play around with it – that's how I improved my improvisation skills because, since I was a little boy, I was not just a nerd who practiced scales, sonatas and concertos. This was the beginning of my diversity as a musician."
HAUSER – CHRISTMAS TRACKLISTING
The First Noël

White Christmas

Carol of the Bells

O Little Town of Bethlehem

O Holy Night

Silent Night

Angels We Have Heard on High

The Christmas Song

I'll Be Home for Christmas

Have Yourself a Merry Little Christmas

The Little Drummer Boy

Adeste Fideles

Laudate Dominum

Amazing Grace
APPROVED PHOTO (CREDIT: SIMON EMMETT): DOWNLOAD
ABOUT HAUSER
Following an incredible 10-year run as half of 2CELLOS, global superstar HAUSER has ushered in a new era as a solo artist and visual concept creator, using his innovative musical skills and irresistible charisma to bring a new wave of cello music to fans everywhere. Making his solo debut in 2020 with the release of Classic and The Player in 2022, HAUSER has amassed over a billion audio streams and 4 billion video views globally. Revered globally for his captivating live performance, the Croatian musician is a phenomenon that thrives on audience interaction, hitting the stage in over 40 countries across the globe (including historic venues like New York City's Radio City Music Hall and London's Royal Albert Hall) and performing alongside such wide-ranging acts as Andrea Bocelli, Red Hot Chili Peppers, and Elton John. His electric stage presence has also led to several high-profile appearances, including an opening night performance at the 2022 Venice International Film Festival, performing at the Vatican for the Pope, and special features for both the NFL and UEFA. Named one of People Magazine's 2022 Sexiest Men Alive and featured by the likes of Rolling Stone, Forbes, and The New York Times, HAUSER has graced the stage for numerous broadcast performances, most recently adding Love Island to a long resume of appearances that includes The Bachelorette, TODAY Show, Good Morning America, Ellen, The Late Show with Stephen Colbert, CNN en Español and more.
HAUSER – REBEL WITH A CELLO 2023 TOUR DATES
September 19 - Athina, Greece- Lycabettus Hill
September 20 - Athina, Greece - Lycabettus Hill
September 22 - Limassol, Cyprus - Municipal Garden Theater of Limassol
October 8 - Bordeaux, France - Arkéa Arena
October 10 - Barcelona, Spain - Palau Sant Jordi
October 11 - Madrid, Spain - WiZink Center
October 12 - Lisboa, Portugal - Altice Arena
October 15 - Dijon, France - Le Zénith
October 16 - Zürich, Switzerland - Hallenstadion
October 18 - Assago, Italy - Mediolanum Forum
October 20 - Rome, Italy - Palazzo Dello Sport
October 21 - Firenze, Italy - Nelson Mandela Forum
October 22 - Jesolo, Italy - Palazzo Del Turismo
October 24 - Belgrade, Serbia - Štark Arena
October 25 - Zagreb, Croatia - Arena Center
October 27 - Prague, Czechia - Tipsport Arena
October 28 - München, Germany - Olympiahalle
October 29 - Amsterdam, Netherlands - Ziggo Dome
October 31 - Berlin, Germany - Mercedes Benz Arena
November 2 - Vienna, Austria - Wiener Stadthalle
November 3 - Krakau, Poland - Tauron Arena
November 5 - Gdańsk, Poland - Ergo Arena
November 7 - Oberhausen, Germany - Rudolf Weber Arena
November 8 - Antwerp, Belgium - Sportpaleis
November 9 - Hamburg, Germany - Barclays Arena
November 11 - Manchester, UK - O2 Apollo
November 12 - London, UK - The O2
November 14 - Paris, France - Accor Arena
November 16 - Tel Aviv, Israel - Menora Mivtachim Arena
November 18 - Ataşehir, Turkey- Ülker Sports Arena
FOR TOUR DATES AND TICKETS, SEE HERE.
CONNECT WITH HAUSER: WEBSITE | FACEBOOK | INSTAGRAM | YOUTUBE | TIKTOK
###
Sony Music Masterworks comprises Masterworks, Sony Classical, Milan Records, XXIM Records and Masterworks Broadway imprints. For email updates and information please visitwww.sonymusicmasterworks.com/.
For more information, please contact:
Shore Fire Media
Alena Joyiens and Allison Elbl at teamHAUSER@shorefire.com
Sony Music Masterworks
Larissa Slezak, larissa.Slezak@sonymusic.com
Jamie Bertel, jamie.bertel@sonymusic.com