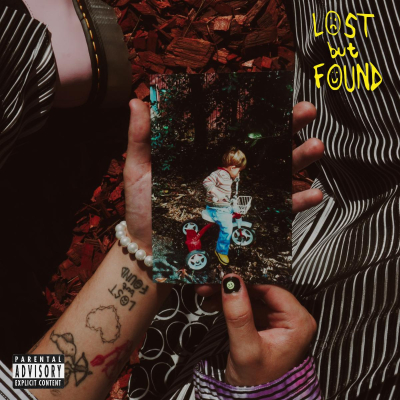 Jacob Sartorius Unlocks Next Chapter With 'Lost But Found' EP, Out Today
Today (10.1), multi-hyphenate Jacob Sartorius releases his Lost But Found EP. This five-track EP is Sartorius' most vulnerable project to date, and reveals a new chapter in Sartorius' life in the digital spotlight. From catchy alt-rock beats to powerful pop-punk ballads, he brings an unflinching honesty about the ups-and-downs of his rise to fame: the chaos, the disconnect, the anxiety and all that comes in-between. Arriving just in time for his 19th birthday (10.2), this project is Jacob's heartfelt gift to his fans who've supported him since day one.
Jacob was the true creative force behind every aspect of the EP. He co-wrote on each track, he conceptualized and co-directed each of the single's music videos, hand-selected every collaborator and more. Plus, he enlisted some of pop's hottest producers and songwriters to be part of this EP, including Grammy-nominated multi-platinum songwriting and music production trio The Invisible Men (Lil Peep, XXXTentacion, Iggy Azalea, Miley Cyrus), Grammy-nominated produced Sam Ricci (SZA, Kendrick Lamar, Khalid), Jake Crocker (dempsey hope), Tony Rodini (Mod Sun, Bear), Gehring Miller(Cardi B, Normani, Kehlani) and more.
From painting a vivid picture of anxiety on "Trapped In a Car" to reflecting on a lost love on "Fly Away," Jacob holds nothing back across the 5-track collection, unlocking the most vulnerable parts of himself to create his most authentic music to date. Jacob had previously previewed the first two tracks, The Truman Show-inspired "For Real" -- which debuted on MTV's Times Square billboard -- and "Hey, Hello, Goodbye" featuring emerging pop-star dempsey hope.
Also out today is the official music video for "lifesallgood." Shot in Malibu and produced by Jacob and WayOutInc, Jacob says that the playful track serves as a reminder that "we may not have everything figured out or together at this moment in time, but we should embrace the process and find time to remind ourselves that life's all good and happening exactly how it should be."
Lost But Found Track List:
For Real (Jacob Sartorius, Matthew Marino, Anthony Benjamin Rodini, George Astasio, Jason Pebworth, Jon Shave, Darryl Reid)
Hey Hello Goodbye feat. dempsey hope (Sartorius, dempsey hope, Jake Crocker)
lifesallgood (Sartorius, dempsey hope, Crocker)
Trapped in the Car (Sartorius, Astasio, Dan Smith, Respons)
Fly Away (Sartorius, Chris Miles, Sam Ricci, Gehring Miller)
About Jacob Sartorius
18-year-old musician, actor and social media phenom Jacob Sartorius is one of Gen-Z's fastest-growing stars. The People's Choice Award, Kid's Choice Award and Teen Choice Award-nominee consistently delivers honest and heartfelt content that has catapulted him to "5th most engaged user on Twitter" and "one of the most engaged accounts globally on Instagram." A strong advocate for mental well-being, Jacob is passionate about anti-bullying and adoption. He has accumulated an ever-growing following that includes 9.4 million Instagram followers, over 3 million YouTube subscribers and more than 24 million TikTok followers. In addition to sold-out performances in the U.S. and around the world, and RIAA gold status for his singles "Sweatshirt" (2016) and "Hit or Miss" (2017), Jacob has graced the cover of Billboard magazine, guested on HBO's Vice News and NPR's Here and Now, performed at the Kid's Choice Awards and HALO Awards and made his national TV debut on MTV's TRL. Recently, he was featured on Entertainment Tonight, Clevver News and Seventeen.