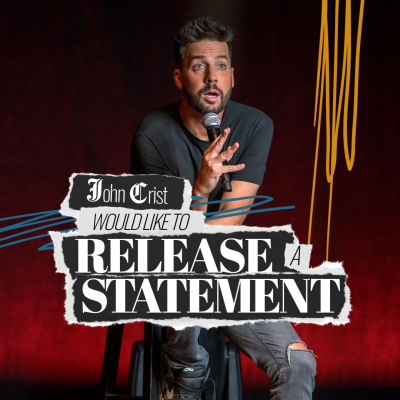 'John Crist: Would Like to Release a Statement' Comedy Special Available Now Via YouTube
West Coast Tour Stops Slated for June on Expansive 'Emotional Support Tour'
Watch It HERE
Last night (5.23), one of the nation's fast-rising comedians, John Crist, debuted his third comedy special, 'John Crist: Would Like to Release a Statement,' available now via YouTube here. Filmed live at the Majestic Theater in Dallas, TX, this 1-hour experience brings Crist's no-holds-barred set from his sold-out 'Emotional Support Tour'to fans' homes worldwide, spotlighting his hallmark, southern-bred comedy as he hilariously touches on a range of topics:
'John Crist: Would Like to Release a Statement' follows Crist's 2022 special 'What Are We Doing?,' which has garnered more than 50 million views online. As a viral sensation with more than 1 Billion video views, Crist has built a career out of betting on his fans, amassing a loyal following of 5.7+ Million across social media and selling-out multiple venues this year, alone, on his massive 'Emotional Support Tour' – a nationwide trek which is on-track to sell well over 100,000 tickets across America and is currently listed among Pollstar's Top-10 Comedy Tours in America.
WATCH "JOHN CRIST: WOULD LIKE TO RELEASE A STATEMENT" HERE
In 2022, along with his second special, 'What Are We Doing?,' the Georgia native-turned-Nashville resident also released his best-selling, debut book "Delete That" via Penguin Random House, and launched his weekly podcast, "Net Positive," which is quickly becoming a must-listen, as it features bi-weekly in-depth interviews with special guests including Eric Decker, Matt Rife, Leanne Morgan, Scott Stapp and more. To purchase tickets to the 'Emotional Support Tour' and for additional information on John Crist, please visit johncristcomedy.com.
Crist is represented by Brillstein Entertainment Partners, United Talent Agency (UTA) and Shore Fire Media.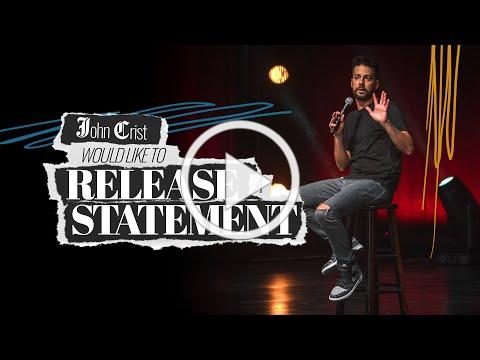 'Emotional Support Tour' Dates:
Sat., June 3 | The Kentucky Center | Louisville, KY
Sun., June 4 | Capital One Hall | Washington, DC
Sat., June 10 | Eccles Theater | Salt Lake City, UT
Sun., June 11 | Pikes Peak Center | Colorado Springs, CO
Fri., June 23 | Safe Credit Union Performing Arts Center | Sacramento, CA
Sat., June 24 | Saroyan Theatre | Fresno, CA
Sun., June 25 | Fred Kavli Theatre | Thousand Oaks, CA
Fri., June 30 | The Smith Center for the Performing Arts | Las Vegas, NV
Sat., July 1 | Balboa Theatre | San Diego, CA
Sun., July 2 | City National Grove of Anaheim | Anaheim, CA
Fri., July 21 | Elkhart County Fairgrounds | Goshen, IN
Fri., July 28 | Saenger Theater | Hattiesburg, MS SOLD-OUT
Thu., Sep. 14 | Thelma Gaylord Performing Arts Theatre | Oklahoma City, OK
Fri., Sep. 15 | Tulsa Theater | Tulsa, OK
Sat., Sep. 16 | Century II Performing Arts Center | Wichita, KS
Sun., Sep. 17 | Juanita K. Hammons Hall for the Performing Arts | Springfield, MO
Thu., Sep. 21 | Meridian Theatre at Centrepointe | Ottawa, ON
Fri., Sep. 22 | Peterborough Memorial Centre | Peterborough, ON
Sat., Sep. 23 | Centennial Hall | London, ON
Fri., Sep. 29 | Alabama Theatre | North Myrtle Beach, SC
Sat., Sep. 30 | Berglund Center | Roanoke, VA
Sun., Oct. 1 | Steven Tanger Center for the Performing Arts | Greensboro, NC
Sat., Oct. 14 | Fox Theater | Atlanta, GA
Sun., Oct. 15 | Alabama Theatre | Birmingham, AL
Fri., Oct. 20 | Paramount Theatre | Cedar Rapids, IA
Sat., Oct. 21 | Sangamon Auditorium | Springfield, IL
Sun., Oct. 22 | Old National Events Plaza | Evansville, IN
Thu., Nov. 2 | Palace Theatre | Columbus, OH
Fri., Nov. 3 | Rialto Square Theatre | Joliet, IL
Sat., Nov. 4 | Coronado Performing Arts Center | Rockford, IL
Sun., Nov. 5 | The Riverside Theater | Milwaukee, WI
Fri., Nov. 10 | Burton Cummings Theatre | Winnipeg, MB
Sat., Nov. 11 | Northern Alberta Jubilee Auditorium | Edmonton, AB
Sun., Nov. 12 | Southern Alberta Jubilee Auditorium | Calgary, AB
Thu., Nov. 16 | Santander Performing Arts Center | Reading, PA
Fri., Nov. 17 | Strand Theatre | York, PA
Sat., Nov. 18 | Harrison Opera House | Norfolk, VA
Sun., Nov. 19 | Altria Theater | Richmond, VA
Thu., Nov. 30 | Abilene Convention Center Auditorium | Abilene, TX
Sat., Dec. 2 | Orpheum Theatre | Phoenix, AZ
Thu., Dec. 7 | Majestic Theatre | San Antonio, TX
Fri., Dec. 8 | ACL Live at the Moody Theater | Austin, TX
Sat., Dec. 9 | Jefferson Theatre | Beaumont, TX
Sun., Dec. 10 | Raising Cane's River Center | Baton Rouge, LA