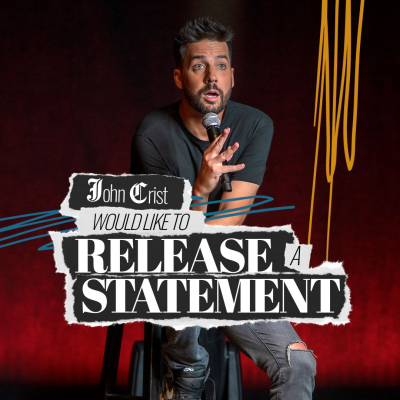 'John Crist: Would Like to Release a Statement' Comedy Special to Release via YouTube on Tuesday, May 23
Adds 30+ Dates to Nationwide 'Emotional Support Tour' Following Multiple Sold-Out Shows in 2023
One of the nation's fast-rising comedians, John Crist, has built a career betting on his fans, becoming a viral sensation with more than 1 Billion video views, amassing a loyal fanbase of 5.7+ Million followers and selling-out multiple venues this year on his nationwide 'Emotional Support Tour.' Today (5.12), the Georgia native-turned-Nashville resident announces the release of his third special, 'John Crist: Would Like to Release a Statement,' available via YouTube on Tuesday, May 23.
Filmed live at the Majestic Theater in Dallas, TX, this 1-hour experience showcasing Crist's hallmark southern-bred stand-up set is a can't-miss, and no topic is off limits. Featuring laugh-out-loud moments that touch on everything from not-so-politically correct sports' mascots to his amusing family group texts, 'John Crist: Would Like to Release a Statement' is the latest from the rising comedian and follows the 2022 special 'What Are We Doing?,' which garnered more than 50 Million views online.
Named among Pollstar's Top 100 Global Tours (2019, 197,000+ tickets sold), Crist continues to globally increase his presence and humor. In 2022, he not only released his second special, 'What Are We Doing?,' on YouTube, but also his best-selling, debut book "Delete That" (Penguin Random House). Additionally, Crist hosts a weekly podcast, "Net Positive," which features special guests bi-weekly. To purchase tickets to the 'Emotional Support Tour' and for additional information on John Crist, please visitjohncristcomedy.com.
'Emotional Support Tour' Dates:
Fri., May 19 | The Lincoln Center | Fort Collins, CO
Sat., May 20 | The Avalon Theatre | Grand Junction, CO
Sun., May 21 | Morrison Center | Boise, ID
Sat., June 3 | The Kentucky Center | Louisville, KY
Sun., June 4 | Capital One Hall | Washington, DC
Sat., June 10 | Eccles Theater | Salt Lake City, UT
Sun., June 11 | Pikes Peak Center | Colorado Springs, CO
Fri., June 23 | Safe Credit Union Performing Arts Center | Sacramento, CA
Sat., June 24 | Saroyan Theatre | Fresno, CA
Sun., June 25 | Fred Kavli Theatre | Thousand Oaks, CA
Fri., June 30 | The Smith Center for the Performing Arts | Las Vegas, NV
Sat., July 1 | Balboa Theatre | San Diego, CA
Sun., July 2 | City National Grove of Anaheim | Anaheim, CA
Fri., July 21 | Elkhart County Fairgrounds | Goshen, IN
Fri., July 28 | Saenger Theater | Hattiesburg, MS
Thu., Sep. 14 | Thelma Gaylord Performing Arts Theatre | Oklahoma City, OK
Fri., Sep. 15 | Tulsa Theater | Tulsa, OK
Sat., Sep. 16 | Century II Performing Arts Center | Wichita, KS
Sun., Sep. 17 | Juanita K. Hammons Hall for the Performing Arts | Springfield, MO
Thu., Sep. 21 | Meridian Theatre at Centrepointe | Ottawa, ON
Fri., Sep. 22 | Peterborough Memorial Centre | Peterborough, ON
Sat., Sep. 23 | Centennial Hall | London, ON
Fri., Sep. 29 | Alabama Theatre | North Myrtle Beach, SC
Sat., Sep. 30 | Berglund Center | Roanoke, VA
Sun., Oct. 1 | Steven Tanger Center for the Performing Arts | Greensboro, NC
Sat., Oct. 14 | Fox Theater | Atlanta, GA
Sun., Oct. 15 | Alabama Theatre | Birmingham, AL
Fri., Oct. 20 | Paramount Theatre | Cedar Rapids, IA
Sat., Oct. 21 | Sangamon Auditorium | Springfield, IL
Sun., Oct. 22 | Old National Events Plaza | Evansville, IN
Thu., Nov. 2 | Palace Theatre | Columbus, OH
Fri., Nov. 3 | Rialto Square Theatre | Joliet, IL
Sat., Nov. 4 | Coronado Performing Arts Center | Rockford, IL
Sun., Nov. 5 | The Riverside Theater | Milwaukee, WI
Fri., Nov. 10 | Burton Cummings Theatre | Winnipeg, MB
Sat., Nov. 11 | Northern Alberta Jubilee Auditorium | Edmonton, AB
Sun., Nov. 12 | Southern Alberta Jubilee Auditorium | Calgary, AB
Thu., Nov. 16 | Santander Performing Arts Center | Reading, PA
Fri., Nov. 17 | Strand Theatre | York, PA
Sat., Nov. 18 | Harrison Opera House | Norfolk, VA
Sun., Nov. 19 | Altria Theater | Richmond, VA
Thu., Nov. 30 | Abilene Convention Center Auditorium | Abilene, TX
Sat., Dec. 2 | Orpheum Theatre | Phoenix, AZ
Thu., Dec. 7 | Majestic Theatre | San Antonio, TX
Fri., Dec. 8 | ACL Live at the Moody Theater | Austin, TX
Sat., Dec. 9 | Jefferson Theatre | Beaumont, TX
Sun., Dec. 10 | Raising Cane's River Center | Baton Rouge, LA
JOHN CRIST ON THE WEB:
WEBSITE | PRESS PAGE | INSTAGRAM | TIKTOK | TWITTER | YOUTUBE
For more information, please contact:
Jaclyn D. Carter | Shore Fire Media | jcarter@shorefire.com