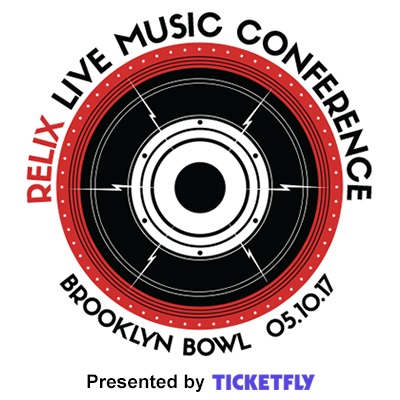 JUST ANNOUNCED: Relix Live Music Conference
Wednesday, May 10th at Brooklyn Bowl
Special One-Day Conference for Live Music Industry Professionals
(New York, NY): On May 10th, Relix will host their Live Music Conference, a day for professionals in the live music industry to shed light on the fast-paced and ever-changing live music business and to bring together the leading figures in today's industry.
Held at Brooklyn Bowl, this one-day event will feature panels and discussions covering subjects related to venues, festivals, publicity and management, presentations on technology and non-profits, plus a keynote with two of live music's most legendary promoters. The conference will also provide opportunity for networking, discussion and education.
Relix has remained a constant for over 40 years covering live music and fostering deep relationships with artists, managers, agents, publicists, venues, and festivals. The Relix Live Music Conference will serve as a coming together of all the pieces and people that help bring a live show to life.
Tickets include a full day of panels, lunch, happy hour, admittance to The Meat Puppets and Mike Watt & The Secondmen at Brooklyn Bowl and a one-year subscription to Relix Magazine.
Tickets go on-sale on Friday, March 10th at Noon ET.
SCHEDULE FOR WEDNESDAY, MAY 10th:
9am - Doors (Light breakfast + Coffee)
Hosted by Charley Ryan (Brooklyn Bowl)
9:30-10:15am - Talent Buying:
Moderator: Kirk Peterson (Dayglo Ventures)
Speakers: Michael Dorf (City Winery), John Moore (Bowery Presents), Jim Glancy (Bowery Presents), Don Strasburg (AEG), Ben Baruch (11E1even Group)
10:20-11:05am - Festivals:
Moderator: Dean Budnick (Relix Media Group)
Speakers: Dave Frey (Lockn'), Jay Sweet (Newport Folk Festival), Dan Berkowitz (CID), Janine Small (Janine Small, PLLC), Robin McNicol (Superfly)
11:10am-11:25pm - Activism: Andy Bernstein (Headcount) (Presentation)
11:30am-11:45am - Ticketing: Josh Baron (Songkick) (Presentation)
11:45pm-12:45pm - Break for lunch
12:55-1:40pm - Publicity:
Moderator: Mike Greenhaus (Relix Media Group)
Speakers: Ken Weinstein (Big Hassle Media), Emma Matthieson (Dayglo Ventures), Kevin Calabro (Calabro Music Media & Royal Potato Family), Rebecca Shapiro (Shore Fire Media), Jonathan Azu (Red Light Management)
1:45-2:30pm - Agenting:
Moderator: Lucas Sacks (Brooklyn Bowl)
Speakers: Seth Seigle (William Morris Endeavor Entertainment), Lee Anderson (Paradigm), Joshua Knight (Monterey International, INC), Jordan Wolowitz (Founders Entertainment), Kyle Wilensky (Creative Artists Agency)
2:35-2:50pm - Technology: Justin Bolognino (META.is) (Presentation)
2:50-3:00pm - Short Break
3:00-3:45pm - Management:
Moderator: Jake Szufnarowski (Rocks Off)
Speakers: Mike Martinovich (Red Light Management), Patrick Jordan (Red Light Management), Mike Luba (Madison House Presents), Stef Scamardo (Hard Head MGMT), Vince Iwinski (UMGMT)
3:50-4:30pm - Keynote:
A conversation with Peter Shapiro (Dayglo Ventures) and Ron Delsener (LN NY) moderated by David Fricke (Rolling Stone)
4:30-7pm Happy Hour + Open Bowling
7:00pm (Doors) All attendees are invited to attend Meat Puppets and Mike Watt + The Jom & Terry Show at Brooklyn Bowl
Check out more at relixmusicconference.com
Facebook: @RelixMusicCONF
Instagram: @RelixMusicCONF
Twitter: @RelixMusicCONF
#relixmusicconf
About Relix:
Relix Magazine was launched in 1974 as a handmade newsletter devoted to connecting people who recorded Grateful Dead concerts. It rapidly expanded into a music magazine covering a wide amount of artists, and is the second-longest continuously published music magazine in the United States after Rolling Stone. Relix and its associated websites Relix.com and Jambands.com cover live music with a focus on band interviews, album reviews, concert festivals, music videos, podcasts, musician classifieds, and show reviews. Relix has also expanded to producing its own live events and publishing the daily newspapers for events including Bonnaroo, LOCKN', Phish festivals, etc. Relix's publisher is Peter Shapiro (Brooklyn Bowl, LOCKN' Festival, "Fare Thee Well" Grateful Dead stadium shows, FANS), and Mike Greenhaus and Dean Budnick are Relix's Editor-in-Chiefs.