Justin Moore Surprised With Pandora Billionaire Plaque
Nine-Time Chart-topper Surpasses 3 Billion Streams on the Platform
Watch Here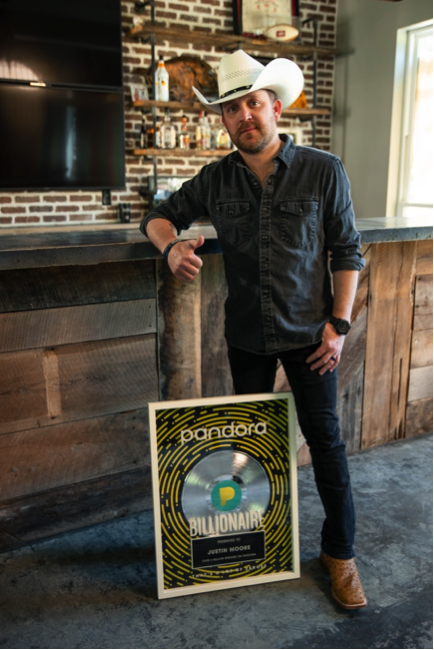 Justin Moore celebrates the Pandora milestone as "We Didn't Have Much" heats up the on Top Spins chart for 17 straight weeks
NASHVILLE, TN (May 10, 2021) – Known for his chart-topping catalog and humorous nature, this time, the surprise was on JUSTIN MOORE as SiriusXM hosts Buzz Brainard and Ania Hammer, along with Moore's wife Kate presented him with a Pandora Billionaire Plaque. The honor commemorates 3 billion streams on the platform for the Arkansas native, who recently joined the Music Row Happy Hour on The Highway (ch. 56) with content also airing across Pandora & SiriusXM's social platforms.
WATCH HERE: https://twitter.com/justincolemoore/status/1390809396968558592?s=21
"Wow, that's awesome! This is really an incredible and exciting surprise," shared Moore. "Doing the podcast, we take listener questions and I've done a lot of Zooms with the new album so people are often asking me what I'm most proud of. Well, it's really moments like this -- 14 years after signing my record deal that we're still here getting to play music and be supported by the fans and industry."
The hot streak continues with "We Didn't Have Much" appearing on the Top Spins chart for 17 straight weeks and "She Ain't Mine No More" debuting as the #3 Country song on Pandora's Top Thumb Hundred Chart. The full 8-track collection, STRAIGHT OUTTA THE COUNTRY, is out now via The Valory Music Co. He has built a loyal following over the past decade with his traditional Country sound, vivid storytelling and signature twang tallying nine No. 1 singles and three consecutive No. 1 album debuts.
As he prepares to return to the road, the Justin Moore Podcast sponsored by Bobcat delivers weekly episodes of off-the-cuff conversations between the MULTI-PLATINUM artist and tour manager JR. Guests have included Oscar award-winning actor Matthew McConaughey; Country stars Tracy Lawrence, Jon Pardi, Brantley Gilbert; wrestling champion Diamond Dallas Page and ESPN's Marty Smith. For tour dates and more, visit JustinMooreMusic.com.
ABOUT SIRIUSXM: Sirius XM Holdings Inc. (NASDAQ: SIRI) is the leading audio entertainment company in North America, and the premier programmer and platform for subscription and digital advertising-supported audio products. Pandora, a subsidiary of SiriusXM, is the largest ad-supported audio entertainment streaming service in the U.S. SiriusXM and Pandora's properties reach more than 150 million listeners, the largest addressable audience in the U.S., across all categories of digital audio – music, sports, talk, and podcasts. SiriusXM's acquisitions of Stitcher and Simplecast, alongside industry-leading ad tech company AdsWizz, make it a leader in podcast hosting, production, distribution, analytics and monetization. SiriusXM, through Sirius XM Canada Holdings, Inc., also offers satellite radio and audio entertainment in Canada. In addition to its audio entertainment businesses, SiriusXM offers connected vehicle services to automakers. For more about SiriusXM, please go to: www.siriusxm.com.
ABOUT PANDORA: Pandora, a subsidiary of SiriusXM, is the largest ad-supported audio entertainment streaming service in the U.S. Pandora provides consumers a uniquely-personalized music and podcast listening experience with its proprietary Music Genome Project® and Podcast Genome Project® technology. Pandora is also the leading digital audio advertising platform in the U.S. Through its own Pandora service, its AdsWizz platform, and third party services, such as SoundCloud, the Company connects brands to the largest ad-supported streaming audio marketplace in the country. Pandora is available through its mobile app, the web, and integrations with more than 2,000 connected products.
# # #
CONTACTS
For Justin Moore
Erin D. D. Burr, Big Machine Label Group | Erin.Burr@bmlg.net
Jaclyn D. Carter, Shore Fire Media | jcarter@shorefire.com
Olivia Del Valle, Shore Fire Media | odelvalle@shorefire.com
For Pandora
Heidi Anne-Noel, Pandora | hanne-noel@pandora.com | 201.892.1273