Nashville Soccer Club Releases The Man In Black Collector's Box
The Launch Celebrates the 52nd Anniversary of the Man in Black Album Release
Only 1,000 Collector's Boxed Sets Available Worldwide at NashvilleSC.com/BoxSet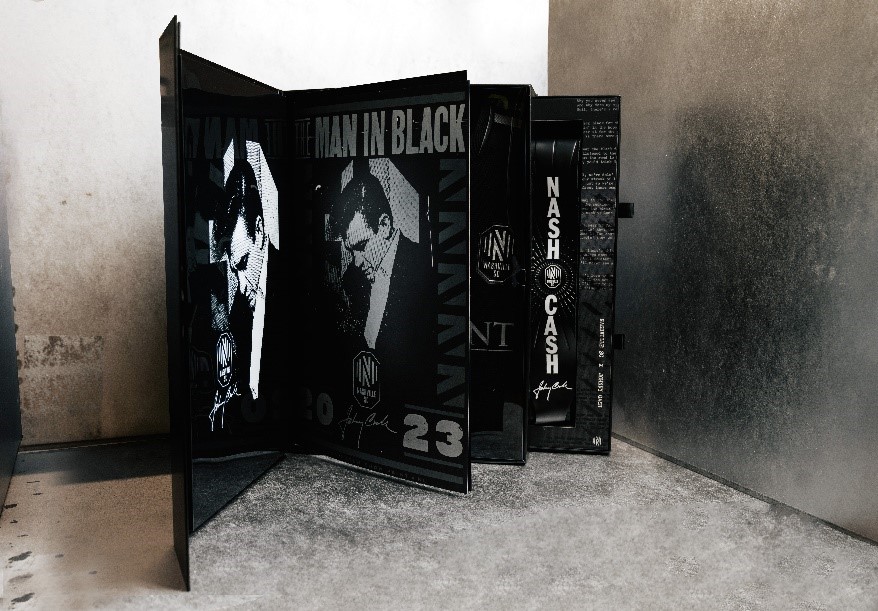 Photo: Courtesy of Nashville SC
On the 52nd anniversary of the release of Johnny Cash's Man in Black album, Nashville Soccer Club, in partnership with The estate of Johnny Cash, Sandbox Succession, and Wasserman Music, released today the Man in Black Collector's Box.
As part of a partnership designed to honor one of the most influential singer-songwriters of all time, Johnny Cash, and his life and legacy, the 1,000 premium collector's boxes are set to go on sale worldwide at noon CT today at NashvilleSC.com/BoxSet for $750 each.
The limited edition of this Collector's Box welcomes fans with an LED screen of a Johnny Cash image as well as an exclusive, limited run of the Man in Black hatch show print. Also included in the premium box are an authentic Man in Black jersey with a unique moniker on the back, four custom designed metal guitar picks, a metal display all-access pass and a custom Nashville SC x Johnny Cash guitar strap.
The jersey, an all-black ensemble embellished by dark graphite and iron metallic accents includes a jocktag of Johnny Cash's iconic photo at Folsom Prison, Cash's autograph on the back-of-the-neck, the Nashville SC crest, and an iron metallic Renasant Bank logo as well as an adidas logo. The left sleeve celebrates the Apple and MLS partnership by featuring the Apple TV and MLS logos, and the right sleeve features the Hyundai logo.
The Man in Black Kit will be featured throughout the remainder of the 2023 and 2024 MLS seasons, as Nashville SC celebrates Cash's life and legacy with special collaborations such as this Collector's box set.
The collaboration was first announced on Feb. 16, 2023 as Nashville SC launched the Man in Black Kit, inspired by The Backline Supporters Collective, the club's fans, who on Feb. 29, 2020, in the club's inaugural match in Major League Soccer, unveiled their first ever MLS TIFO featuring the Man in Black alongside the Nashville SC logo. Inspired by that moment, Nashville SC and The estate of Johnny Cash began collaborating to tell the story of the life and legacy of Cash.
Don't miss out, purchase your Man in Black Collector's Box now at NashvilleSC.com/BoxSet.
MEDIA RESOURCES:
Images

of the exclusive Man in Black Collector's Box Set

Nashville SC Media Center

with news, b-roll from training, match notes, other video and photo resources
Media looking to follow NSC on social media can find the club on

TikTok

,

Twitter

and

Instagram

with the handle @NashvilleSC. For

Facebook

and

YouTube

please use "Nashville Soccer Club"

The official club hashtag when referring to Nashville SC on social media is #EveryoneN
ABOUT NASHVILLE SOCCER CLUB:
Nashville SC joined Major League Soccer on Feb. 29, 2020, in front of the largest attendance ever recorded for a soccer match in the State of Tennessee. In its inaugural MLS season, Nashville SC defeated expectations by becoming the second MLS expansion side to win and advance to the Conference Semifinals in the 2020 Audi MLS Cup Playoffs. Nashville SC returned to the 2021 Audi MLS Cup Playoffs in its sophomore season after becoming just the seventh team in MLS history to go unbeaten at home in a season. Nashville SC inaugurated GEODIS Park, the largest soccer-specific stadium in the United States and Canada, in front of a 30,109-sellout crowd on May 1, 2022, a season that saw them reach the Playoffs for a third consecutive year. For more information, visit  NashvilleSC.com and follow the club at @NashvilleSC on Instagram, Facebook, TikTok, Twitter and Spotify.
ABOUT SANDBOX SUCCESSION:
Sandbox Succession, a division of Sandbox Entertainment, provides comprehensive estate management services in all areas, focusing on name and likeness. Led by Josh Matas, President, the company's mission is to provide best-in-class partnerships and strategic planning to further the sustainability of our client's legacy. The division's full scope of services include brand development and partnerships, merchandising and licensing, hospitality, exhibitions, live performances, and entertainment development across film, television, music, content, gaming, and books.
ABOUT WASSERMAN MUSIC:
Wasserman Music represents a world-class roster of artists for live performance, touring, brand partnerships and beyond, empowering them to create culture and impact audiences globally. The passionate, entrepreneurial agents at Wasserman Music are long-term artist development strategists who build significant, global platforms for the world's most impactful artists. Wasserman Music is a division of Wasserman, a partner to the world's most iconic sports figures, musical artists, brands, and properties.
###
For more information on Nashville Soccer Club,
please contact:
Cristina Maillo Belda | cmaillobelda@nashvillesc.com
For more information on The Johnny Cash Estate,
please contact Sandbox Entertainment:
Josh Matas | josh@sandboxmgmt.com
For more information on Wasserman Music,
please contact Shore Fire Media: