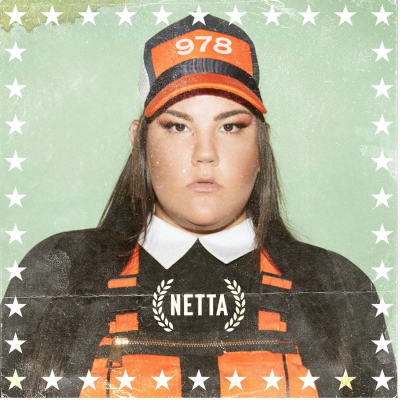 Netta Is Her Own Badass Boss in "CEO"
New Track/Video Drops Today - LISTEN/WATCH
Counterpart Track "DUM" Also Out Now
Today, international superstar Netta drops "CEO" (via S-Curve Records/Hollywood), a powerhouse punch of sultry pop that is sure to become a global anthem for self-empowerment. A slinky, mid-tempo pop gem about running your own life, making your own decisions, and taking charge, "CEO" is the first bite of what Netta has planned over the next few months.
Also out today is the accompanying video for "CEO" which is, of course, quintessential Netta -- artfully cartoonish, delightfully off-the-wall, and with 100% conviction. Set in an initially humdrum & blasé reality, the Eurovision champ (literally) crawls her way out from under the oppression of "the man" to a triumphant and fiery climax of self-empowerment.
Of the track, Netta said "I have often found it extremely hard to make decisions by myself, letting other people's fears, agendas and preferences penetrate my mind, until it's completely submissive. I am the mothafuckin' CEO of my business, my life and my journey. I'm manifesting control back into my life. I wrote "CEO" as a call for everyone to join the tribe, be fearless and fierce, and make your own choices."
Of the video (directed by Roy Raz), she added "We wanted to portray and symbolize the process that happens in my mind when I decide to take matters into my own hands. When my mind is set, hell breaks loose, and it's infectious."
Also out today is "DUM", a counterpart of sorts to "CEO" and a pulsing spiral into the giddy ways we lose ourselves when Cupid strikes.
Netta has become one of the trailblazing quirkpop innovators in modern music, turning the genre into a colorful funhouse of fizzy experimentation. Her song "Toy" won her the Eurovision Song Contest in 2018 and has over 157 million views on YouTube alone. Since then, Netta's video for "Bassa Sababa" notched over 200 million views on YouTube, she dropped her 'Goody Bag' EP, was a guest on Switched On Pop discussing her personal journey as an artist and what it takes to make the perfect Eurovision song, performed forBillboard, and was spotlighted by Consequence of Sound who said she has "dominated stages around the world and seen her music spread like wildfire", BUST who called her the "soulful singer creating escapist videos you didn't know you needed" and Hey Almawho praised her as a "role model". Last year saw the release of a covers EP ('The Best Of Netta's Office - Vol. 1') which, inspired by her YouTube performance series of the same name, included mind-altering interpretations of songs like Bob Dylan's "The Times They Are A-Changin'", "Barbie Girl" by Aqua, and the Mary Poppins staple "Supercalifragilisticexpialidocious".

NETTA ONLINE
YOUTUBE | INSTAGRAM | TWITTER | FACEBOOK | TIKTOK
----------------------------------------------------
For more information on Netta, please contact Josh Page (jpage@shorefire.com) and Alena Joyiens (ajoyiens@shorefire.com) at Shore Fire Media.