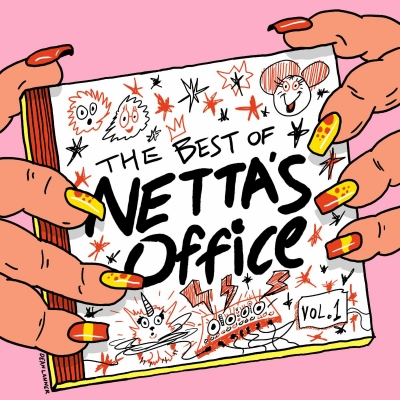 Netta Drops 'The Best Of Netta's Office - Vol. 1' EP
Reinvents Bob Dylan, Flo Rida, Eiffel 65 and More…
Drops Video For Ingenious Rendition of "Supercalifragilisticexpialidocious" - WATCH HERE
Today, pop music mad scientist and Eurovision champ Netta drops a new EP that captures the magical essence of her Netta's Office performance YouTube series, which has delighted fans over the past year with ingenious renditions of iconic pop staples. 'The Best Of Netta's Office - Vol. 1' EP is out via S-Curve Records/BMG and includes her covers of Flo Rida's "Low", Eiffel 65's "Blue (Da Ba Dee)", Aqua's "Barbie Girl", Mr. President's "Coco Jamboo", Bob Dylan's legendary rallying cry for societal evolution "The Times They Are A-Changin'", and an ingenious version of the Mary Poppins staple "Supercalifragilisticexpialidocious" which sees an illustrated video also drop today.
Of the EP and Netta's Office series, the global superstar said "During this year I wanted a direct connection to my fans and I felt like I had a lot to give. I wanted them to be my source of inspiration for this project. This is how Netta's Office was born. Each episode is an opportunity to experiment and have fun improvising. It's an open canvas which is not beholden to music industry "rules", and I can be my truest self when I make them. It's my own strange musical version of a podcast."
Netta will also close out 2020 with the live Netta's Office New Year's Eve Celebration Pre-Party on her YouTube channel. Click here for more info!
Netta has become one of the trailblazing quirkpop innovators in modern music, turning the genre into a colorful funhouse of fizzy experimentation. Her song "Toy" won her the Eurovision Song Contest in 2018 and has over 148 million views on YouTube alone. It also became a runaway TikTok smash this past summer. Also over the past year, Netta dropped her 'Goody Bag' EP, was a guest on Switched On Pop discussing her personal journey as an artist and what it takes to make the perfect Eurovision song, performed forBillboard, and was spotlighted by Consequence of Sound who said she has "dominated stages around the world and seen her music spread like wildfire", BUST who called her the "soulful singer creating escapist videos you didn't know you needed" and Hey Almawho praised her as a "role model".
'The Best Of Netta's Office - Vol. 1' Tracklist:
"Supercalifragilisticexpialidocious" (Julie Andrews / Dick Van Dyke)
"Coco Jamboo" (Mr. President)
"Barbie Girl" (Aqua)
"Low" (Flo Rida)
"Blue (Da Ba Dee)" (Eiffel 65)
"The Times They Are a-Changin'" (Bob Dylan)
NETTA ONLINE
YOUTUBE | INSTAGRAM | TWITTER | FACEBOOK | TIKTOK