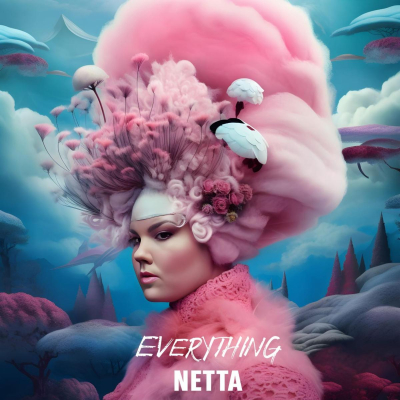 Netta Unapologetically Wants "Everything"
Set To Embark On Her Headlining World Tour This Summer and Fall
WATCH "Everything" Video
Coming off her Eurovision finale performance, "iconic pop artist" (Ladygunn) Netta drops her latest song "Everything," an anthemic disco-pop earworm that is the perfect addition to your summer playlist.
LISTEN TO "EVERYTHING"
"I've spent a lot of time working on myself, learning my value as both an artist and a human being, and waiting for the moment when I could come back to this song and whole-heartedly bring it to life," stated Netta. "That moment is NOW and I am ready to share it with the world!"
Co-written with AJR and Zara Larsson, "Everything" on the surface shows Netta expertly telling off her ex, but the song's true message is to say goodbye to what is holding you back and encourages you to live your life. "Everything" emphasizes how liberating it is to know what you deserve and to not be afraid to work for it. The music video takes place in NYC showcases a celebration that captures the freeing nature and joy of the song.
Watch "Everything" video HERE
Earlier this month, Netta performed at the 2023 PRIDE kick-off event: Stonewall Day Unplugged and performed at this year's PRIDE LIVE Stonewall Day Celebration along with headliner Christina Aguilera. Netta has more PRIDE events planned for 2023 including EuroPride 2023 in Malta on September 7th, stay tuned for more!
Netta debuted her riveting cover of Dead Or Alive's "You Spin Me Round (Like A Record)" at the Eurovision 2023 Grand Final in Liverpool. During her performance, Netta entered from high above the arena on a giant silver bird, dazzling the crowd with her unique stage presence and powerful voice. The entire performance was a colorful and joyous spectacle reminding Eurovision fans how legendary this 2018 winner is.
Watch her performance HERE
As Consequence stated that Netta has "dominated stages around the world and has seen her music spread like wildfire," she is continuing her domination with her 'Wonderful and Great' World tour. She will bring her legendary loop wizardry and infectious charisma to several cities in Europe this Summer and the US in the Fall. Dates below.
'WONDERFUL AND GREAT' Tour Dates
Friday, September 1st - London, UK - The Garage
Saturday, September 2nd - Amsterdam, Netherlands - Melkweg (upstairs)
Monday, September 4th - Berlin, Germany - Lido
Tuesday, September 5th - Cologne, Germany - Club Volta
Thursday, September 7th – Valletta, Malta – EuroPride 2023
Tuesday, November 7th, Philadelphia, PA - The Foundry
Wednesday, November 8th - New York, NY - Irving Plaza
Thursday, November 9th - Washington, DC - Union Stage
Saturday, November 11th - Boston, MA - The Sinclair
Tuesday, November 14th - Santa Ana, CA - Constellation Room
Wednesday, November 15th - Los Angeles, CA - El Rey Theatre
Thursday, November 16th - San Francisco, CA - Great American Music Hall
Friday, November 17th - Denver, CO - Bluebird Theater
With 650 million global streams to date and a plethora of ingenious pop concoctions in the works, Netta's quirk-pop star is set to rise higher and shine brighter than ever throughout the year. Be sure to stay tuned!
ABOUT NETTA
Known as one of the world's premiere musical trailblazers, Netta's return to Eurovision follows her rise to international stardom in the wake of her 2018 victory in the competition and the success of her single "Toy", which has accumulated hundreds of millions of streams since its release. Since winning Eurovision, Netta has performed on NBC's TODAY, dropped her 'Goody Bag' EP, was a guest on Switched On Pop discussing her personal journey as an artist and what it takes to make the perfect Eurovision song, performed for Billboard, partnered with Reebok and Patron Tequila, was spotlighted by Consequence of Sound who said she has "dominated stages around the world and seen her music spread like wildfire", BUST who called her the "soulful singer creating escapist videos you didn't know you needed" and Hey Alma who praised her as a "role model". During the pandemic she also released a covers EP ('The Best Of Netta's Office - Vol. 1') which, inspired by her YouTube performance series of the same name, included mind-altering interpretations of songs like Bob Dylan's "The Times They Are A-Changin'", "Barbie Girl" by Aqua, and the Mary Poppins staple "Supercalifragilisticexpialidocious." Other standout recent tracks include the addictive "I Love My Nails", "CEO" and "Playground Politica", a collaboration with Nigerian Afrobeat star Mr. Eazi that chronicles Netta's early years spent in an international school in Nigeria. Netta joined NPR's Morning Edition to discuss what makes "Playground Politica" the most personal song of her career to date. She's also demonstrated her support for the LGBTQ+ community through an extensive run of Pride events in 2022 including NYC, Chicago, and LA, and has more planned for 2023. She recently returned to Eurovision to perform her thrilling cover of Dead Or Alive's classic "You Spin Me Round (Like A Record)" at the Grand Final in Liverpool. Netta will be bringing her trademark loop wizardry and enthralling stage presence to audiences in Europe and the US this fall with her just-announced 'Wonderful and Great' tour. Her standout single "Everything" will be released on June 28th, adding another ingenious track to her already world-dominating catalog.
NETTA ONLINE
YOUTUBE | INSTAGRAM | TWITTER | FACEBOOK | TIKTOK
----------------------------------------------------
For more information on Netta, please contact Josh Page (jpage@shorefire.com), Alena Joyiens (ajoyiens@shorefire.com), and Henry Thomas (hthomas@shorefire.com) at Shore Fire Media.