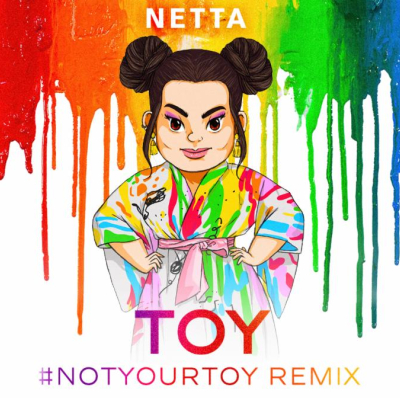 Netta's "Toy" Takes Over TikTok
Global Pop Star and Eurovision-Champ Releases "Toy (#NotYourToy Remix)" 
OUT NOW - LISTEN HERE
Netta has for years been a reinventor in the cutting-edge global pop world, and she is ending the summer on a stratospheric high note as she releases a fresh new version of her worldwide smash "Toy". The "Toy (#NotYourToy Remix)" (via S-Curve Records/BMG) amplifies the original's skittering absurdities, revs up its tempo, and includes sugar-high dance breaks.
Her Eurovision-crowning quirk-pop female empowerment anthem became a sensation on TikTok over the past two months when notable influencers like ItsJustAba, SchoolLunchTray, and TiboInShape posted content with the song as well as a video posted by Lizzo (on the right in this compilation) spotlighted the track. All of these and many other posts helped the hashtag #NotYourToy to start trending across the world with 470 million combined views for the tag to-date. It also follows love from Nicole Scherzinger who posted a dance routine to Netta's other high-octane hit "Bassa Sababa" back in May.
With over 55 million streams on Spotify and over 139 million views for the official video on YouTube, Netta's "Toy" is an across-the-board pop splash that went from a Eurovision anthem, to an international hit, to now a TikTok trending smash. She also participated in the recent celebrity Disney "Sing Along" where she put a spin on the "Mary Poppins" classic "Supercalifragilisticexpialidocious" like ONLY Netta could!
"Toy" was also a part of the Israeli superstar's 'Goody Bag' EP (S-Curve Records/BMG) which dropped this past June which also included her latest track "Cuckoo", a devastating heartbreaker which Billboard called "a standout performance" that also felt eerily poignant when it was released during the height of COVID-19 anxiety in the early summer. In a recent episode of her YouTube performance series Netta's Office, she and a three-piece band performed the EP in full.
Netta also was a guest on Switched On Pop discussing her personal journey as an artist and what it takes to make the perfect Eurovision song. She also recently was spotlighted by BUST who called her the "soulful singer creating escapist videos you didn't know you needed" and Hey Alma who praised her as a "role model".
NETTA ONLINE
YOUTUBE | INSTAGRAM | TWITTER | FACEBOOK | TIKTOK