Nitro Circus Ready to Raise the Roof with Explosive 20th Anniversary Tour
Anaheim, Oklahoma City and Tulsa Highlight First Wave of Shows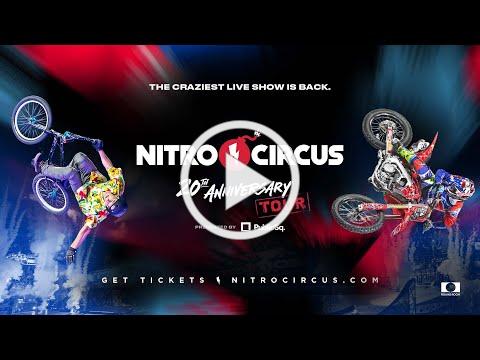 The Craziest Live Show Returns to North American Arenas;
More Stops To-Be-Announced
Pre-Sale Begins Tuesday, June 13th;
Public On-Sale to Follow on Friday, June 16th
Today, Nitro Circus and Round Room Live unveiled the first details of the action sports authorities' 2023-24 tour. For the Nitro Circus 20th Anniversary Tour presented by PublicSq., the craziest show in live entertainment will bring the party back to indoor arenas for the first time in five years, starting in North America this fall. The tour kicks off October 10, 2023 in Bloomington, IL's Grossinger Motors Arena. The next ten stops will include Anaheim, Oklahoma City, Tulsa and more, with additional dates to be announced in the coming weeks.
Tickets for these first shows will go on sale next month, with fans having the opportunity to get their tickets first, prior to the general public, through a special pre-sale starting Tuesday, June 13th. Register at nitrocircus.com. The full public on-sale will follow on Friday, June 16th.
This tour will electrify live audiences from coast to coast as Nitro Circus runs it back, celebrating two decades of record-breaking thrills, death-defying spills and side-splitting shenanigans. Every night an elite roster of top riders will throw down, led by dual BMX and scooter threat Ryan "R-Willy" Williams, freestyle motocross (FMX) star Jackson "Jacko" Strong, WCMX pioneer Aaron "Wheelz" Fotheringham, and more. Fans can also look forward to special guest visits from various Nitro legends at every tour stop.
The new production for the 20th Anniversary Tour includes Nitro Circus' infamous 50-foot Giganta ramp alongside the next generation of FMX kickers and landers. These innovative setups will give athletes the tools to take action sports to new heights as they attempt huge, never-before-done tricks. Nitro's daredevils will also push the boundaries of sanity revisiting some of the brand's sketchiest stunts as well as jumping a host of new crazy contraptions.
Since 2003, Nitro Circus has stunned millions of fans across the globe with a kinetic mix of boundary-breaking world's firsts alongside outrageous comedic moments. Created by legendary ringleader Travis Pastrana, Nitro Circus has showcased a collection of action sports' best athletes and biggest stars in packed venues worldwide. Now this fun-loving and thrill-seeking collective is back to celebrate 20 years of pushing the limits.
"Fans of extreme sports are going to be living out their wildest dreams!" says Round Room Live co-President Stephen Shaw. "Nitro fans are some of the most passionate people in the world and they are going to be blown away by this new show that we are touring across North America and around the world."
PublicSq. is the title partner for the Nitro Circus: 20th Anniversary Tour. PublicSq. is a values-based marketplace that helps connect patriotic consumers to American owned businesses that love the freedoms our nation represents. This will be PublicSq.'s first partnership of this kind, as the brand seeks to align with Nitro Circus' loyal and passionate grassroots fanbase.
Initial dates listed below. Additional cities, dates, and exclusive pre-sale ticketing opportunities will be announced soon. For future announcements and more information about the forthcoming tour, visit Nitrocircus.com and Nitro Circus's social platforms on Facebook, Twitter and Instagram.
First Shows Just Announced:
October 10, 2023 | Bloomington, IL | Grossingner Motors Arena
October 12, 2023 | Southaven, MS | Landers Center
October 14, 2023 | Tulsa, OK | BOK Center
October 18, 2023 | Corpus Christi, TX | American Bank Center
October 19, 2023 | Fort Worth, TX | Dickies Arena
October 20, 2023 | Oklahoma City, OK | Paycom Center
October 22, 2023 | Beaumont, TX | Ford Arena
October 24, 2023 | West Valley City, UT | Maverick Center
October 26, 2023 | Stockton, CA | Stockton Arena
October 27, 2023 | Bakersfield, CA | Mechanics Bank Arena
October 28, 2023 | Anaheim, CA | Honda Center
Photo Courtesy of Nitro Circus
FOLLOW NITRO CIRCUS
Official Website: nitrocircus.com
Facebook: @NitroCircus
Twitter: @NitroCircus
Instagram: @nitrocircus
FOLLOW ROUND ROOM LIVE
Official Website: roundroomlive.com
Facebook: @roundroomlive
Twitter: @roundroomlive
Instagram: @roundroomlive
About Nitro Circus:
Nitro Circus, a global sports entertainment leader, creates electrifying live events and unbelievable original content that at once exhilarates, captivates and inspires thrill-seeking fans worldwide. Co-founded in 2003 by iconic superstar Travis Pastrana, Nitro Circus has since grown into a multiplatform phenomenon creating spectacular live events, progressive competitions, hit television programming and innovative digital offerings. With over three million tickets sold to date, linear content that has aired in over 60 countries and a burgeoning consumer products business, Nitro Circus is at the forefront of sports and entertainment. For more information visit nitrocircus.com.
About Round Room Live:
Round Room Live is the leading producer and promoter of exhibitions and family show entertainment, specializing in transforming both new and iconic intellectual property into engaging and thrilling live events. Round Room creates unique live experiences tailored to the distinct character of each property and produces the highest quality productions for audiences around the world.
Round Room's Immersive and Entertainment Experiences division is currently touring: Jurassic World: The Exhibition, Mandela: The Official Exhibition, Tupac Shakur. Wake Me When I'm Free, and Formula 1: The Exhibition. Their current roster of touring theatrical shows includes: Baby Shark Live!, Blippi: The Wonderful World Tour, Blippi The Musical, Peppa Pig Live, and Blue's Clues & You! Live On Stage.

Nitro Circus 20th Anniversary Tour Digital Press Kit:
shorefire.com/roster/nitro-circus-tour
Round Room Live Digital Press Kit:
shorefire.com/roster/round-room-live
For more information on Round Room Live, contact Shore Fire Media:
Rebecca Shapiro | rshapiro@shorefire.com
Andrea Evenson | aevenson@shorefire.com
Maria Eilert | meilert@shorefire.com
For more information on Nitro Circus, contact:
Greg Terlizzi greg@thrillone.com