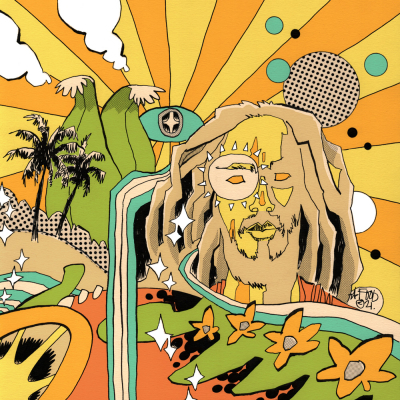 OneOf Unveils Ziggy Marley Charity NFT Collection Featuring Iconic Single "Beach In Hawaii" 
Proceeds To Benefit Ziggy Marley's Charity Foundation, Unlimited. Resources. Given. Enlightenment (U.R.G.E.)
Perks Range From Shared Merch Royalties To Lifetime Concert Tickets
Today, OneOf — the green Web3 platform — announces an exclusive partnership to release an NFT collection with the legendary Ziggy Marley, the eight-time GRAMMY® winner, EMMY® winner, musician, producer, activist and humanitarian.
An unreleased demo version of Marley's iconic single "Beach In Hawaii" — which Rolling Stone calls "a quick-stepping song with sun-soaked guitars that mask a heartsick loneliness" off his GRAMMY® winning album Love is my Religion — is the foundation of the collection and features artwork by iconic American comic book creator and artist, Jim Mahfood, who — in addition to releasing multiple acclaimed series of comic books — has worked with Marvel, Disney, Comedy Central, Cartoon Network, and many more.
The collection will go live on Ziggy's birthday, October 17, 2022 in an epic way to celebrate. NFTs from Ziggy's "Beach In Hawaii" collection include a wide array of exciting prizes and experiences: including a full song, full color NFT, the chance to co-design a special, limited edition drop of Ziggy merch in which the co-designer will earn 50% of the royalties; a chance to win a guitar signed by Ziggy; lifetime access (two tickets) to Ziggy Marley headlining shows; a flyaway vacation to see Ziggy perform at a music festival; a personalized video message from Ziggy; merch and much more. Ziggy will donate proceeds from the OneOf collection to U.R.G.E — his charity foundation that supports education and health for children living in Jamaica, Africa, and the rest of the world. Fans can visit OneOf.com for more information on the NFTs.
"I'm looking forward to my fans getting to experience my music and Jim Mahfood's brilliant illustration in this new way thanks to my NFT collection and OneOf," says Ziggy Marley."To combine my first launch on Web3 with my charitable U.R.G.E foundation is an exciting opportunity for my music and work."
"Ziggy is a legendary musical giant and we are beyond grateful to have him join the roster of remarkable musicians working alongside OneOf to venture into Web3," says Thomas Fiss, VP of Music at OneOf. "We're honored to be the NFT platform that connects Ziggy with his fans in new and innovative ways."
OneOf was built on the Tezos blockchain protocol specifically to create an environmentally sustainable, artist-and-fan-friendly experience. Dedicated to charitable causes, OneOf offers partnering artists the option to donate portions of their NFT proceeds to charities of their choice — recent collaborations from major names in music include Doja Cat, The Notorious B.I.G., Whitney Houston, TLC and Iann Dior, Global Brand Ambassador Armando "Pitbull" Perez, plus partnerships ranging from The GRAMMY Awards, the Latin GRAMMY Awards, Warner Music Group and eBay to Sports Illustrated and more.
About Ziggy Marley
Ziggy Marley is an eight-time Grammy winner, Emmy winner, musician, producer, activist and humanitarian who has cultivated a legendary career for close to 40 years. The eldest son of Bob and Rita Marley, Ziggy has hewed his own path as a musical pioneer, infusing the reggae genre with funk, blues, rock and other elements through mindful songcraft. Equal parts master storyteller and motivational guide, he deftly explores issues from environmental awareness to self-empowerment, social justice to political inequity, while returning again and again to the transformative power of love. And over the past 15 years with his own companies, Tuff Gong Worldwide and Ishti Music, Marley has complete control of his masters and publishing; alongside his charity U.R.G.E.–benefiting the well-being of children in Jamaica, Africa and North America. For more, visit ziggymarley.com, tuffgongworldwide.com and urgefoundation.org, and all socials at @ziggymarley @tuffgongworldwide.
About Jim Mahfood
Jim Mahfood's professional career has spanned across the fields of comic books, illustration, animation, advertising art, murals, gallery shows, body painting, and live art in bars and nightclubs. This site features the absolute best of his diverse work, from mixed media, illustration work, to murals, drawings and designs, photographs of painted girls, and much, much more. Mahfood's style, the neo-psychedelic Visual Funk, is his signature combination of various influences that Jim's turned into a recognizable brand, garnering a loyal following across the globe.
About OneOf
Deeply committed to a sustainable blockchain future, OneOf is an NFT platform designed to create an environmentally sustainable, creator-and-fan-friendly experience. Built on multiple environmentally responsible proof-of-stake blockchain protocols including Tezos and Polygon, OneOf enables its artists, athletes and brand partners to mint NFTs with zero blockchain transaction fees. OneOf aims to bring the next 100 million non-crypto-native fans into Web3 by removing the technical frictions and allowing fans to pay for their NFTs with credit/debit cards as well as many top cryptocurrencies. Dedicated to charitable causes, OneOf offers partners using their platform the option to donate portions of their NFT proceeds to charities of their choice.
MEDIA CONTACT:
Shore Fire Media