Peter Guralnick's Looking To Get Lost: Adventures In Music And Writing (Little, Brown) Out Tomorrow
Upcoming Book Events With Elvis Costello (Oct. 26) And Rosanne Cash (Nov. 12)
MUSIC'S PREEMINENT BIOGRAPHER RETURNS WITH AN ANTHOLOGY OF PROFILES ON RAY CHARLES, SOLOMON BURKE, TAMMY WYNETTE, MERLE HAGGARD AND SO MANY MORE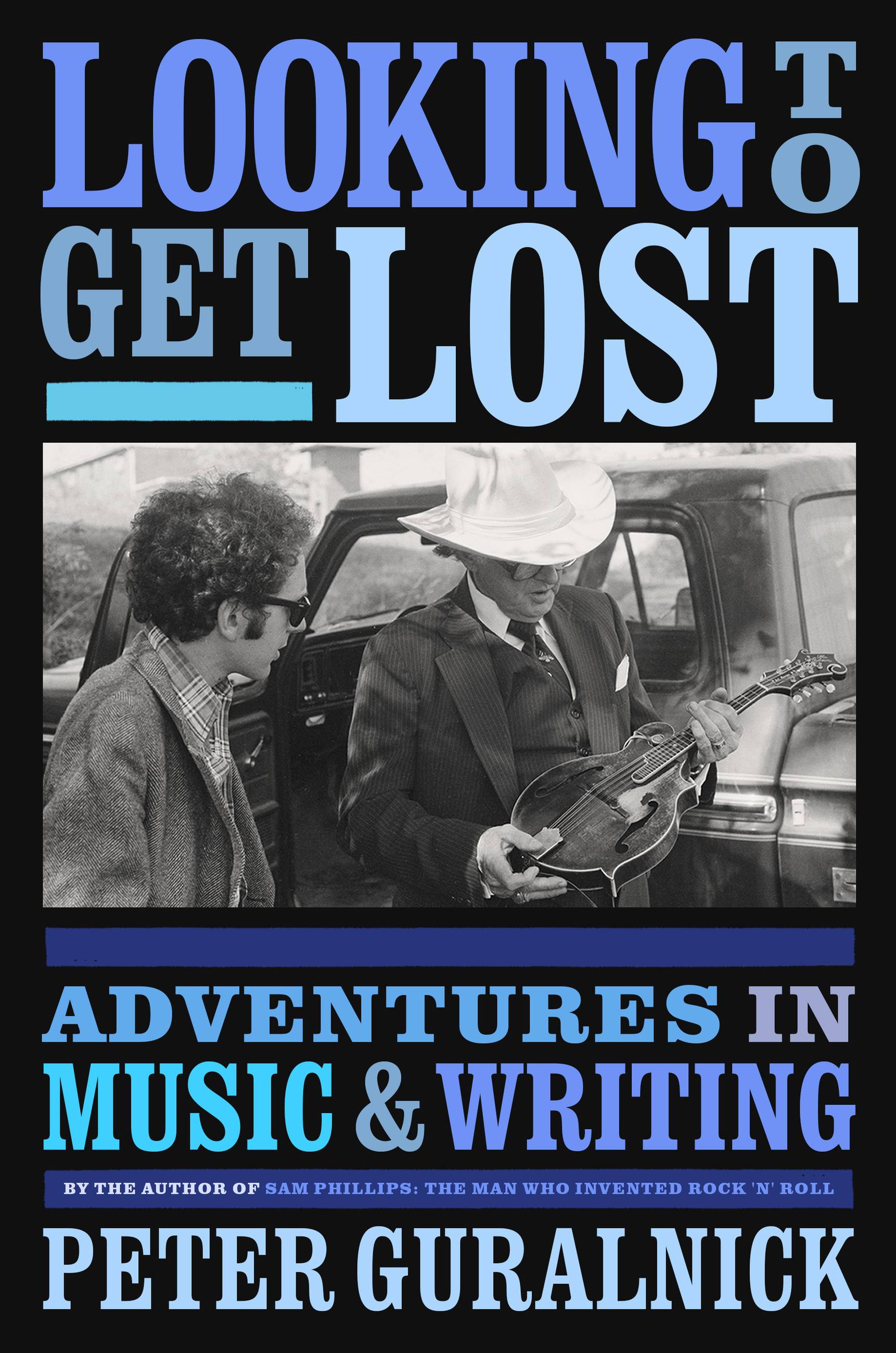 "If there's a leading figure among writers on American popular music—one who both defines and transcends the field—it has to be Peter Guralnick."
— Preston Lauterbach, The Wall Street Journal
"Peter Guralnick is one of the 3 or 4 greatest writers in the country today." — Michael Eric Dyson
"A literary masterpiece." — Douglas Brinkley
Tomorrow, Little, Brown publishes Looking To Get Lost: Adventures in Music and Writing,the new book from acclaimed music writer Peter Guralnick. The anthology finds the best-selling and award-winning author reflecting on memorable encounters with icons like Ray Charles, Chuck Berry, Tammy Wynette, Colonel Tom Parker, Howlin' Wolf, Doc Pomus, and Merle Haggard. The result is a collection that "tells a subtle story of Guralnick's own long journey" (Boston Globe) and reaffirms his place as "the genre's gold standard" (The Wall Street Journal).
Including such stories as a novella-length account of the life and hard-then-redemptive times of Dick Curless and an epic new portrait-in-three-parts of Solomon Burke — refracted through his 30-year friendship with the "King of Rock 'n' Soul" — Looking To Get Lost is a diverse, wide-ranging anthology that feels just as vital as Guralnick's ground-breaking first collection of music writing Feel Like Going Home, published nearly fifty years ago. See below for a sampling of what critics, writers and artists are already saying aboutLooking To Get Lost.
To celebrate the book's release, Guralnick has announced two one-time-only virtual book events. This evening, October 26, the Strand bookstore in New York City will host a virtual conversation between Guralnick and Elvis Costello, whose historic 2006 collaboration with Allen Toussaint The River in Reverse is the subject of a chapter in Looking To Get Lost. More information HERE.
And on Thursday, November 12th, Washington D.C.'s Politics and Prose will host a virtual event with Guralnick and Rosanne Cash, whose father Johnny Cash is also profiled inLooking To Get Lost. More information HERE.
Read an interview feature with Guralnick at the Boston Globe, which finds him discussing the influence of Whitney Balliet's jazz writing for the New Yorker and how Looking To Get Lost "is as close as I'll ever get to writing a memoir."
Through his writing, Guralnick has earned a Grammy and an illustrious list of on-record fans and collaborators, including Bob Dylan, Ta-Nehisi Coates, Ken Burns, Lucinda Williams, Paul McCartney, Bruce Springsteen, Martin Scorsese, Chuck D, Leonardo DiCaprio, and Mick Jagger. Jagger and DiCaprio are currently working on a film adaption of Guralnick's most recent book, 2015's Sam Phillips: The Man Who Invented Rock 'n' Roll, which Rolling Stone called "definitive" and The New York Times hailed as "vital American history, smartly and warmly told."
Praise for Looking To Get Lost:
If there's a leading figure among writers on American popular music — one who both defines and transcends the field — it has to be Peter Guralnick...the genre's gold standard
– Preston Lauterbach, The Wall Street Journal
Peter Guralnick is one of the 3 or 4 greatest writers in the country today. His searching intelligence, his unquenchable curiosity, his astonishing omnicompetence and his stunning scope of knowledge are all on display in this breathtaking volume dedicated to the odd duties of art and the taxing if transcendent assignments of genius. In Looking to Get Lost, Guralnick explores everything from the edifying enigma of blues icon Robert Johnson to the Appalachian absurdity of writer Lee Smith as he taps the veins of their, and other artists', combustible originality — all while fashioning his own inimitable aesthetic and sublime style as a formidable master of American letters.
– Michael Eric Dyson, author of Long Time Coming: Reckoning with Race in America
Peter Guralnick is a dedicated explorer, and like all explorers with true mastery of their quest, he is singular and tenacious. He goes deep into the difficult emotional undercurrents, and the contradictions of success, in the lives of artists, and by subtle extension, into his own life. He is a writer of great sensitivity and intuition, who lyrically untangles the network that exists between artist and art, persona and humanity, rhythm and melody, the mortal desires that underscore it all, and, crucially and seamlessly, his own relationship to everything and everyone he contemplates.
– Rosanne Cash
Peter Guralnick's Looking to Get Lost — a literary masterpiece — takes the reader on a fantastic journey through the very best of America's musical landscape. His jewel-like personal stories about Skip James, Bill Monroe, Doc Pomus, Solomon Burke, Joe Tex and others are priceless. Looking to Get Lost proves that nobody knows more about rhythm and blues, bluegrass, rockabilly, and soul music than Guralnick. This pulsing jukebox of a memoir and cultural history certifies that mighty claim.
– Douglas Brinkley, author of The Great Deluge: Hurricane Katrina, New Orleans, and the Mississippi Gulf Coast
A cultural historian who always takes the long view.
- James Sullivan, The Boston Globe
If this is what it means to get lost, it's a wonder anyone would ever care to be found.
– Brett Marie, Pop Matters
LOOKING TO GET LOST: ADVENTURES IN MUSIC & WRITING
Prologue: Having a Party
Falling Into Place
Robert Johnson and the Transformative Nature of Art
Whose Skip James Is This?
COSMIC RAY: How Ray Charles' "I Got a Woman" Transformed the Music of Ray Charles, Allowed Him to Keep His Band, and Created a Musical and Social Revolution
Hag at the Crossroads: Portrait of the Artist in Midlife
Bill Monroe: Hard Working Man Blues
Lonnie Mack: Funky Country Living
Delbert McClinton: Night Life
Joe Tex: Hold What You've Got
Dick Curless: The Return of the Tumbleweed Kid
John R. Cash: I Will Rock and Roll with You (If I Have To)
Tammy Wynette: 'Til I Can Make It On My Own
Lee Smith: Telling Tales
Call The Doctor: The Further Adventures of Doc Pomus, Part I
Me and the Colonel
Henry Green: A Personal Memoir and Appreciation
Some Cats Know: Words and Music by Leiber & Stoller
Producing a Legend: Willie Dixon and the Blues
Meeting Chuck Berry
American Without Tears: Elvis Costello and Allen Toussaint Go On A Journey
The Song of Solomon: A Triptych
Perfect Imperfection: The Life and Art of Jerry Lee Lewis
Howlin' Wolf: What Is the Soul of Man?
Living with the Blues: An Interview with Eric Clapton
Malaco Records: Life on the Edge of Town
My Father, My Grandfather, and Ray Charles
Reading, Writing, and Real Life
Peter Guralnick Online
Website: https://www.peterguralnick.com/
Facebook: https://www.facebook.com/peterguralnickofficial/
Twitter: https://twitter.com/peterguralnick