Rebolu, Vanguards of NYC's New Colombian Music Movement, Announce 'Mi Herencia (My Heritage),' out 5/13 on Smithsonian Folkways
Afro-Colombian musical traditions mix with urban NYC energy on the group's Folkways' debut
Pre-order HERE
Listen to "Los Herederos (The Heirs) HERE

'Mi Herencia (My Heritage)' album cover
Rebolu, the Queens-based Latin-funk group at the forefront of NYC's New Colombian Music Movement, will release their new album Mi Herencia (My Heritage), May 13th on Smithsonian Folkways. Combining the Afrocentric rhythms and salsa-inspired music of Colombia's Caribbean coast with the urban energy and multiculturalism of NYC, the Colombian and Colombian-American musicians of Rebolu created Mi Herencia to explore the rich traditions of their community.
The songs are reflections on family, the passing down of traditions, and the idea of home - stories told through shared immigrant experiences expressed as songs of joy, sadness, love, desire, and celebration - and come together to present a remarkably optimistic worldview made all the more necessary by the pandemic.
The band says it best: "Rebolu is a party! A wild, but not chaotic, party. A confluence of sound and energy reflecting the intensity of our urban life and the need to create music for the world based on our folklore and heritage."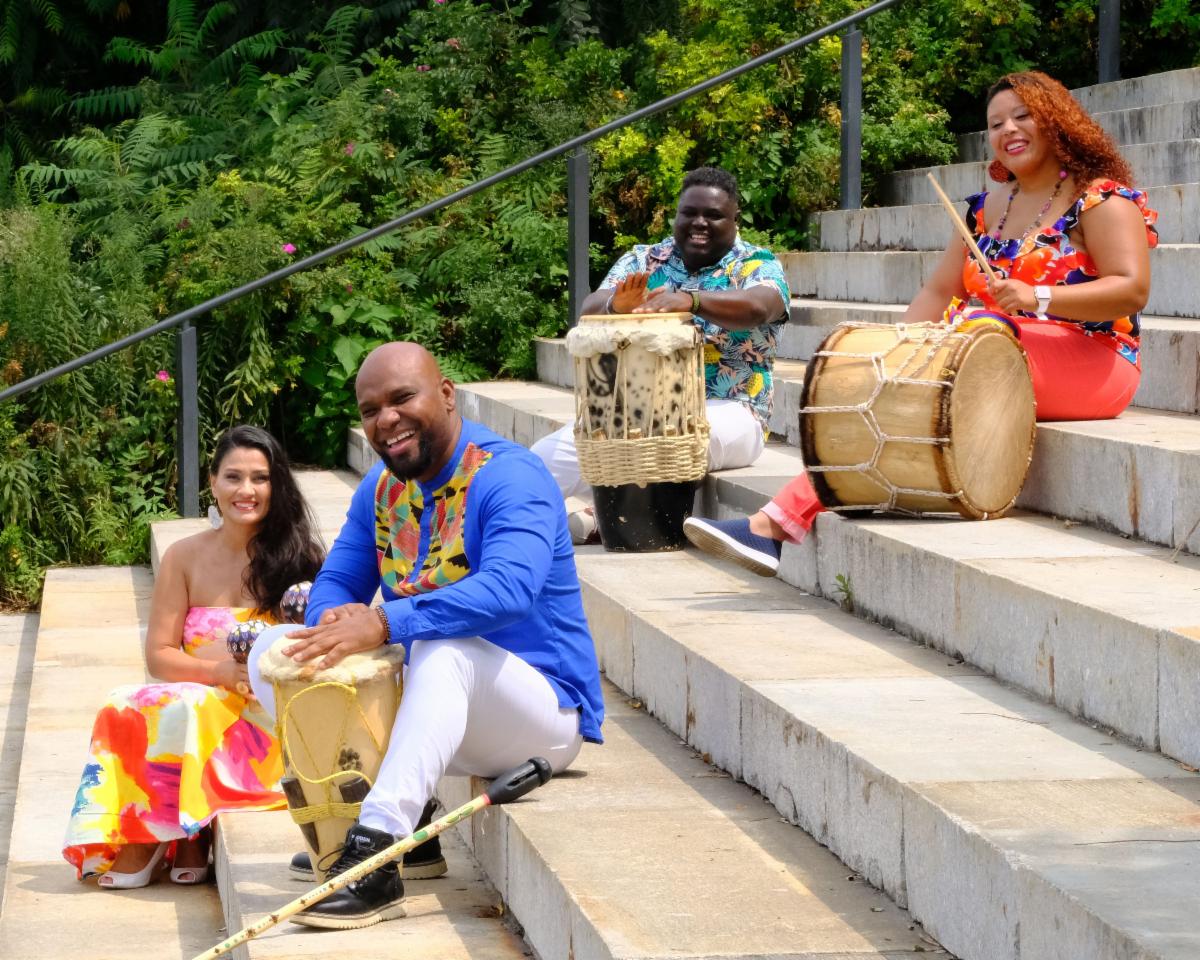 credit: Michael G. Stewart
Rebolu, consisting of vocalists/multi-instrumentalists (and husband and wife) Ronald Polo and Johanna Castañeda, and percussionists Morris Cañate (percussionist, tambor) and Erica "Kika" Parra (percussionist, drummer), was formed by Polo and Cañate in 2007, amidst the Colombian music scene that had been expanding in NYC since the 1990s. The two initially met as childhood friends in Barranquilla, where Cañate comes from one of the most revered lineages of Afro-Colombian drummers in the area.
They were both imbued with deep respect for ancestral knowledge and traditional communal values from West and Central African sources, and when they arrived in NYC, they began regularly providing Black Atlantic and Caribbean rhythms and melodies to projects from their fellow Colombian artists. As Rebolu evolved, Castañeda and Parra were brought on to further the band's musical complexity (think: cumbia and rumba to rap, funk, jazz, and other international styles) and add their own perspectives on topics ranging from the Colombian diaspora to family and parenting.
On Mi Herencia (My Heritage), the ten original Spanish-language songs tackle those topics, as well as new subjects ranging from Black Lives Matter and financial instability to seaside romance and the joy of children - the second song, "Cumbia Sabrosa," is exuberantly sung by seven-year-old Melody Polo! Yet despite the varied subject matter, the album comes together with a cohesive vibrancy that's inspired by the aesthetics of the annual Carnaval de Barranquilla.
Listen to album opener, "Los Herederos (The Heirs)," which takes on the cultural inheritance of American-born children of immigrants, HERE
And pre-order Mi Herencia HERE
About Smithsonian Folkways:
Smithsonian Folkways Recordings, the "National Museum of Sound," makes available close to 60,000 tracks in physical and digital format as the nonprofit record label of the Smithsonian, with a reach of 80 million people per year. A division of the Smithsonian Center for Folklife and Cultural Heritage, the non-profit label is dedicated to supporting cultural diversity and increased understanding among people through the documentation, preservation, production and dissemination of sound. Its mission is the legacy of Moses Asch, who founded Folkways Records in 1948 to document "people's music" from around the world. For more information about Smithsonian Folkways Recordings, visit folkways.si.edu.
For more information on Smithsonian Folkways Recordings,
Follow Smithsonian Folkways:
Official website: folkways.si.edu
Facebook: facebook.com/smithsonianfolkwaysrecordings
Twitter: twitter.com/folkways
Instagram: instagram.com/smithsonianfolkways