Travis Pastrana, Axell Hodges, and Jeremy Stenberg Headline Heavyweight Additions to Nitro Circus 20th Anniversary Tour Roster
Announcement Follows X Games 2023 Success, with Ryan Williams Leading Nitro Circus Medal Count 
The Craziest Live Show Returns to North American Arenas Starting October 10th; Tickets On-Sale Now
New York, NY –Tuesday, August 8, 2023 – Today, Nitro Circus threw down the gauntlet, confirming a slew of action sports stars to its stacked athlete roster for the upcoming 20th Anniversary Tour presented by PublicSq. Leading the charge is Nitro ringleader Travis Pastrana, who will hit the road for his first Nitro Circus tour since 2018. Joining him is boundary-breaking moto free rider Axell Hodges**, freestyle motocross (FMX) champion Jeremy "Twitch" Stenberg*, record-breaking moto athlete Josh Sheehan,FMX legend Taka Higashino* and more.
In all, 19 elite athletes from FMX, BMX and more are now set to join Ryan "R-Willy" Williams, Aaron "Wheelz" Fotheringham and Jackson "Jacko" Strong for not only the biggest action sports tour of the year, but the craziest show in live entertainment. The adrenaline-charged fun will hit North American indoor arenas starting October 10th.
Pastrana said: "I'm so stoked to get back on the road for the first time in five years! We are going all out for this tour. Everyone on the team has put a lot of time, energy, and work into making sure every stop is turned up to 11 with the wildest shenanigans and biggest stunts possible. And it's awesome to see the best athletes in action sports come together to celebrate 20 years of Nitro Circus. I can't wait!"
This news follows an impressive showing by the Nitro crew at X Games California 2023 two weeks ago, where a quartet of riders took home six medals, including a pair of golds.
At Ventura, Ryan Williams showed why Pastrana considers him to be, "the best action sports athlete alive today." Williams won gold in both Men's BMX Dirt Best Trick and Men's BMX Mega Park, increasing his total of X Games gold medals to seven. Williams also took home silver in Men's BMX Dirt.
Jackson Strong added to his medal total as well, winning silver in Moto X Best Trick with a trick never landed before in competition: a huge frontflip Cliffhanger. Strong now has 15 X Games medals in his trophy case (seven gold, five silver, three bronze).
Jaie Toohey – just added to the 20th Anniversary Tour lineup – joined Williams on the Men's BMX Mega Park podium, finishing third. Known for landing the world's first backflip triple tail whip, Toohey now owns four X Games medals (two silver and two bronze).
Fast-rising 19-year-old BMX athlete Kaden "Dubby" Stone* took silver in Men's BMX Dirt Best Trick and will next make his Nitro Circus tour debut at the California stops.
Two other roster additions, Josh Sheehan and BMX pro Andy Buckworth competed in Ventura as well. Sheehan, the first athlete to attempt and land the game-changing FMX triple backflip, as well as an 11-time X Games medalist, just missed the Moto X podium. Buckworth, known for his precision and technical skill, battled in Men's BMX Dirt Best Trick, Men's BMX Mega Park, and Men's BMX Dirt, but he did not add to his career medal tally (one gold and one bronze) this time out.
Also joining the party for the Nitro Circus 20th Anniversary Tour are FMX icons Adam Jones, Jarryd McNeil, Harry Bink and Blake "Bilko" Williams. This heavily decorated quartet has collectively earned more than 25 X Games medals in their careers. On top of that, Jeremy Stenberg* and Taka Higashino*, who will send it at all California tour stops, have 22 X Games medals between them, while Axell Hodges**, who will ride at all dates after opening night, has seven X Games medals under his belt.
Gregg Duffy, Nitro World Games champion and the first FMX athlete to land the incredibly scary double frontflip, is hitting the road as well, along with moto veteran and Nitro World Games medalist Javier Villegas.
Kurtis Downs – an X Games BMX Big Air bronze medalist and Nitro World Games silver medalist – will also ride. Joining him is Hill Willie BMXer Andrew "Gecko" Hutchisonalong with skateboarding pro and Nitro World Games podium finisher Beaver Fleming.
Also set to throw down are a pair of contraptions kings who bravely launch almost anything with wheels off Nitro Circus' infamous 50-foot Giganta ramp: self-described "professional fun-havers" Dusty Wygle and Josh Roberts.
The 20th Anniversary Tour will electrify live audiences as Nitro Circus runs it back, celebrating two decades of record-breaking thrills, death-defying spills, and side-splitting mischief, while returning to indoor arenas for the first time in five years. In addition to the growing athlete roster, fans can also look forward to special guest visits from various Nitro legends at every tour stop.
The action kicks off October 10, 2023 in Bloomington, IL's Grossinger Motors Arena, with the next ten stops including Anaheim, Oklahoma City, Tulsa and more. A full tour itinerary is listed below.
Don't miss any of the action! Tickets are available now at nitrocircus.com.
PublicSq. is the title partner for the Nitro Circus: 20th Anniversary Tour. PublicSq. is a values-based marketplace that helps connect patriotic consumers to American owned businesses that love the freedoms our nation represents. This will be PublicSq.'s first partnership of this kind, as the brand seeks to align with Nitro Circus' loyal and passionate grassroots fanbase.
The Nitro Circus 20th Anniversary Tour is produced in partnership with Round Room Live, a leading producer and promoter of live events, exhibitions, and family show entertainment.
Additional tour partners include Pit Viper, the U.S. Army, Cardo Systems and MIT45.
For the latest Nitro Circus updates and more information about the forthcoming tour, visit Nitrocircus.com and Nitro Circus's social platforms on Facebook, Twitter, and Instagram.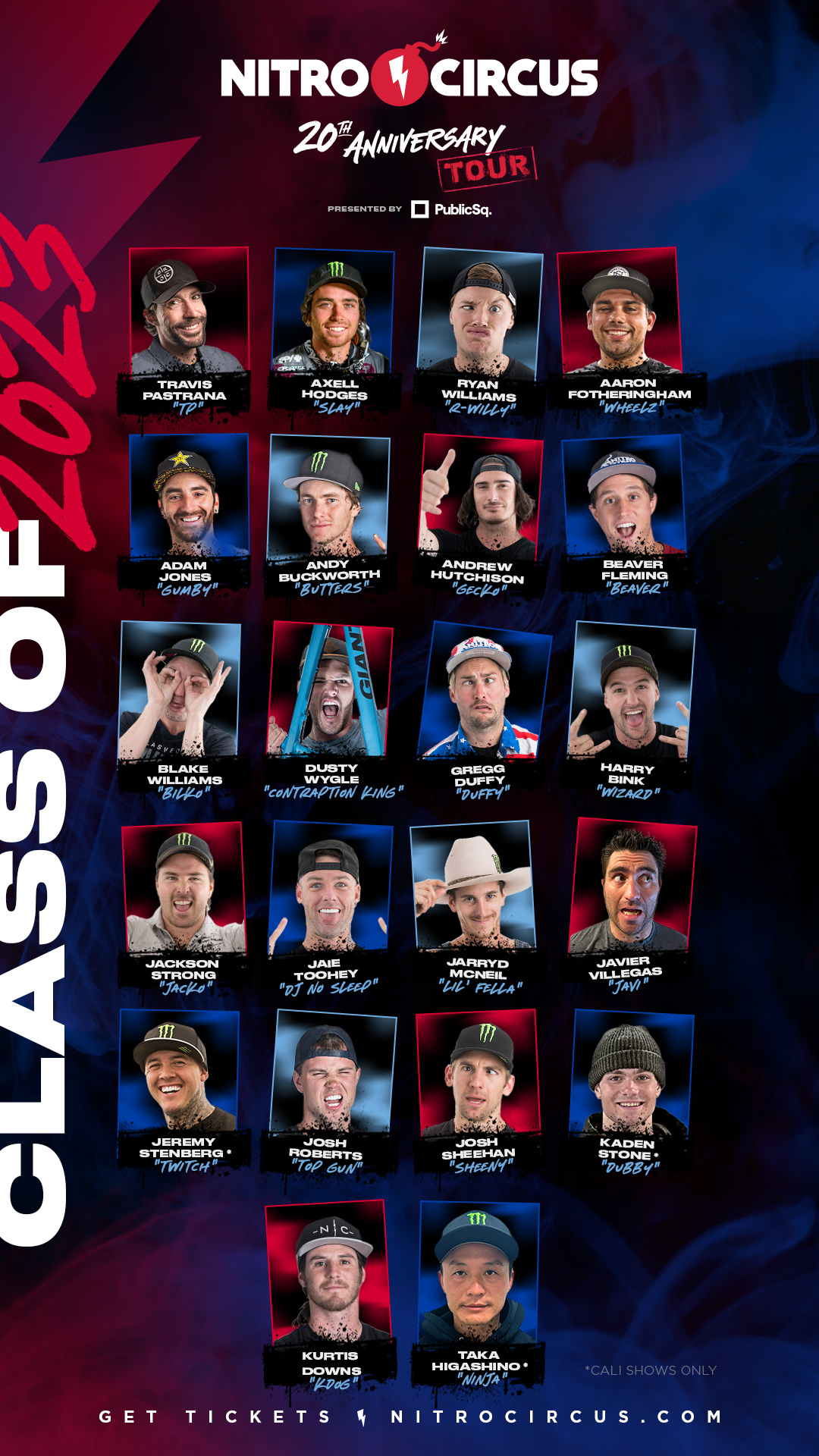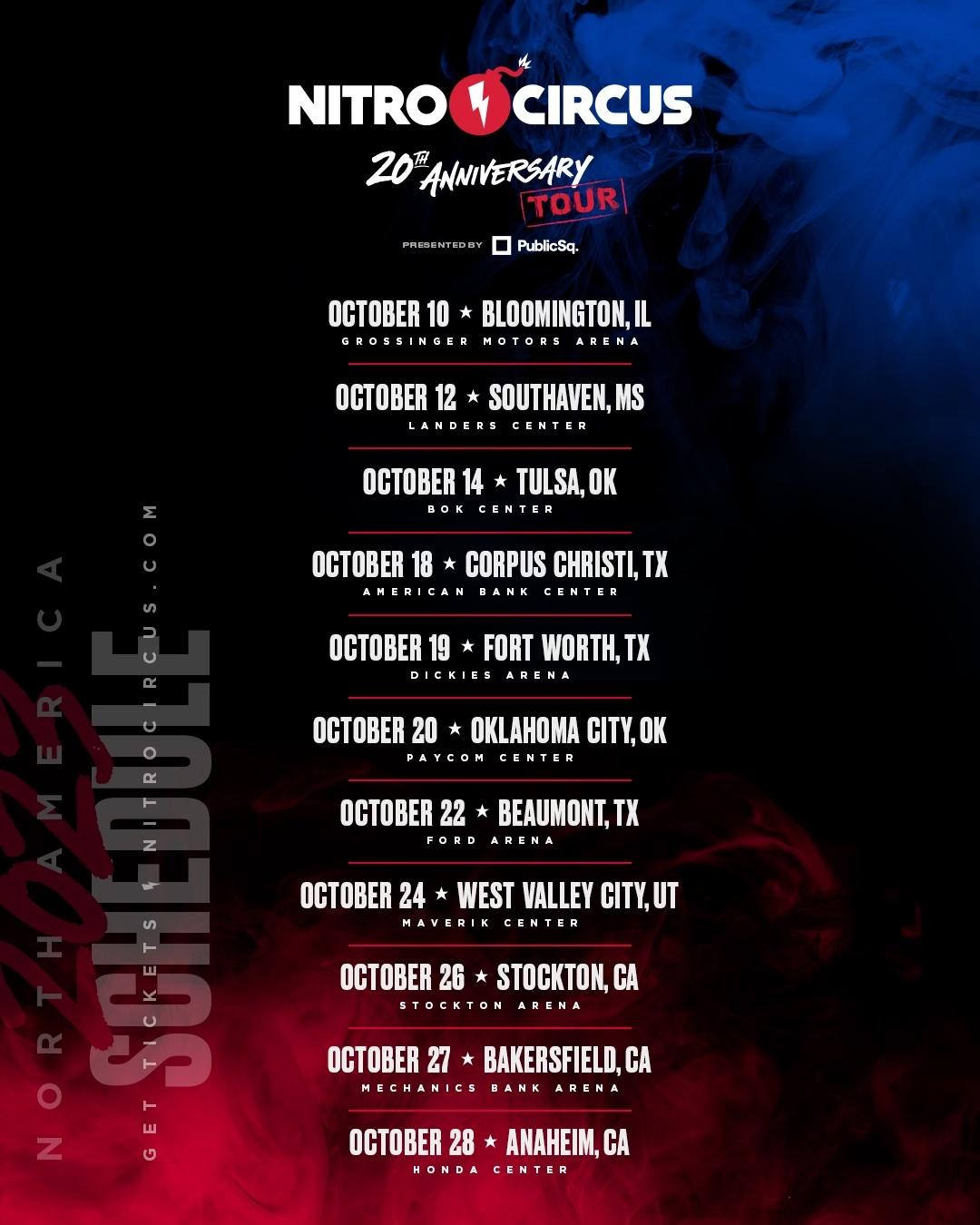 *Jeremy Stenberg, Taka Higashino and Kaden Stone are riding at California shows only
** Axell Hodges is riding in all shows except Bloomington, IL
Athlete roster subject to Change
PR assets, including photos, videos and the tour logo, are available here.
FOLLOW NITRO CIRCUS
Official Website: nitrocircus.com
Facebook: @NitroCircus
Twitter: @NitroCircus
Instagram: @nitrocircus
FOLLOW ROUND ROOM LIVE
Official Website: roundroomlive.com
Facebook: @roundroomlive
Twitter: @roundroomlive
Instagram: @roundroomlive
About Nitro Circus:
Nitro Circus, a global sports entertainment leader, creates electrifying live events and unbelievable original content that at once exhilarates, captivates and inspires thrill-seeking fans worldwide. Co-founded in 2003 by iconic superstar Travis Pastrana, Nitro Circus has since grown into a multiplatform phenomenon creating spectacular live events, progressive competitions, hit television programming and innovative digital offerings. With over three million tickets sold to date, linear content that has aired in over 60 countries and a burgeoning consumer products business, Nitro Circus is at the forefront of sports and entertainment. For more information visit nitrocircus.com.
About Round Room Live:
Round Room Live is the leading producer and promoter of exhibitions and family show entertainment, specializing in transforming both new and iconic intellectual property into engaging and thrilling live events. Round Room creates unique live experiences tailored to the distinct character of each property and produces the highest quality productions for audiences around the world.
Round Room's Immersive and Entertainment Experiences division is currently touring: Jurassic World: The Exhibition, Mandela: The Official Exhibition, Tupac Shakur. Wake Me When I'm Free, and Formula 1: The Exhibition. Their current roster of touring theatrical shows includes: Baby Shark Live!, Blippi: The Wonderful World Tour, Blippi The Musical, Peppa Pig Live, and Blue's Clues & You! Live On Stage.

Nitro Circus 20th Anniversary Tour Digital Press Kit:
shorefire.com/roster/nitro-circus-tour
Round Room Live Digital Press Kit:
shorefire.com/roster/round-room-live
For more information on Round Room Live, contact Shore Fire Media:
Rebecca Shapiro | rshapiro@shorefire.com
Andrea Evenson | aevenson@shorefire.com
Maria Eilert | meilert@shorefire.com
For more information on Nitro Circus, contact:
Greg Terlizzi greg@thrillone.com