Peppa Pig Returns to North American Stages In A Brand-New Production – Peppa Pig's Sing-Along Party!
The loveable pig will visit over 60 cities starting this Fall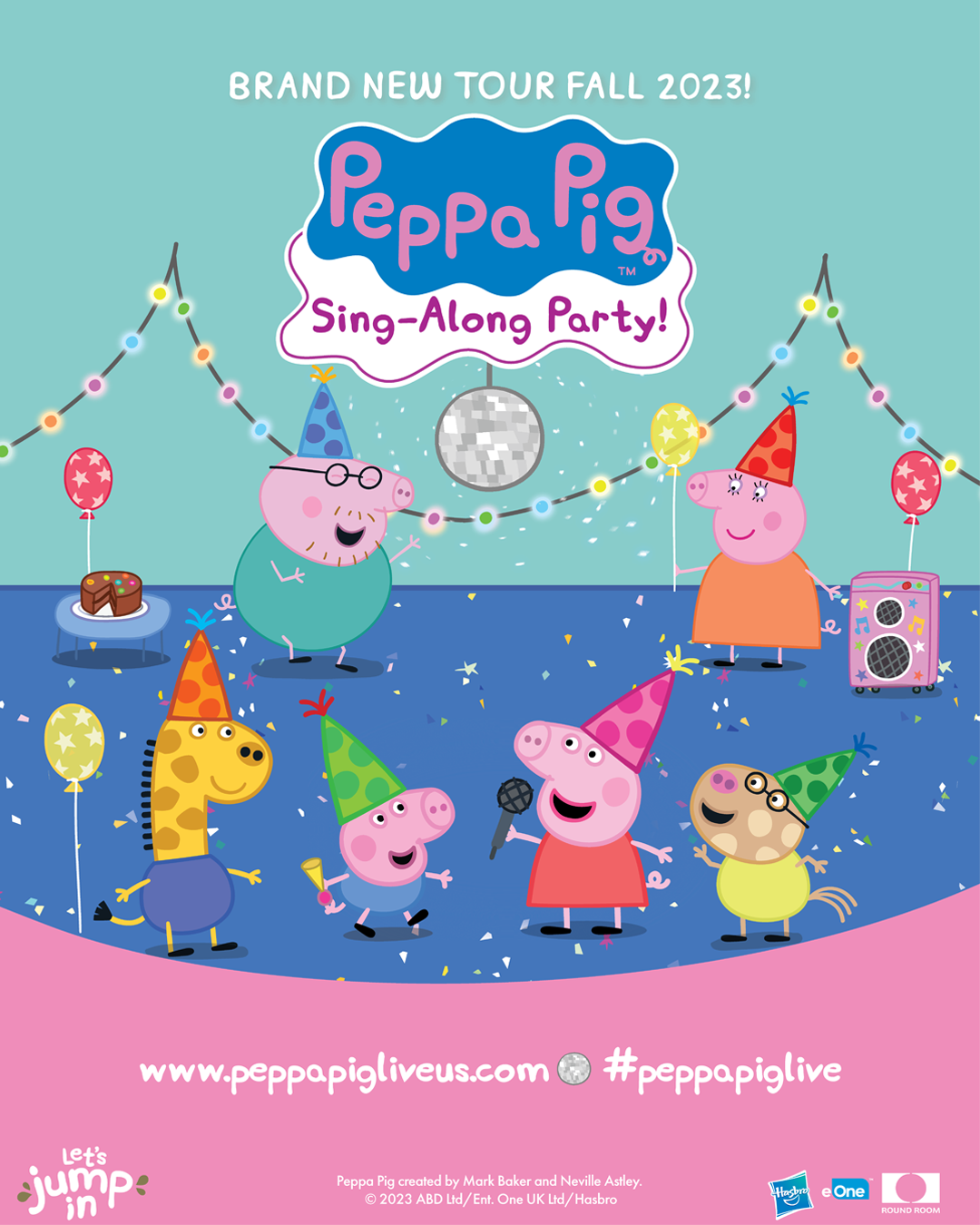 Round Room Live, in partnership with global branded entertainment leader Hasbro Inc., are thrilled to announce that Peppa Pig's Sing-Along Party! will be bringing back the loveable, cheeky little piggy in a brand-new interactive production filled with dancing, singing and puddle jumping. The live, family-friendly show will begin October 4th and travel to select cities including New Orleans, Indianapolis, Baltimore, and San Diego. Presale starts today, with general on-sale starting Friday, May 19th. For tickets and additional information, visit peppapigliveus.com
Peppa, George, Mummy Pig, and Daddy Pig will be singing along to some of their favorite songs, and they invite children and families alike to join in the fun. Dance, clap, and sing with Peppa and her family along with Pedro Pony, Suzy Sheep, and Gerald Giraffe. Blow up those balloons and get the disco ball ready as you and your family party along with Peppa in this 60-minute interactive sing-along adventure!
"We are incredibly excited to bring Peppa and her family back to the stage with this brand new show!" says Stephen Shaw, tour producer and co-president of Round Room Live. "Peppa is such a beloved character and we're proud to continue to offer new, engaging, and memorable experiences for Peppa fans all over the world."
"After a successful run of Peppa Pig Live! Peppa Pig's Adventure we couldn't be more excited to partner once again with our friends at Round Room Live to bring a brand-new production to fans of Peppa," says Matt Proulx, Vice President of Location Based Entertainment at Hasbro. "With this new immersive show, we are continuing our Blueprint 2.0 strategy of delivering more meaningful ways for families to connect with our beloved brands. Whether they follow along with the series, come to the live show, or visit a Peppa theme park, we're thrilled to build on our offerings for Peppa fans and their families. We cannot wait for guests to see this new show, and to create lifelong memories with Peppa and her friends."
In addition to visiting peppapigliveus.com for tour dates and tickets, fans can also see the current list below with more cities being announced soon. Follow Peppa Pig's Sing-Along Party! on social media for exclusive tour content.
UPCOMING PEPPA PIG'S SING-ALONG PARTY! TOUR DATES:
Wednesday, Oct. 4 | The Family Arena | St. Charles, MO
Thursday, Oct. 5 | Landers Center | Southaven, MS
Friday, Oct. 6 | Mahalia Jackson Theater | New Orleans, LA
Saturday, Oct. 7 | Smart Financial Centre | Sugarland, TX
Sunday, Oct. 8 | Majestic Theatre | San Antonio, TX
Tuesday, Oct. 10 | Selena Auditorium | Corpus Cristi, TX
Wednesday, Oct. 11 | Bell County Expo Center | Belton, TX
Thursday, Oct. 12 | Kay Yeager Coliseum | Wichita Falls, TX
Friday, Oct. 13 | Curtis Culwell Center | Garland, TX
Saturday, Oct. 14 | United Wireless Arena | Dodge City, KS
Wednesday, Oct. 18 | San Jose Civic | San Jose, CA
Thursday, Oct. 19 | City National Grove | Anaheim, CA
Friday, Oct. 20 | Sam's Town Live | Las Vegas, NV
Saturday, Oct. 21 | San Diego Civic Theatre | San Diego, CA
Sunday, Oct. 22 | Arizona Financial Theatre | Phoenix, AZ
Tuesday, Oct. 24 | Hudiburg Chevrolet Center | Oklahoma City, OK
Wednesday, Oct. 25 | Hutchinson's Historic Fox Theatre | Hutchinson, KS
Thursday, Oct. 26 | Peoria Civic Center | Peoria, IL
Friday, Oct. 27 | The Midland Theatre | Kansas City, MO
Saturday, Oct. 28 | Genesee Theatre | Waukegan, IL
Sunday, Oct. 29 | The Riverside Theater | Milwaukee, WI
Wednesday, Nov. 1 | Bismarck Events Center | Bismarck, ND
Thursday, Nov. 2 | Scheels Arena | Fargo, ND
Friday, Nov. 3 | The Fitzgerald Theater | St. Paul, MN
Sunday, Nov. 5 | Fisher Theatre | Detroit, MI
Wednesday, Nov. 8 | Goodyear Theater | Akron, OH
Friday, Nov. 10 | James K. Polk Theater | Nashville, TN
Saturday, Nov. 11 | Appalachian Wireless Arena | Pikeville, KY
Sunday, Nov. 12 | Fox Theatre | Atlanta, GA
Monday, Nov. 13 | DPAC | Durham, NC
Wednesday, Nov. 15 | Thalia Mara Hall | Jackson, MS
Thursday, Nov. 16 | Simmons Bank Arena | Little Rock, AR
Saturday, Nov. 18 | Brown Theatre | Louisville, KY
Sunday, Nov. 19 | Tennessee Theatre | Knoxville, TN
Wednesday, Nov. 22 | Mahaffey Theater | St. Petersburg, FL
Saturday, Nov. 25 | The Parker Playhouse | Ft. Lauderdale, FL
Sunday, Nov. 26 | Moran Theatre | Jacksonville, FL
Monday, Nov. 27 | The BJCC | Birmingham, AL
Tuesday, Nov. 28 | Ovens Auditorium | Charlotte, NC
Friday, Dec. 1 | Carpenter Theatre | Richmond, VA
Saturday, Dec. 2 | State Theatre | New Brunswick, NJ
Wednesday, Dec. 6 | Chartway Arena | Norfolk, VA
Friday, Dec. 8 | Lowell Memorial Auditorium | Lowell, MA
Saturday, Dec. 9 | Tilles Center for the Performing Arts | Brookville, NY
Sunday, Dec. 10 | Palace Theater | Waterbury, CT
Wednesday, Dec. 13 | F.M. Kirby Center | Wilkes Barre, PA
Thursday, Dec. 14 | Count Basie Theatre | Red Bank, NJ
Friday, Dec. 15 | Lynn Memorial Auditorium | Lynn, MA
Sunday, Dec. 17 | Capital One Hall | Tysons, VA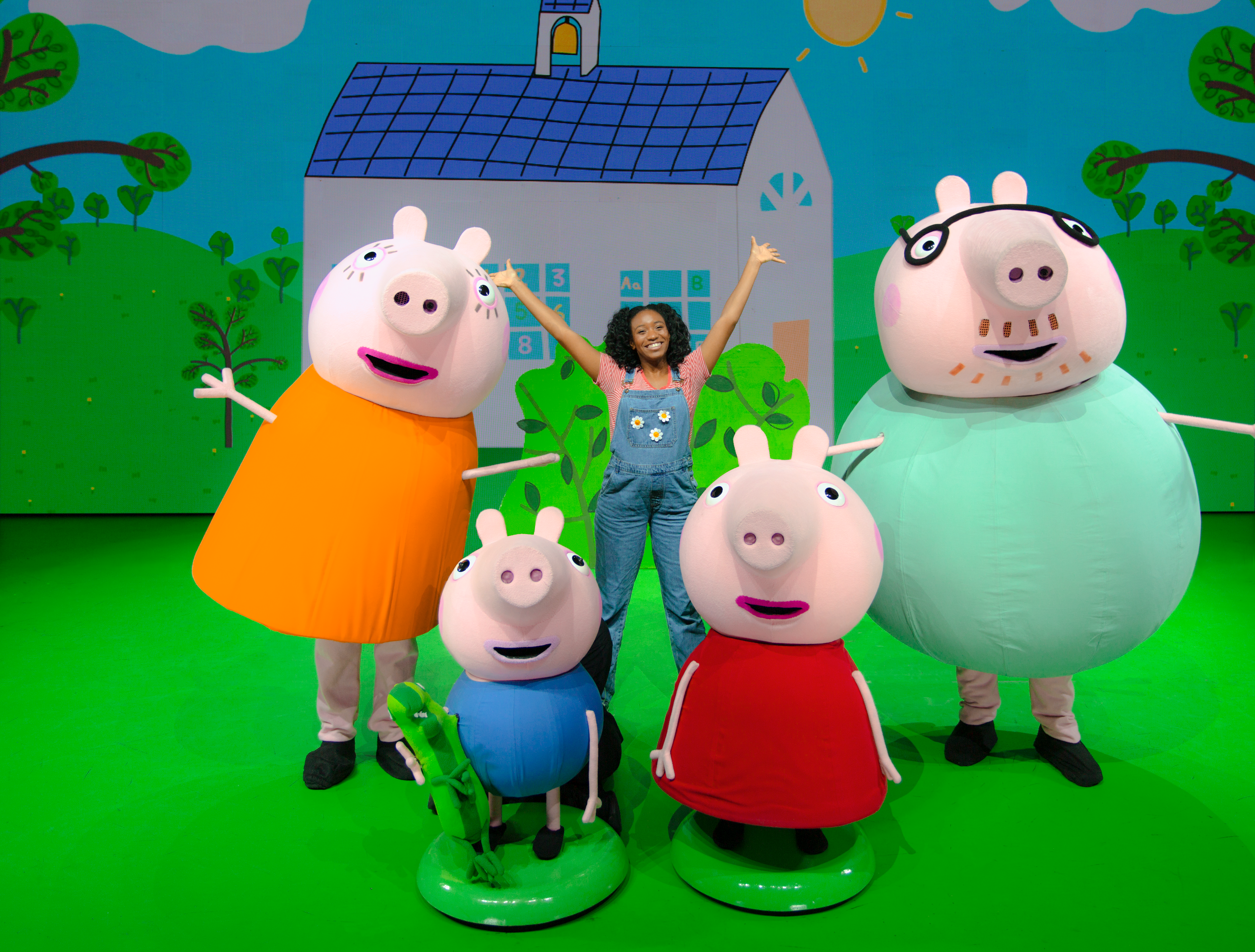 FOLLOW PEPPA PIG LIVE:
Website: peppapigliveus.com
Facebook: @PeppaPigUSTour
Twitter: @PeppaPigLiveUS
Instagram: @PeppaPigUSTour
FOLLOW PEPPA PIG:
Website: peppapig.com
Facebook: @OfficialPeppaPig
Twitter: @peppapig
Instagram: @officialpeppa
YouTube: youtube.com/c/peppapig
E-Newsletter: peppapig.com/muddypuddlesclub
FOLLOW ROUND ROOM LIVE:
Website: roundroomlive.com
Facebook: @roundroomlive
Twitter: @roundroomlive
Instagram: @roundroomlive
About Round Room Live:
Round Room Live is the leading producer and promoter of exhibitions and family show entertainment, specializing in transforming both new and iconic intellectual property into engaging and thrilling live events. Round Room creates unique live experiences tailored to the distinct character of each property and produces the highest quality productions for audiences around the world.
Their current roster of touring theatrical shows includes: Baby Shark Live!, Blippi: The Wonderful World Tour, Blippi The Musical, Peppa Pig's Adventure, and Blue's Clues & You! Live On Stage. Round Room's Immersive and Entertainment Experiences division is currently touring: Jurassic World: The Exhibition, Mandela: The Official Exhibition, Tupac Shakur. Wake Me When I'm Free, and Formula 1: The Exhibition.
About Peppa Pig:
With over 1000 licensees around the world, Peppa Pig is a top performing global preschool character that has been translated into over 40 languages and broadcast in over 180 territories. The TV series follows Peppa Pig, a cheeky little piggy who lives with her younger brother George, Mummy Pig and Daddy Pig. Peppa's favourite things include playing games, dressing up, days out and jumping in muddy puddles. With 3 BAFTA Awards for pre-school animation and a pipeline of new episodes delivering fresh content through to 2027, the global phenomenon continues to look bright for the world's most popular little piggy.
About Hasbro, Inc.:
Hasbro is a global branded entertainment leader whose mission is to entertain and connect generations of fans through the wonder of storytelling and exhilaration of play. Hasbro delivers engaging brand experiences for global audiences through gaming, consumer products and entertainment, with a portfolio of iconic brands including MAGIC: THE GATHERING, DUNGEONS & DRAGONS, Hasbro Gaming, NERF, TRANSFORMERS, PLAY-DOH and PEPPA PIG, as well as premier partner brands.
Hasbro is guided by our Purpose to create joy and community for all people around the world, one game, one toy, one story at a time. For more than a decade, Hasbro has been consistently recognized for its corporate citizenship, including being named one of the 100 Best Corporate Citizens by 3BL Media, one of the World's Most Ethical Companies by Ethisphere Institute and one of the 50 Most Community-Minded Companies in the U.S. by the Civic 50. For more information, visit www.corporate.hasbro.com.
© 2023 Hasbro, Inc. All Rights Reserved
###
Peppa Pig Live Digital Press Kit:
shorefire.com/roster/peppa-pig-live
Round Room Live Digital Press Kit:
shorefire.com/roster/round-room-live
For more information contact Shore Fire Media:
Rebecca Shapiro | rshapiro@shorefire.com
Andrea Evenson | aevenson@shorefire.com
Maria Eilert | meilert@shorefire.com