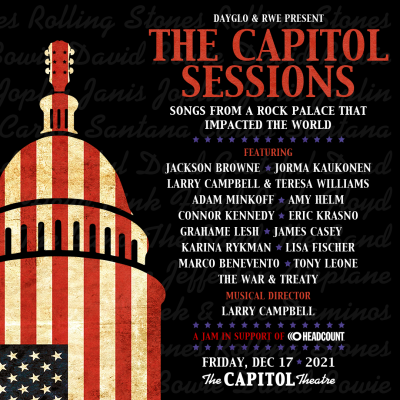 RWE Partners And Dayglo Presents The Capitol Sessions: Songs From A Rock Palace That Impacted The World An All-Star Jam To Benefit Headcount
December 17 At The Capitol Theatre In Port Chester, NY
Tickets On Sale Friday, November 19 At 12PM ET
FEAT. JACKSON BROWNE, JORMA KAUKONEN, MARCO BENVENTO, LARRY CAMPBELL, JAMES CASEY, LISA FISCHER, AMY HELM, CONNOR KENNEDY, ERIC KRASNO, TONY LEONE, GRAHAME LESH, ADAM MINKOFF, KARINA RYKMAN, TERESA WILLIAMS, THE WAR & TREATY, AND MORE
The Capitol Theatre's halcyon days played host to rock 'n' roll royalty — Janis Joplin, the Grateful Dead, Bonnie Raitt, Jefferson Airplane, The Chambers Brothers, Mountain, the Rolling Stones, Joe Cocker, Traffic, Eric Clapton, and more. Friday, December 17, Dayglo Presents and RWE Partners unite and give proper respect to these melodic masters in the iconic venue where they impacted the world forever. The Capitol Sessions: Songs from a Rock Palace That Impacted the World is headlined by two of the defining artists of the era: singer, songwriter and Rock and Roll Hall of Fame inductee Jackson Browne, as well as Jefferson Airplane and Hot Tuna guitarist and frontman Jorma Kaukonen. Joining them is a heavenly arrangement of musical ability, including Marco Benevento, James Casey (Trey Anastasio Band), Lisa Fischer (Luther Vandross, the Rolling Stones), Amy Helm (Levon Helm), Connor Kennedy (Steely Dan, Amy Helm), Eric Krasno (Soulive, Lettuce), Tony Leone (Levon Helm, Chris Robinson Brotherhood), Grahame Lesh (Phil Lesh & Friends), Adam Minkoff (Zappa Plays Zappa, The Machine), Karina Rykman, Teresa Williams, and The War & Treaty.
Curating the evening is legendary producer, arranger, songwriter, singer, and multi-instrumentalist Larry Campbell, alongside his musical partner and wife Teresa Williams. Universally respected by his peers and fans as a master of music, the three-time Grammy-winning producer/musical director for Levon Helm was a member of Bob Dylan's Never Ending Tour band, as well as a session and touring musician for artists including Keith Richards, Jackson Browne, Phil Lesh and Bob Weir, Cyndi Lauper, Paul Simon and Emmylou Harris, and a recipient of the Americana Music Association's Lifetime Achievement Award as Instrumentalist.
The show benefits HeadCount, a non-partisan voter registration advocacy organization that stages voter registration drives at more than 1,000 live events each year and collaborates with cultural leaders to promote civic engagement on a national scale. Since 2004, HeadCount has signed up over 1,000,000 voters through its work with Ariana Grande, Dead & Company and Beyoncé, as well as events like Lollapalooza, Bonnaroo, Pride Festivals, and RuPaul's DragCon.
"The Capitol Theatre is one of rock 'n' roll's last remaining rock palaces," said Dayglo Presents founder Peter Shapiro, who is also on the board for HeadCount. "A place where many of rock's most beloved legends performed — the Rolling Stones, the Grateful Dead, David Bowie, Janis Joplin, to name a few. We can't wait to celebrate the iconic songs that have been played over the years at The Cap. It will be very cool for The Capitol Sessions to happen on the same stage where these songs were originally performed. It's going to be an epic night!"
The Capitol Sessions is the latest in a lineup of standout events by RWE, the company founded by Greg Williamson and Nicole Rechter to bring people together around music, culture, and philanthropy. RWE has realized its vision through charity concerts such asLove Rocks NYC, the Play On CBS primetime TV special, and the annual Tipping Pointconcert for Tulane University and the city of New Orleans.
"In addition to honoring some of the most influential artists who played the Capitol during its heyday, we're proud to highlight the importance of voting rights and democracy," said Williamson. "We'd like to extend our thanks to Peter Shapiro, Larry Campbell, and all of the talented artists who agreed to be a part of this benefit concert."
Launched with the mission of creating unique and meaningful cultural experiences, Dayglo Presents owns and operates a number of significant venues, events, and media outlets. These include the Brooklyn Bowl (Brooklyn, Las Vegas, Nashville, Philadelphia), The Capitol Theatre, Garcia's, LOCKN' music festival, Relix magazine, as well as Relix.com and Jambands.com, and cultural events including Fare Thee Well: Celebrating 50 Years of the Grateful Dead and the immersive and vivid Jazz & Colors concerts.
Tickets on sale Friday, November 19 at 12 p.m. EST at thecapitoltheatre.com. Fans are encouraged to make a donation to benefit voter registration and HeadCount.
About The Capitol Theatre:
Designed by celebrated architect Thomas Lamb in 1926 and listed in The National Register of Historic Places, The Capitol Theatre is located 30 miles from NYC. The 2,000-capacity theater, known as "the original rock palace," showcased legends such as Traffic, The Grateful Dead, Black Sabbath, Chuck Berry, David Bowie, Janis Joplin, Pink Floyd, and The Rolling Stones. Jerry Garcia called it one of his two favorite venues in the USA. In 2012, the theatre underwent a major renovation under the guidance of music entrepreneur Peter Shapiro. Since then, it has hosted major performers including Bob Dylan, Phil Lesh, Ringo Starr, Joan Baez, Skrillex, Bonnie Raitt, Snoop Dogg, Kacey Musgraves, The Strokes, Tom Petty, Cyndi Lauper, and Willie Nelson, as well as comedians like Kevin Hart and Amy Schumer. The New York Times raves: "A rock theater that looks and sounds as good as the Capitol is something to celebrate." The Capitol's inner-sanctum bar and music club, Garcia's, was named for Jerry Garcia in partnership with his family. A venue of its own, Garcia's showcases local artists and nationally touring acts across the musical spectrum.
About RWE Partners:
RWE Partners creates experiences that elevate and enrich communities, with the goal of making the world a more equitable and culturally vibrant place. The company consists of a growing and diverse team of producers united in the belief that together – artists, agents, corporate brands, properties, municipalities and nonprofits – we can elicit powerful and lasting change. Some of RWE's most recent projects have included the star-studded Love Rocks NYC concerts, the CBS primetime TV special Play On: Celebrating the Power of Music to Make Change, and the Tipping Point, the annual benefit concert for Tulane University.
About Dayglo Presents:
Dayglo Presents is a live music and media company founded in 2012 by independent
music impresario Peter Shapiro. The company operates Brooklyn Bowl in multiple cities, The Capitol Theatre and Garcia's, and LOCKN' Farm in Arrington, Virginia. Dayglo Presents also originated the Rock and Roll Playhouse, developing the family concert series into a weekly national concert series that takes place in over 25 markets across America. Dayglo Presents created FANS.live, the immersive livestreaming platform with its innovative "Be in the Stream" feature that allows audiences to tune in and appear alongside the artists. Dayglo Presents publishes Relix Magazine, two highly trafficked music websites Relix.com and Jambands.com, and owns digital ad agency Hear & There. Since its formation, Dayglo Presents upholds a reputation for creating unique and meaningful experiences. Some include "Fare Thee Well, "Celebrating 50 Years of the Grateful Dead," Jazz & Colors, The Women's March, The March for Science, Easy Rider Live and "Bob Weir & Phil Lesh Duo Tour."
About HeadCount:
HeadCount is a non-partisan, non-profit organization that promotes participation in democracy through music, culture, and digital media. Since 2004 the organization has registered over one million voters and worked with a long list of musicians and partners including Ariana Grande, Billie Eilish, Camila Cabello, Dave Matthews Band, JAY-Z, Beyoncé, March of Our Lives, RuPaul's DragCon, MTV, and Dead & Company. With 40,000 volunteers, street teams in most major U.S. cities, and a presence at more than 1,000 events each year, HeadCount ranks as one of the most active grassroots civic participation organizations in the United States. HeadCount Founder/Executive Director Andy Bernstein and Chairman Peter Shapiro were recently featured in Billboard's inaugural 'Change Agents' issues for the organizations pro-democracy mission during 2020's unprecedented election season. For more information visit HeadCount.org.