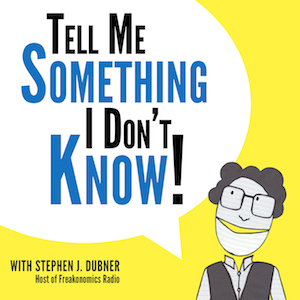 Stephen J. Dubner Launches New 'Tell Me Something I Don't Know' Season Ahead of Live NYC Tapings
Play "Womb to Tomb" and all past episodes here (or on any of the usual podcast providers): http://tmsidk.com
Why does monogamy reduce the crime rate? How can we redesign cities to make growing old less unpleasant? And how was the body of a man dead fifty years found perfectly preserved in his houndstooth blazer?
All these questions and more are answered in the season premiere of Tell Me Something I Don't Know, the new podcast hosted by Stephen J. Dubner, co-author of the best-selling Freakonomics books and host of Freakonomics Radio. In a show Dubner calls "journalism wrapped in a game-show package," audience members present fascinating facts and historical wrinkles to the live crowd, which at the end of the episode votes to determine a winner. On the first of ten weekly episodes, Dubner is accompanied by guest co-host Alexandra Petri (The Washington Post) and fact-checker A.J. Jacobs (Esquire).
Tell Me Something I Don't Know will hold six live tapings over three nights at NYC's Joe's Pub, October 5, 6, and 7. Each taping will feature a different co-host and tickets are available now. Previous episodes have featured Hannibal Buress, Joanna Coles, Dr. Oz, Aasif Mandvi, Major Garrett, Amy Chua, Austan Goolsbee, Lizz Winstead, and more.
Joe's Pub Co-Host Lineup:
* October 5/6:30 -- Alex Wagner, CBS News correspondent and contributing editor at The Atlantic
* October 5/9:30 -- Sas Goldberg, actress and producer
* October 6/6:30 -- Gail Simmons, Top Chef judge and director of special projects at Food & Wine
* October 6/9:30 -- Angela Duckworth, Penn psychologist and author of Grit
* October 7/6:30 -- John McWhorter, Columbia linguist and author
* October 7/9:30 -- TBD
Tickets for all Joe's Pub shows:
https://www.publictheater.org/Tickets/Calendar/PlayDetailsCollection/Joes-Pub/2017/T/TMSIDK-1/?SiteTheme=JoesPub
About Tell Me Something I Don't Know:
Tell Me Something I Don't Know is live journalism wrapped in a game-show package and hosted by Stephen J. Dubner, co-author of the Freakonomics books and host of Freakonomics Radio. Dubner has always had a mission: to tell you things you thought you knew but didn't; and things you never thought you wanted to know, but do. Now, he has a new way of doing just that. TMSIDK is still journalism, still factual -- but disguised in the most intelligent, entertaining, unexpected, and occasionally ridiculous conversation you're likely to hear.
Guest presenters come on stage before a live audience and try to wow Dubner and his co-host(s) with a fascinating fact, historical wrinkle, new line of research -- anything, really, as long as it's interesting, useful, and true (or at least true-ish). Each episode has a new theme and a new group of presenters. There's also a real-time human fact-checker to filter out the bull. Think of the most crackling dinner-party conversation you've ever heard.
About Stephen J. Dubner:
Stephen J. Dubner is an award-winning author, journalist, and TV and radio personality. In addition to Freakonomics, SuperFreakonomics, Think Like a Freak, and When to Rob a Bank, his books include Turbulent Souls (Choosing My Religion), Confessions of a Hero-Worshiper, and the children's book The Boy With Two Belly Buttons. His journalism has been published in The New York Times, The New Yorker, and Time, and has been anthologized in The Best American Sports Writing, The Best American Crime Writing, and elsewhere. He has taught English at Columbia University (while receiving an M.F.A. there), played in a rock band (which started at Appalachian State University, where he was an undergrad, and was later signed to Arista Records), and, as a writer, was first published at the age of 11, in Highlights for Children. Dubner is also the host of the Freakonomics Radio podcast, which gets 8 million downloads a month. He lives in New York with his wife, the documentary photographer Ellen Binder, and their children.