Summerfest Announces Headliners and Performance Dates for the Newly Renovated Miller Lite Oasis
MILWAUKEE (April 17, 2017) – Summerfest officials are excited to announce the highly anticipated lineup of headliners slated for the newly renovated Miller Lite Oasis during Summerfest's 50th.
The Miller Lite Oasis will feature the following headliners: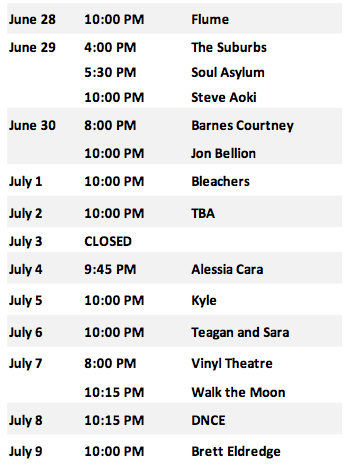 Summerfest and MillerCoors are excited to introduce Summerfest fans to the new Miller Lite Oasis during Summerfest's 50th. The renovation includes a redesigned Miller Lite Oasis stage façade, a new Miller [SM1] Brew House, video screen upgrades, expanded hospitality areas and a reconfigured marketplace and Summerfest retail store. Another exciting addition is a new Miller Lite Front Row experience where fans can watch their favorite artists perform on the Miller Lite Oasis stage. Stay tuned for more information on how to access this front row area during Summerfest's 50th.
Get excited for the great headliners on the Miller Lite Oasis in advance by listening to the playlist on Spotify. All performers and show times are subject to change.
Please check Summerfest.com for updates and to learn more about Summerfest's 50th celebration and purchase general admission tickets including commemorative tickets celebrating the 50th edition. Now, for a limited time, fans can purchase a Summerfest Power Pass for $80 and a 3-Day Pass for $45.

Summerfest 2017 presented by American Family Insurance – the festival's 50th edition – will take place June 28 – July 2 and July 4 – July 9 from noon until midnight and will be closed Monday, July 3. Following its 1968 debut, Summerfest has evolved into what is now recognized as "The World's Largest Music Festival" and Milwaukee's cornerstone summer celebration, hosting the music industry's hottest stars, emerging talent and local favorites along with approximately 850,000 people from Milwaukee and around the world each year for an unforgettable live music experience. During the festival, the spotlight shines on over 800 acts, over 1,000 performances, 11 stages, delectable food and beverages and interactive activities, all in a world-class festival setting. For more details, visit Summerfest.com, Facebook.com/summerfest or Twitter: @Summerfest.